New Service Capabilities
Stellar plans to unleash their advanced and improved Data Recovery Capabilities at the grand event. The new services will include recovery from SSD (solid state drive) & RAID recovery along with its time trusted hard disk recovery services & software suits.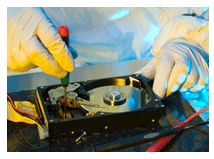 SSD Recovery Service
Stellar has studied every bit of SSD (solid state drive) internal & devised many powerful SSD recovery techniques to recover SSD data without any hardware, software limitation. The in-house R&D team of Stellar has analyzed various modules and brands of SSD devices to develop many efficient SSD recovery tools & techniques to recover your data. Stellar's efficient, risk free & systematic recovery approach assures up to 100% recovery of your invaluable data.
RAID Recovery Service
With our in-house R&D team along with data recovery experts, indigenous recovery techniques and state of art infrastructure of class 100 clean room, Stellar provides the best RAID data recovery services from all RAID levels & configurations. Stellar ensures maximum possible data recovery from all instances of data loss with minimum turnaround time maintaining confidentiality of data.