Equifax Data Breach: An Incidence that changed the Way People think about Data Security World Over
Updated on September 11, 2019
This blog is all about Equifax, one of the top 5 data breach of all times and how Stellar Data Recovery – a leading data recovery solutions provider, keeps a check on such types of breaches that can affect a number of people across the globe.
Unlike other data breaches, this data breach does not inform every affected person that he or she has been impacted. Here, the person may not even know that he/she is the client of Equifax, a company which diligently tracks and rates the financial history of customers by collecting data from banks, credit card companies, lenders, and retailers.
Day the breach came to light and was reported
Equifax Inc. that is one of the largest consumer credit reporting agencies in the United States reported on September 7, 2017, that a data breach exposing customers' sensitive information, occurred between mid-May and July 2017, and was discovered only on July 29 this year.
Information Exposed, Countries & Number of People Affected
The credit reporting agency said that details, such as Social Security Numbers, Credit Card Numbers, and other Personal Identifying Information, such as Names, Birth Dates, Addresses, and Driving License's numbers of up to 143 million American citizens were exposed. Credit card numbers of approximately 209,000 U.S. clients were compromised in addition to Personal Identifying Information of about 182,000 U.S. clients. Customers in the U.K. and Canada have also been affected; however, the exact number remains unknown.
The Way Equifax Inc. Data Breach Occurred
Equifax informed that cyber-criminals/hackers misused a U.S. website application vulnerability to get access to files containing such sensitive information of people.
Measures to Combat Equifax Data Breach
Monitoring bank accounts regularly, enabling SMS alerts for all banking transactions, signing up for an Identity Theft monitoring service, being vigilant online are a few measures that can help you to remain unaffected by the data breach.
Data Breach Implications on the Impacted Company
Every company needs to be prepared for data breach all the time. This is because these days data breach is quite possible and can have grave consequences, such as loss of consumer trust, drop in shareholder value, unwanted publicity, i.e., being in the news for all wrong reasons, legal & regulatory liabilities, and huge expenses that may be out-of-budget for the company, etc.
Stellar Data Recovery Keeps Its Clients' Data Safe and Secure
With 2 million happy customers in 190 countries, Stellar Data Recovery implements a rigorous check on activity, such as data breach for all the customers that they serve across the world. This company that is committed to helping its clients recover their lost or deleted data with software and services never compromises on data privacy, thereby, showcasing its proactive approach to take ISO 27001 certification. The company makes it a top priority not to disclose its clients' data to a third party.
Stellar Data Recovery has been certified with ISO 27001 standard containing the requirements for Information Security Management System (ISMS). The ISO 27001 certification has been awarded on successful completion of a formal external audit of Stellar's ISMS.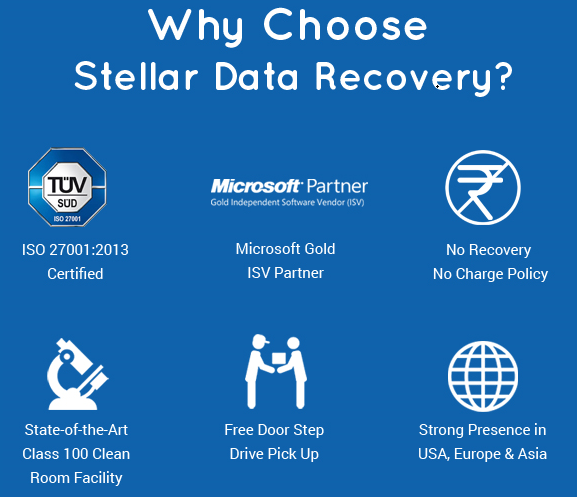 This implies that Stellar Data Recovery has the necessary policies, procedures, and framework in place to securely handle its' customers' data while maintaining security, confidentiality, and privacy.
ISO 27001 is considered to be the most recognized international standard for information security best practices which works with an aim to minimize the risk of data breach and ensure business continuity.
Stellar has been in the business of data recovery for more than two decades and over the years we have ensured complete data security by implementing strict information security measures. ISO 27001 certification is an additional validation of the strong policies, processes & controls we have put in place to safeguard & protect all data that we deal with.