[SOLVED]: How to Fix Cyclic Redundancy Check Error (CRC Error)?
Overview of CRC Error: Cyclic Redundancy Check Error, or the CRC Error, can prevent you from accessing data on your hard disk. It also interferes with simple functions such as copying and pasting files in a folder. If you have been suffering from the same, this blog will help you demystify the CRC error (cyclic redundancy check error) so that you can successfully recover your hard drive data.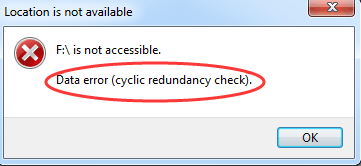 What is CRC Error (Cyclic Redundancy Check Error)?
The CRC Error is an error detecting technique that is used in storage devices such as hard drive. This is done to verify data stored on the hard drive. Similarly, an algorithm based on cyclic codes checks the drive for data redundancy. It also prevents accidental changes to raw data. Common messages during this CRC error include:
"Drive not accessible, data error cyclic redundancy check".
"Cannot initialize disk: cyclic redundancy check".
You might have seen this message while trying to open a drive partition. In another case, the system might even ask you to format the drive first.
There are a lot of reasons that can lead to cyclic redundancy check error (CRC Error) in external hard drives and also other storage devices. These include:
Corruption of the registry.
An abrupt interruption in installations of programs.
Misconfiguration of system files.
Corruption of data in the system registry.
Cluttering on the hard disk.
Development of bad sectors in the hard disk.
Bad network communications lead to packet errors.
Poor network wiring
Signs of CRC Error (Cyclic Redundancy Check)

Since CRC errors can also be caused by bad networks, it can crop up after packets are being dropped over the internet. At the same time, if your hard disk has not been accessible lately, it might lead to a CRC Error.
The major reason of CRC errors are:
File sending errors.
Bad file problems.
Transmission losses.
Device accessing the data is damaged.
Moreover, there are two major ways in which you can fix cyclic redundancy check error. Refer to the most relevant method for you below and simply follow the given steps. This will help you to recover data from a drive with CRC error.
Method 1. Using CHKDSK Utility
This is the most basic method to solve the CRC Error while windows have an inbuilt CHKDSK Utility tool that is readily available on most systems. So, It helps you repair minor errors in files. Also, small CRC errors can be easily fixed with these methods. Simply follow these steps:
Right click on the drive you want to check.
Click on 'Properties'.
Select the 'Check' option. This should be visible in the 'Tools' menu.
A dialogue box will pop up. Select from the two given options. 'Automatically fix file system errors' and 'Scan for an attempt recovery of bad sectors'.
Click on 'Start' to begin the scan.
The scan will try to fix the CRC Errors.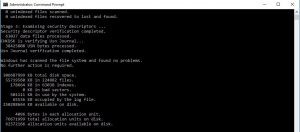 This method can be rendered useless in two instances:
Due to there are too many errors or if the error is too large to fix. The scan might get stuck in such situations or take too much time.
You can get a dialogue box that says "You don't need to scan this drive." or "We have not found any errors on this drive." Therefore, a solution here is to use the Command Prompt to run the CHKDSK Utility. Follow these steps to do so:
Avail Administrator rights of the system.
Go to the Start menu. Click on 'Run'.
Type 'cmd' and press 'Enter'.
Type in the command 'chkdsk /fx:' where x is the letter of the drive you want to check. This is the basic scan.
You can also run an advanced scan. Type 'chkdsk /r x:' to do so. 'X' is the letter of the drive you want to check.
Wait for the scan to complete.
Restart the computer. Finally, try to access the drive now.
NOTE: The advanced scan can take some time to complete.
Method 2. Running System File Checker
System File Checker can also be used for data error cyclic redundancy check (CRC Error). The checker finds the corrupted or damaged files and replaces them with new ones. This is mainly useful for external storage devices such as hard drives and SD cards. Hence, simply follow these steps:
Connect the storage device to the system.
Go to the search option through the 'Start' menu.
Click on 'Run'. Type 'cmd' and press 'Enter'. This will open the command prompt.
In the command prompt, type in 'sfc /scannow'. Press 'Enter'.
This will start the CRC Error Scan.
Wait for the scan to complete.
Restart your computer and try re-accessing the storage device. If this step does not work for you, move onto the next section.
CRC Error? Data Recovery Professional can help
Furthermore, If none of the above-mentioned methods works for you, this calls for professional assistance. Probably, the hard disk or storage device might have a deep-rooted issue that the system checks are not enough to solve. Consequently, Stellar Data Recovery Services can help, if you are looking to fix CRC error. Our team of experts have decades of experience in successfully recovering data from corrupted or damaged storages devices. Also, we can handle every recovery need, including recovery of data due to CRC error.
We excel at recovering data in the following situations:
Hardware failure of storage devices.
Formatted SD Cards and Hard Drives.
Accidental deletion of data in storage devices.
Physical damage to the storage device. By placing the needs of the customers at the core, we can extend state-of-the-art services.
[NOTE]: Schedule defragmentation task in windows for weekly or monthly. Also keep track on hard drive performance with the help of CHKDSK to check errors like bad sectors, CRC error etc.
Conclusion
We hope that the given information will help you tackle CRC Error. Depending on the storage device and the priority of the saved data, finally, you can figure out the right course of action. It also pays to keep your hard disk healthy with regular CHKDSK checks. Hence, This would help you to avoid the cyclic redundancy check error in the future. And when you do encounter one, make sure that you stop using the device right away. The sooner you focus on the data recovery process, the better the chances of recovery are.
Frequently Asked Questions
Ques: Data error cyclic redundancy check – I am unable to fix the CRC Error in my hard drive. Is there any other way to recover the data?
Ans: Try to resolve the issue with CHKDSK method. But if it's not works do not experiment with the hard drive and immediately contact to data recovery service providers.
Ques: What is the reason for Diskpart cyclic redundancy check data error?
Ans: The Diskpart cyclic redundancy check data error occurs due to the following reasons:
Storage devices contain bad sectors
Cluttered hard disk and misconfigured files
Registry corruption
Unsuccessful program installation
A sudden loss of power to the system
Ques: How to fix cyclic redundancy check data error?
Ans: To fix this issue you have to repair all logical errors in the hard drive by running CHKDSK utility via command prompt. You can follow the above method one.