Things You Need To Do Before Exchanging Old Mobile
Mobile devices keep us connected to the world and allow us to save data making it handy for use. Thus, they're one of the most commonly used devices and so is their sale, resale, and purchase. If you're planning to sell your old mobile to save some money for buying a new one, you have to take some precautions to safeguard your precious data and privacy before selling or exchanging it.
Special Offer from Stellar
Get exclusive offer on data erasure software and service, drop an email to help@stellarinfo.com
Precautions to Take Before Exchanging Old Mobile
Before you dump or sell your old mobile, you must consider the security and privacy of the data you stored on your mobile. Your mobile contain sensitive, confidential, and personal data. This includes the data stored by various apps installed on your mobile. The apps such as the browser on your mobile stores saved passwords, saved credit/debit card details, browsing history, cookies, autofill form data, and the other internet activities on the mobile. If by any chance the confidential and private data on your mobile reach in the wrong hands, you might have to face some serious consequences.
Many of us delete the data or format our mobile phones before selling it off and think that the data is permanently deleted from the mobile. But if you think that formatting or deletion permanently deletes the data, then this is not the case. This deleted or formatted data can be easily recovered by using data recovery software.
Read this study conducted by Stellar on second-hand devices. This study was conducted on 311 used devices and it was found that more than 70% of these used devices contained residual data such as PII, personal data, banking information, income tax records, and login credentials, etc.
Thus, you must wipe your mobile properly before you sell it to erase the data permanently. You can do this by using mobile erasure software like "BitRaser Mobile Eraser and Diagnostics". Deletion or formatting doesn't serve the purpose.
Why Use Data Erasure Software?
Deletion removes only the references to the data stored on your device. Similarly, formatting also removes references to all the data on the storage device, in addition to reassigning a file system to it. No matter if you delete or format your mobile, the data still remains on it. Therefore, selling the mobile after simply deleting or formatting it exposes you to a risk of data breach/theft.
However, using the mobile erasure method wipes the data permanently beyond the scope of recovery. Thus, whenever you plan to sell or exchange your old mobile, wipe it first before doing so to prevent a data breach.
Use "BitRaser Mobile Eraser and Diagnostics" Software to Permanently Erase Data from Mobile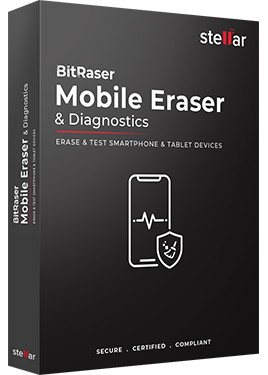 BitRaser Mobile Eraser & Diagnostics software is an advanced data erasure and diagnostics tool for both – individuals and businesses. It permanently erases iPads, iPhones, and Android devices to secure data privacy with failsafe compliance. The software safeguards sensitive information from a breach when mobile devices are disposed, exchanged, resold, or recycled. It supports 10 international erasure standards such as DoD 3/7 passes, NIST 800-88, HMG, etc, and generates comprehensive erasure reports and certificates for audit trail
Apart from erasing the data, it can also be used for diagnosing health and functionality of the mobile device. It can erase and diagnose up to 40 devices simultaneously. Performs 30+ diagnostic tests for accurate assessment of device functionality
Before you could use the software to erase and diagnose your mobile device(s), you'd need to install it. To do this, create a bootable USB by using the ISO image of the software and boot your system with this bootable drive. Next, follow the installation wizard to install the software on your system, and configure it.  You can now connect the mobile device(s) to your system and use the software to wipe or diagnose the device(s).
Conclusion
Mobile phones store your personal, confidential, and private data. Hence, before you sell your old mobile phone, you must make sure that the secrecy of your data is not compromised. As formatting or deleting only removes the path of the files, not the actual data, you must not consider them as the ways to erase or wipe your mobile. Formatted or deleted data can be easily recovered by using data recovery software and misused. So, before you sell your old mobile erase it by using mobile erasure software like BitRaser Mobile Eraser and Diagnostics.  It wipes all the data permanently from mobile so that it can never be recovered by data recovery tools. It implements internationally accepted data wiping standards and generates data erasure certificate and report.  Additionally, it allows you to diagnose your mobile device and assess its functionality.