Why Microsoft's Windows File Recovery is Not Perfect Tool?
Updated on October 19, 2023
Summary: Microsoft has recently launched a Windows File Recovery software. This blog gives you an overview of this free file recovery software, its features, pros, and cons. There's also a better and more reliable alternative to this tool – Stellar Data Recovery Professional. 
Download a free trial from below:

Microsoft has recently launched a Windows File Recovery software, which helps you recover files and folders lost due to accidental deletion, formatting, corruption, etc. It is a command-line tool that can restore your photos, videos, documents, and other data. The software is available for free download on the Microsoft store. It is compatible with Windows 10 and previous versions up to Windows 2004.

Microsoft' Windows File Recovery- Modes of Operation
The software works on three different modes of operation: Default, Segment, and Signature.
Default Mode:
The Windows File Recovery tool scans the Master File Table (MFT) usually in default mode. This mode locates the lost files when File Record Segment (FRS) (files data stored on a storage drive), and MFT are available and readable. You may recover only the recently deleted or lost data on a drive formatted with NTFS in the Default Mode.
Segment Mode:
If you can't retrieve data using this mode, try Signature Mode.
Signature Mode:
In Signature Mode, the software scans and locates file types for recovering only lost files of certain types such as PDF, PNG, MP3, JPG, JPEG, MP4, ZIP, DOCX, etc. However, you won't be able to support the recovery of small files. You may restore deleted files from storage devices with FAT, exFAT, ReFS, or NTFS.
Supported File Systems
The software is primarily designed to facilitate recovery only from NTFS hard drives, using Default and Segment Mode. However, you may also retrieve data from hard drives with other file systems, such as FAT, exFAT, ReFS using the Signature Mode. Depending upon the cause of your data loss, choose the most suitable mode to attempt file recovery.
The ideal mode of operation for different data loss scenarios is provided in the table below.

While the Windows File Recovery tool supports free unlimited data recovery, there are certain limitations to the program.
Limitations of Windows File Recovery Tool:
The software has different modes to recover data from different file systems, doesn't have a graphical interface, and needs several commands to perform data recovery. That's not all! There are several other limitations, such as:
It is a command-line utility. You will need to run several commands, which may be complicated for less tech-savvy or non-technical users. There are fewer chances that you'll be able to recover all your files. Even if you're able to recover them, there is no assurance that they will not be corrupted. Keeping all the limitations in mind, we may not consider it the perfect Windows File Recovery software to restore your data.
You may try a professional third-party software, such as Stellar Windows Data Recovery software, to retrieve lost or deleted data.

Try Stellar Data Recovery Professional
Stellar Data Recovery Professional is an easy-to-use data recovery software that can extract several types of data, including photos, videos, documents, emails, files, etc. It supports recovery from internal hard drives and external storage devices such as HDDs, SSDs, USB flash drives, memory cards, pen drives, and optical discs (CD/DVD). The software enables you to retrieve data from NTFS, exFAT, and FAT (FAT16/FAT32) formatted drives. It features two scan modes – Quick Scan and Deep Scan. You may even retrieve data from unbootable or crashed Windows systems.
You may also read- Complete working of Stellar Data Recovery Professional 
Download the trial version from below and see how the software works:


Watch the video on "How to recover deleted files for Windows?" with the help of Stellar Recovery Software
How to decide which Windows File Recovery Software is the best?
To decide which software you should choose to recover your data in an easy, fast, and secure manner, here's a comparison table for both software.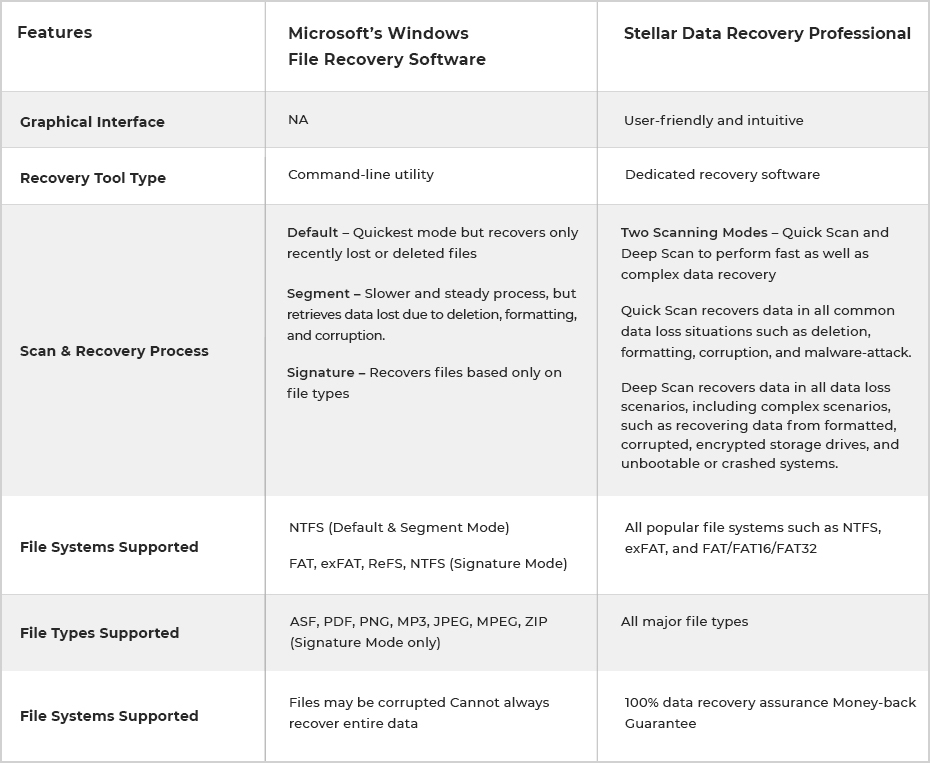 Wrapping up
Undoubtedly, Microsoft has made a great effort by launching the Windows File Recovery tool, which is available for free download. Users may download this software from Microsoft Store and recover deleted or lost files. However, there are a few limitations with this software, as discussed in this blog. Hence, we have mentioned a perfect alternative for this tool, i.e. Stellar Data Recovery Professional. This DIY tool works in all data loss scenarios.