Easy Solution to Repair Corrupt PST Files – With Stellar Repair for Outlook
If you've worked with Microsoft Outlook for long enough, you'd know the application can face problems like sudden crashing, PST file corruption, sluggish performance, and other unexpected errors. Such problems can be resolved but there's a possibility of losing the mailbox data, which then becomes a challenge (and key concern).
What Causes Outlook Data Loss?
PST file corruption is a prominent cause of data loss from Outlook. There can be several reasons for PST file corruption such as oversized PST, sharing PST over a network, virus infection, or something similar. Once Outlook PST becomes corrupted, all data stored within it becomes inaccessible, with a risk of permanent loss.
How to Repair Corrupt PST Files?
The Inbox Repair tool (or Scanpst.exe) is the built-in utility in Outlook, which can help you diagnose and repair errors in PST files in Office 365, Office 2019, 2016 and older versions. The tool is installed with all English-language installation of Microsoft Outlook.  The location of the Scanpst.exe file is in the root folder for the installed Office version, within the Program Files folder.
For example, here's the Scanpst.exe location for Outlook 2019
Outlook 2019: C:\Program Files (x86)\Microsoft Office\root\Office16
As you may notice that Inbox Repair Tool offers a thorough procedure for PST file repair, which also varies on the basis of the specific version of Outlook. Also, users have reported on forums that Inbox Repair Tool didn't effectively repair their large-sized (>2GB) PST files which is a reasonable size today, as we know that newer Outlook versions do support PST files of up to 50 GB size.
So, what happens if your large-sized PST – which could easily exceed 2GB size – gets corrupt? Inbox Repair Tool may not be the ideal solution.
Stellar Repair for Outlook is a specialized PST file repair software that addresses this problem. It provides a great alternative to Inbox Repair Utility, as it's much easier to use. Also, offers a hassle-free file repair experience irrespective of the Outlook version or platform. It extracts all the mailbox data in its original form, with full integrity.
How to Repair Corrupt PST file by using Stellar Repair for Outlook Software

Here are the steps to repair Outlook PST with the help of software:
On the main screen, the 'Select PST File for Repair' dialog box provides a 'Browse' option to select the PST file and 'Find' option to locate PST file.

Click the 'Browse' button if you know the location of the PST file. Or else, click 'Find'

Once you've selected the PST file, click on the 'Repair' button to initiate PST file repair.

The next screen shows the scanning progress. The estimated scan duration depends upon the size of the PST and the extent of corruption.
Once the scan is complete, all recoverable items are displayed in a tree-view list in the software's left-hand panel. From here, you can preview any item by double-clicking it.

To save items, select the respective folder and click on the 'Saved Repaired File' button from the File menu

Select file format as PST from the multiple saving options and browse the location to save the recovered PST file
Click 'OK' to complete the PST file repair process

Once the saving process is complete, the selected folder will be saved at the specified location.
Key Benefits of Stellar Repair for Outlook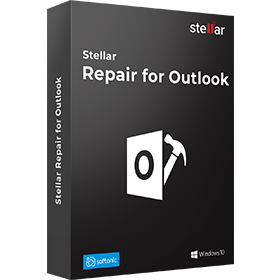 Repairs PST files of any size and extracts mailboxes in the original form
Repairs severely corrupt and encrypted PST files
Extracts all mailbox items — emails, attachments, contacts, and deleted emails, etc.
Offers a free preview of the scanned mailbox to facilitate precise recovery of data
Can extract mailbox data in multiple formats —PST, EML, MSG, RTF, HTML, and PDF
Can directly export the repaired PST directly to Office 365
Repairs PST files of Outlook 2019, 2016, 2013, 2010, 2007, 2003, 2002 & 2000
Wrapping it up
The outlook is one of the most-used software applications in the corporate. Obviously, there would be considerable instances wherein you may have faced issues due to PST file corruption.
In this blog post, we shared 2 solutions for fixing corrupt PST files, namely, Outlook Inbox Repair Tool and Stellar Repair for Outlook. The Inbox Repair Tool is built into Outlook and can be a great default option provided that your PST file is small and you want to do an initial check believing that the PST file is corrupt. But make sure that you take a backup of the file before running Inbox Repair Tool on it.
Stellar Repair for Outlook is a specialized utility for repairing PST files, which works across Outlook 2019, 2016, and older versions. A key benefit of the software is that it's hassle-free and offers a great success rate, with no risk of data loss or alteration. The software is available for a free trial which can scan and preview the mailboxes inside the PST. Once you've determined the effectiveness, it's just about activating the software so as to be able to save the recovered mailboxes on your system.