How to Erase Browser Cookies on Windows?
Internet cookies, also known as web cookies or browser cookies, are small files stored in your web browser by the web server whenever you visit a website. These improve your browsing experience by remembering your preferences. In addition, cookies also track your online activities and store your browsing history, along with login credentials and other information. If you fail to manage them efficiently, it can pose a significant threat to your privacy and security. To ensure your data isn't harmed, erase the browsing history and also cookies and cache files every time you close your web browser or shut down the system. This blog lists the detailed steps to erase browser cookies on Windows.
इस पोस्ट को हिंदी में पढ़ने के लिए यहां क्लिक करें
Here's How you can Delete Cookies on Windows
Following the below-given steps to delete cookies in different web browsers:
In Internet Explorer
Open Internet Explorer.
Go to Settings and select Internet Options.
Click on the General tab and go to the Browsing History section. Then, click on Delete.
Make sure to mark the Cookies and Website Data checkbox and then click Delete.
In Google Chrome
Open Google Chrome.
Click on the three dots (⋮) and select the More Tools option, followed by Clear browsing data.
On the Clear browsing data window, select the time range for which you want to clear the data.
Lastly, mark the Cookies & other site data and Cached images and files checkbox, and then click on Clear data.
In Mozilla Firefox
Open Mozilla Firefox.
Click on the menu icon (☰) and select Settings.
Select the Privacy & Security tab and scroll down to Cookies and Site Data. Then, click on Clear Data.
Make sure to mark the Cookies & Site Data and Cached Web Content checkbox, and then click on Clear.
A confirmation box will appear on your screen. Click on Clear Now.
Following the above steps, you'll be able to clear the cookies in your browser. However, this won't delete them permanently, i.e., your data is still "retrievable". A data recovery software can recover the data deleted through any of your browser's settings.
Let's say, you plan to discard or sell your old PC or Mac and deleted the browsing data through Google Chrome settings. The person, who now owns your device, can potentially recover your browsing information with the help of data recovery software. This, in turn, can risk your data privacy and lead to various threats. Therefore, simply deleting the browsing history or any other confidential data is not a fail-safe method from a data safety point.
Also Read: How to Schedule Data Eraser Task in BitRaser File Eraser?
How to Permanently Erase System Cookies on Windows?
The secure way to erase system cookies and other data is by using a file eraser tool. A specialized file eraser software permanently deletes the data, such as files, folders, cookies, saved passwords, browsing history, etc. by overwriting it. BitRaser File Eraser is one such DIY file eraser software that uses advanced algorithms to erase data permanently on your PC or Mac. Moreover, files erased using BitRaser File Eraser software cannot be recovered using any data recovery software.
Follow the below steps to erase cookies using the software:
First, you have to purchase the BitRaser File Eraser software.
Then, install and run the software.
From the left pane, click on the Erase Traces tab. Then, click on Scan and the software will then scan through your PC.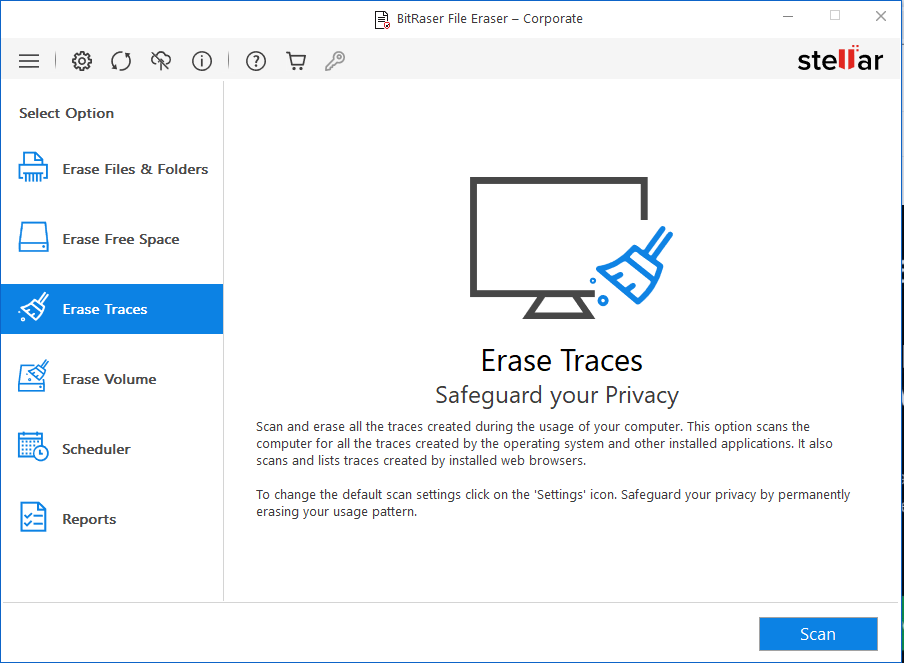 A dialog box appears on your screen. Click OK.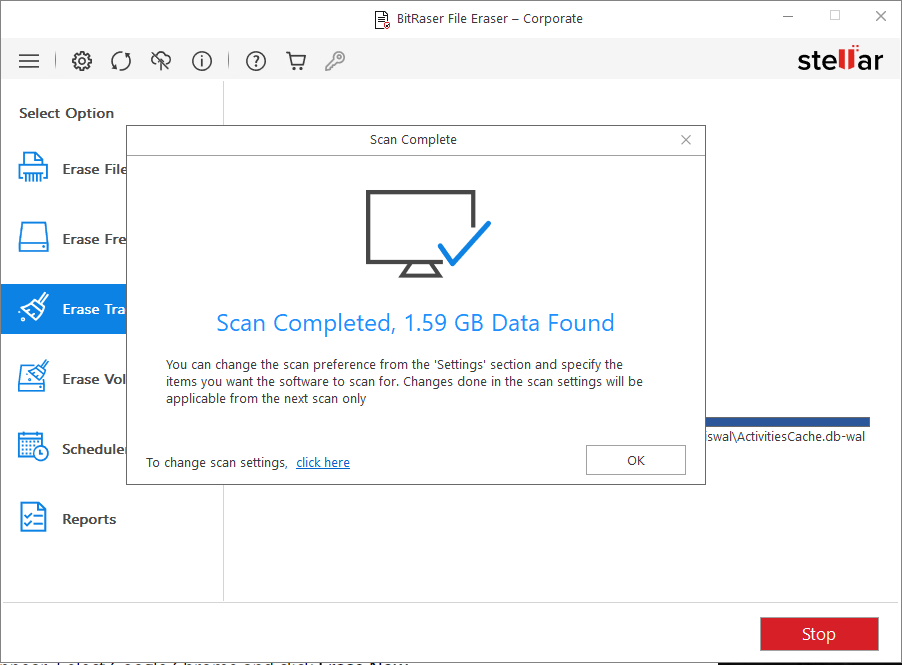 From the displayed options, mark the Internet Activity checkbox and click on Erase Now.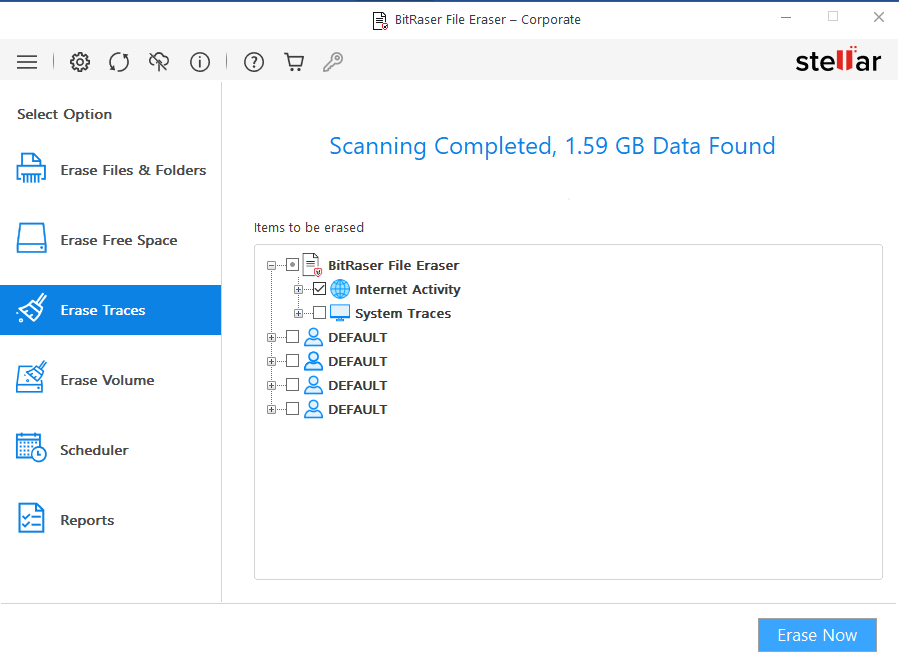 A dialog box asking for erasure confirmation will display on your screen. Click on Proceed. This will erase system cookies from your browser permanently.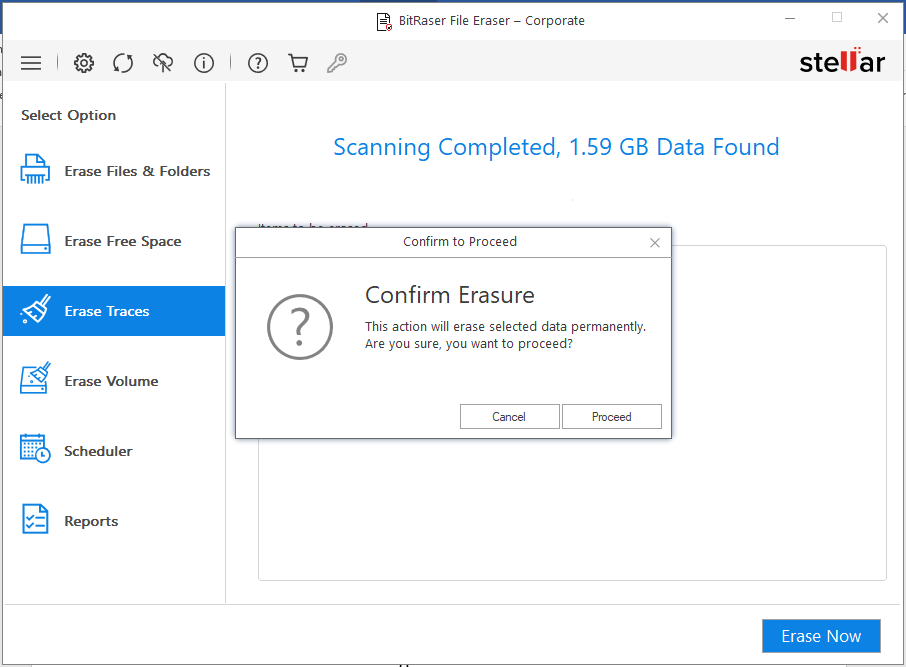 Steps to Block or Turn Off Cookies
You can also block cookies if you don't want to store them on your PC. But this can prevent some pages from being displayed correctly. At times, you may get a message from a website stating that you need to allow cookies to view that specific website.
Follow these steps to turn off or block cookies in Google Chrome:
Open Google Chrome and click on More, followed by Settings.
Further, go to the Privacy and Security tab and click Site settings > Cookies.
From here, you can:
Turn off cookies: Turn off Allow sites to save and read cookies data.
Summing It Up
Well, no doubt, cookies are important as they improve your browsing experience by allowing sites to remember your preferences or by letting you avoid signing in each time you visit certain sites. But, it's equally important to delete the system cookies frequently as malware attacks and malicious websites are becoming increasingly common. Thus, instead of just clearing your system cookies, erase them permanently using a file eraser software, like BitRaser. It erases the data by overwriting it. Thus, it cannot be recovered even by using data recovery software.