How to Recover Notes on Mac Lost after Upgrade?
Summary: If you have lost your Mac Notes or Sticky Notes after updating or upgrading your Mac operating system, read this post to know how to recover such lost notes. Top recommended methods to help users to recover lost notes on mac systems. Download Stellar Data Recovery for Mac for quick recovery of lost notes on your mac system.

Updating the macOS or upgrading to a higher macOS version brings new features, security enhancements, and much more to your Mac. However, at times, installing the updates or upgrading may result in loss of data such as lost Notes or other files.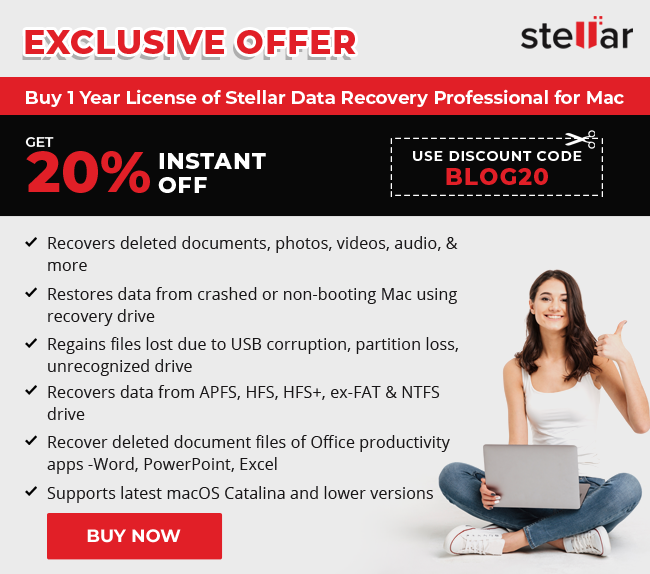 Best Methods to Recover Lost Notes on Mac
Method 1. Recover Lost Notes from Time Machine Backup
Time Machine is the free backup utility provided in macOS which does an incremental backup of files to an external hard drive. This incremental backup is stored in the form of different versions – older and newer versions – of the same folder.
If you're using Mac's Time Machine backup utility, you can navigate to Notes folder and explore older versions of Notes folder to recover the lost sticky notes.
[NOTE]: When the backup drive is full, Time Machine removes the oldest weekly backup.
[IMPORTANT]: Before you begin, make sure that the backup drive is connected and turned ON.
Follow the steps given below to recover lost notes by using the Time Machine backup:
From the menu bar, click Time Machine> Enter Time Machine
Follow the below path to navigate to the Notes folder which contains your notes:
~/Library/Containers/com.apple.Notes/Data/Library/Notes/
You can now explore all the backed-up versions of the Notes folder.
Use arrow keys to go back in time, and explore the older versions of Notes folder which may contain your lost notes.
[Tip]: Go back to the time immediately before which you updated your Mac.
Select the notes you may have found in any of the older versions of the Notes folder, and click Restore
If you've not been using the Time Machine backup or couldn't find the lost notes in any of the existing older versions of the Notes folder, you can use a specialized data recovery tool such as Stellar Data Recovery for Mac.
Method 2. Use Stellar Data Recovery Software to Recover Notes on Mac
Stellar Data Recovery for Mac is one of the best tools to recover lost data from Mac. The software supports macOS Catalina 10.15, Mojave 10.14, and lower versions up to 10.7. It recovers all types of files including the notes on Mac. By using the software, you can easily recover notes lost after updating/upgrading the Mac operating system or due to any other reason.
Let's see the steps to recover lost notes from Mac by using Stellar Data Recovery software.
[Before you begin]: Turn OFF or disable Mac's System Integrity Protection (SIP) temporarily. This enables the software to scan or search the drive. Once you've recovered the lost notes, you can enable the SIP. 
Download and install the software, and launch it

From the main interface, toggle ON Documents switch and click Next
Select Mac's hard drive, toggle ON Deep Scan switch and click Scan
Click OK on the message box that appears after the completion of the scanning process
[NOTE]: You can double-click any note fetched by the software after scanning to see its preview.
Select the sticky notes you want to save, click Recover, and save them at the desired location
[NOTE]: Save the recovered notes to a location other than your Mac.
 Now that you've recovered your lost notes, you can enable the SIP.
Also read – Complete working of Stellar Data Recovery for Mac
Conclusion
Apple regularly releases macOS updates or new versions of its operating system to give a better experience to its users. Whenever you update/upgrade your macOS, you may see added features, GUI enhancements, security enhancements, etc. But sometimes update or upgrade may lead to data loss. If you're in such a situation and have lost your data such as sticky notes, you can restore them from Time Machine backup. If it doesn't help, you can recover the lost notes by using Stellar Data Recovery Software for Mac. It's a DIY tool that effectively recovers all types of lost, deleted, and inaccessible files from Mac devices.