How to Recover Files Deleted from Trash in Macbook
Updated on September 13, 2023
"I just lost all my data accidentally deleting my trash, and the backup option in my MacBook was also disabled. How can I recover files from trash on Mac?" To recover deleted files from trash mac download & install the demo version of Stellar data recovery for Mac for quick Mac trash recovery and to preview recovered files deleted from trash.

Many people across the world wonder how to recover deleted files without Time Machine, which is the backup function in Macs. They also wonder to perform Mac recover deleted files without backup, since they have disabled the backup options that were present when they bought their Macs and were prompted for the option to deselect them.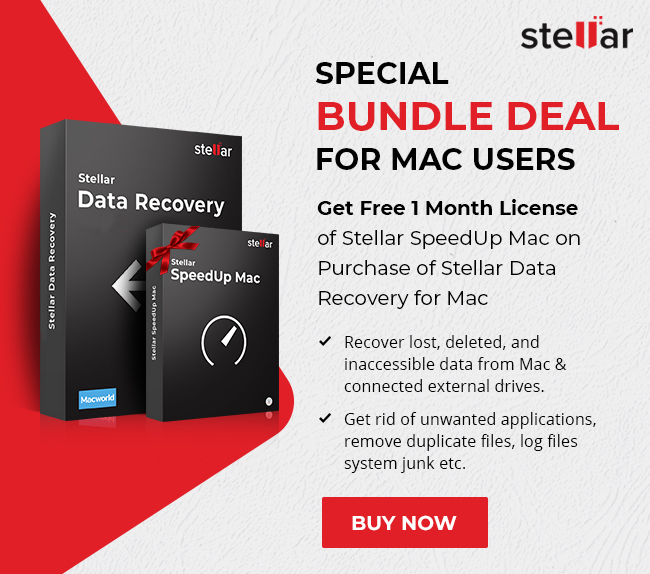 Methods to Recover Deleted Files from Mac
It is advisable that one should immediately stop using the system in a data loss situation. In case you have an HDD in your Mac, do not save or create new files as this can overwrite the disk space where the deleted files get stored. It is very difficult to perform mac recover deleted files once overwritten. Please refer to the below-mentioned ways to recover deleted files from the trash in Mac.
1. Check for external backup
Try to recall the files you have created. It may happen that you have to back up the files on your smartphone or in other storage devices like memory cards, external hard drives, USB sticks, etc. Do check your mailbox as well, in case you deleted project-based documents, those might have been shared on an email.
2. Restore from Time Machine backup
If you have enabled the Time Machine backup, then no need to worry at all. You could easily retrieve the data from Time Machine by navigating the folder where the deleted files lie.
Also Read: How to Recover Deleted Files from SD Card for free Mac?
3. Use Mac Data Recovery Software
If you happen to delete data from your MacBook's Trash using Option-Shift-Command-Delete, then the files are deleted permanently from macOS. This is when there comes the need for Data Recovery Software to do data recovery from Trash. However, We understand that data loss is a critical situation, and Stellar Data Recovery Software for Mac will successfully help you to overcome the situation.
Whatever may be the cause, the software is specially designed to recover permanently deleted files be it pictures, videos, audio, spreadsheet, PowerPoint, Word, emails, applications, etc. from Trash. Don't worry there are various ways to recover deleted files from Mac Trash. The software to recover the files from Time Machine backups, lost partitions, and corrupt Boot Camp partitions.
Steps to Recover Deleted Files after Emptying Trash by using Stellar Mac Data Recovery Software:
Download, install and launch Stellar Data Recovery for Mac

From the main interface, select "Recover Everything" by using the toggle switch, and click Next. Also, you can select particular data to recover trash mac which includes documents, emails, videos, audios, photos.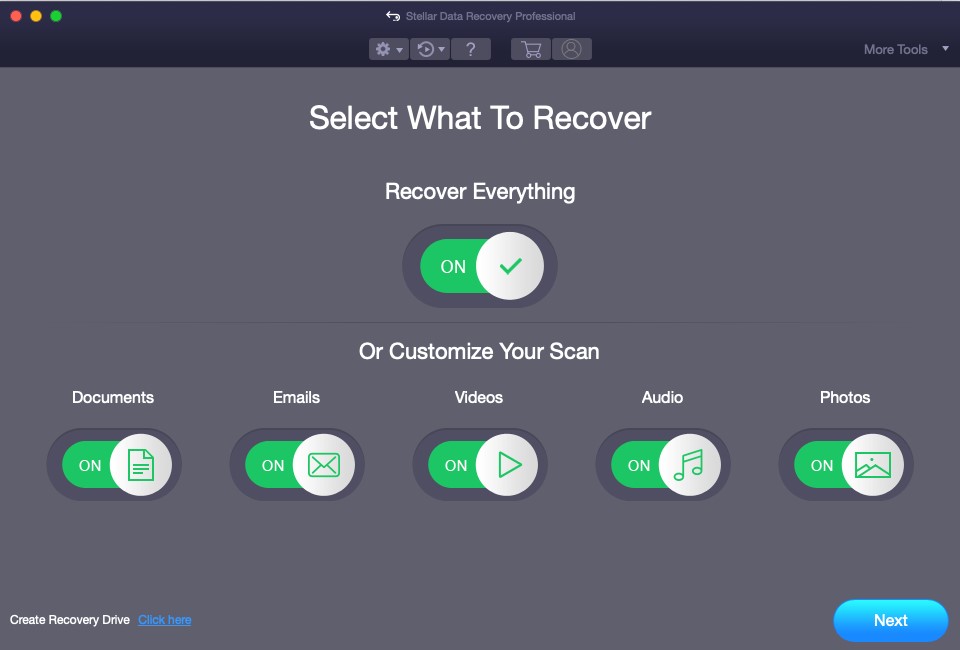 Now from very next window, Select the Macintosh HD from "Select Location" screen to do data recovery from Trash. The reason behind selecting Macintosh HD is that because Trash is located on the Macintosh HD from where you want to recover data from Trash.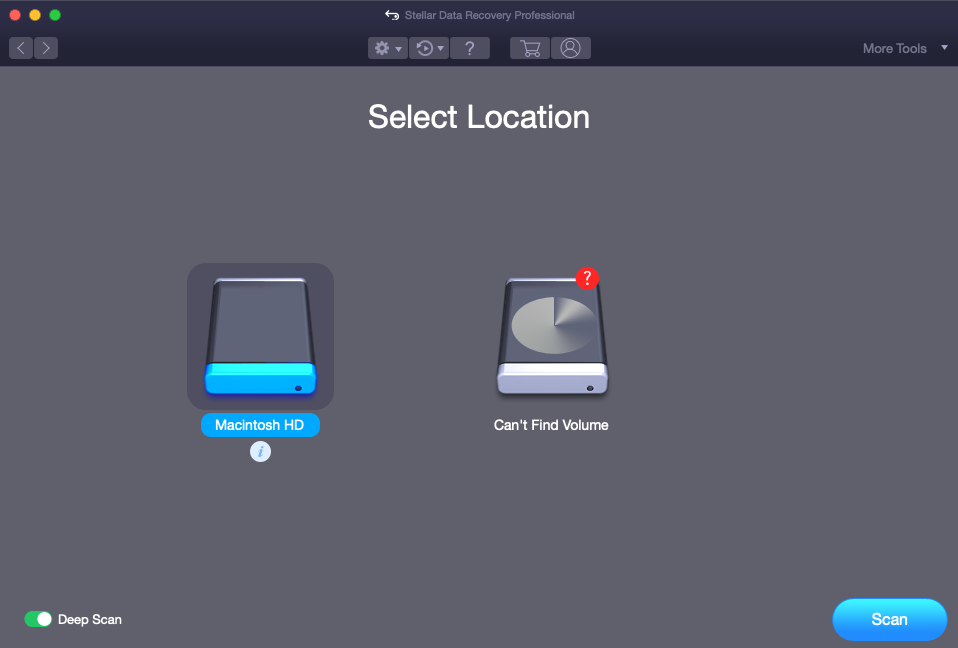 Now toggle ON Deep Scan switch, and click Scan
"Deep Scan" is a comprehensive file signature-based search for maximum recovery in tough data loss cases such as drive formatting, corruption, etc.
When the Scanning process completes, a list of all the files including the ones you'd deleted.

If you wish to preview a deleted file fetched by the software. You can click the desired folder and double-click any file on the right pane to preview it

Select the files you want to save, and click Recover. All your deleted files from trash will be restored.
Note: The free demo version of the Stellar mac data recovery software will allow only to scan the drive and preview the recoverable files deleted from trash. But to save these files, you will have to activate the software.
4. Mac Data Recovery Service
For critical scenarios, it is always advisable to go for an authorized Data Recovery service for Apple computers. Retrieving data from Apple computers like MacBook, MacBook Air, MacBook Pro, and iMac devices requires a combination of special skills and the best technology.
Immediately contact Stellar for a professional Data Recovery service to recover your essential data. We at Stellar take pride in delivering up to 100% success rate in data recovery. Our professionals recover data from any of the below-mentioned scenarios leading to data loss:
Reformatting of the hard drive.
Mac hardware failure
Mac OS X volume errors,
Failure of the operating system of Mac
The professionals are experts in all kinds of data recovery from various situations and much more.
Tips to Avoid Data Loss in MacBook
Listed below are few pointers to be kept in mind so that you do not encounter a data loss situation.
Your Mac may fail due to power surges; hence use an uninterruptible power supply.
Avoid updating macOS on a malfunctioning Device. Also, try to avoid installing any third-party software.
Immediately troubleshoot problems whenever they occur.
Eject external storage devices after turning them off.
Create a backup of your critical data regularly.
Keep your anti-virus version updated and also run a virus scan to check for any potential spyware or malware on a regular basis.
 Conclusion
In case if you have deleted files from the Trash, then you need a Mac data recovery software or service to do trash data recovery. Don't download any unauthorized software because it can severely harm your Mac and can lead to the deletion of your data forever.
We perform 50,000+ service jobs per year in our data recovery centers. With Stellar Data Recovery Services, you can also recover up to 100% deleted, formatted, and lost data from Mac OS X, MacBook, MacBook Pro, and all other Mac computers.