How to Repair Corrupt Photos with Stellar Repair for Photo?
There are several complaints of photos getting corrupt, showing errors, turn black or greyed-out, etc. The bitter fact is no storage media, be it SD card, flash drive, pen drive, hard drive, or SSD is file corruption or loss proof.
'I save photos shot with my DSLR in an external hard drive. Suddenly, I found some of my pictures show an error 'No Preview Available' on trying to open. These photos are there in the hard drive for a long time. I think they have corrupted. Is there any way to repair such corrupt images?'
'I transferred over hundreds of photos from my smartphone to the laptop. But, I was shocked to find many of them have a grey box over them when I view on the laptop. Why did this happen? How can I repair the greyed-out photos?'
Your stored photos in any drive or media can get corrupt due to various reasons, such as
Computer crashes while saving photos
Unexpected shutdown or power cut during transfer
Bad sectors on the storage media
Physical damage of the media
Drive/media in extreme conditions of humidity or heat
Virus infection and many others
Whichever is the reason for corruption of your photos, an advanced photo repair tool is the only solution to get the corrupt photos in the natural form again.
What type of corruption Stellar Repair for Photo can fix?
Stellar Repair for Photos is advanced software that can fix several types of issues in your photos.
Some of them are:
Unable to open recovered image files
Photos show errors like, 'Invalid Value for Registry,' 'No Preview Available,' JPEG Error #53, 'Invalid JPEG marker type,' 'Unknown JPEG Format' errors, etc.
Image file displays as grey or a yellow triangle with an exclamation mark
Grainy, pixelated, blurry, grey bands, loss of color, random colors, broken, truncated, etc.
These and many other issues in the photos are fixed by Stellar repair for Photo.
How to Fix Corruption in your Photo?
Stellar Repair for Photos is a secure, quick, and easy to use the software. Its clear-cut and straightforward interface lets even a novice with no technical knowledge to repair his or her corrupt photos.
The do-it-yourself software repairs your pictures in three simple steps – Add file, Repair, and Save.
The software can repair JPEG/JPG, TIFF, DNG and other RAW file formats of popular camera brands like Nikon, Canon, Fuji, Sony, etc.
Key benefits
Preview repaired photos before saving
Repairs multiple photos simultaneously
Simultaneously improve hundreds of pictures of same or different format
Repairs photos stored in a hard drive, SD card, USB flash drives, etc.
Extracts thumbnails of corrupt photos
To evaluate the capabilities, you can download its free demo version and preview of your repaired pictures. However, to unlock the complete functionality, and save the repaired files, buy the software through the secure payment gateway.
In Steps: How to Repair Corrupt Photos with Stellar Repair for Photos
Step 1: Run Stellar Repair for Photo software on your computer (Windows/ Mac)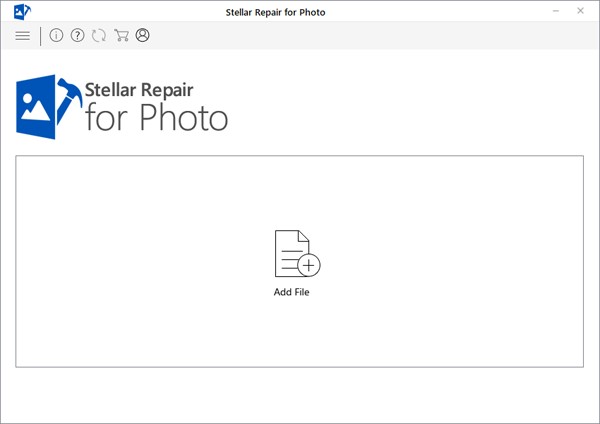 The primary user interface of Stellar Repair for Photo
Step 2: Click Add File. In the dialog box browse to add the corrupt image files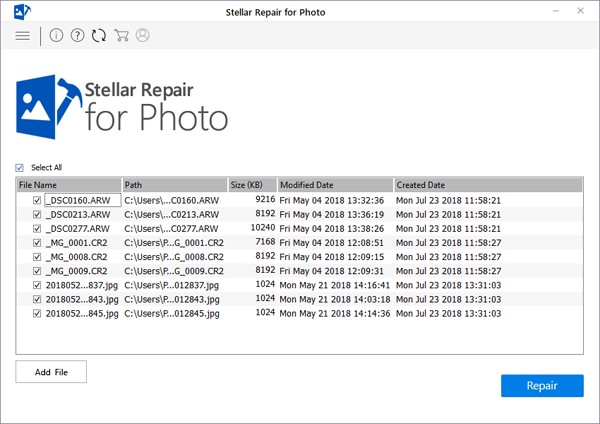 Added corrupt files list
Step 3: Click Repair to start the process.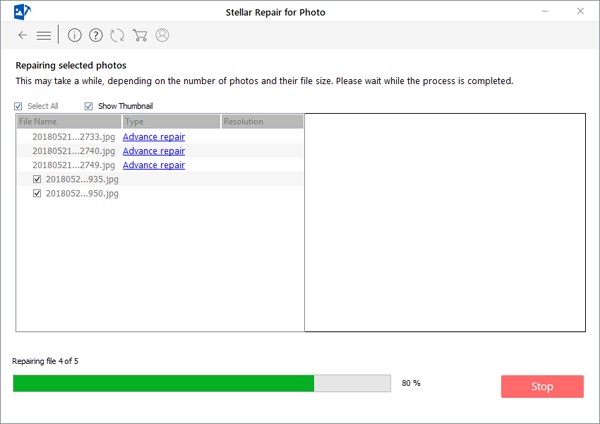 Progress bar of repairing process
Step 4: After the repair process finishes, preview the photos before saving. Next, click Save Repaired Files and save them at the desired location.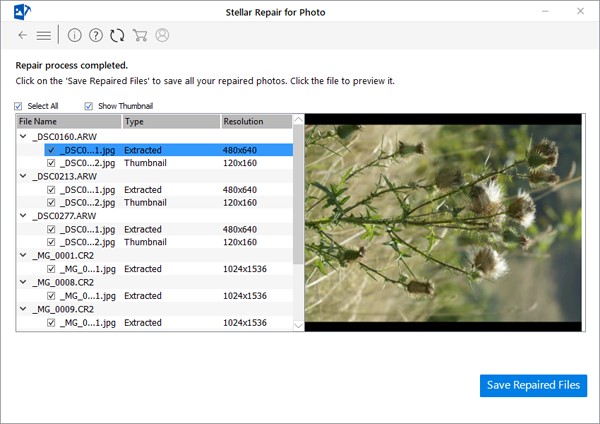 Preview the repaired images and save them
Advance Repair for severely corrupt photos
If you see an 'Advance Repair' option after the repair process, it indicates your photo is severely corrupt. The software directs you to undergo advance repair and fix the corruption in the image file.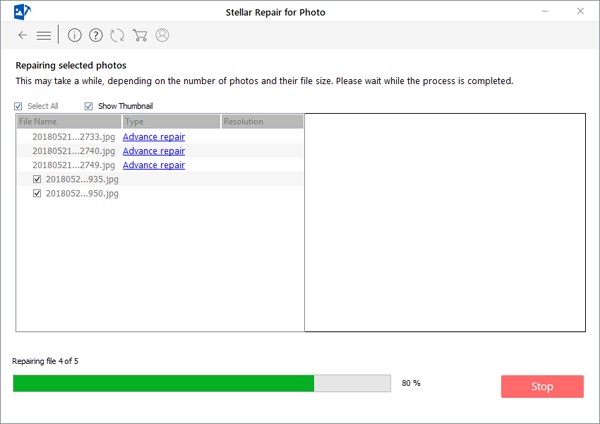 'Advanced Repair' option against severely corrupt JPG images
The feature uses the 'sample file' to fix the complex corruption. A 'sample file' is a correct file of any size shot from the same device as your corrupt picture.
Conclusion
Stellar Repair for Photo is a fast, secure and reliable tool for your corrupt photos. The software repairs almost all types of corruption in the images. You can repair hundreds of photos of different formats in no time.
Irrespective of the camera type, the software fixes the issues in the image files stored in any media. Moreover, it works on RAW file formats of cameras – a rare capability found in any repair tool.