How to Recover Deleted Partition Data?
How to recover data from the deleted partition? This post speaks the ways to restore lost partition data and why a professional approach is a viable option.
Hard drive partitions are the logical disk that enables users to divide the computer's hard drive space into different partitions. Further, it turns your system into a more secure environment. For instance, you may have at least two partitions of the hard drive – one for operating systems commonly known as C Drive (C:) and the other partition for storing data known as D Drive or Drive with other letters. So that in case of a system crash, then your data is less likely to get affected.
Stellar Data Recovery Solutions
Stellar is committed to offering multiple solutions for data recovery needs across the country. In continuation of our commitment to data care services and to ensure data loss does not hamper businesses or individuals, Stellar is offering three types of data recovery solutions.
इस पोस्ट को हिंदी में पढ़ने के लिए यहां क्लिक करें।
Why we create a hard drive partition?
Your computer treats each partition as a single drive. Depending on the requirement you can create multiple partitions. Allocate one for system files (C Drive) and others to store your data files such as pictures, audio, video, and documents, etc. Always store your files on a separate partition rather than storing them in C Drive partition. In the case of the system failure, you need to install OS in the C Drive partition without formatting other partitions.
Another feature of partition is that it allows dual-booting, i.e., you can install multiple operating systems on the same hard drive.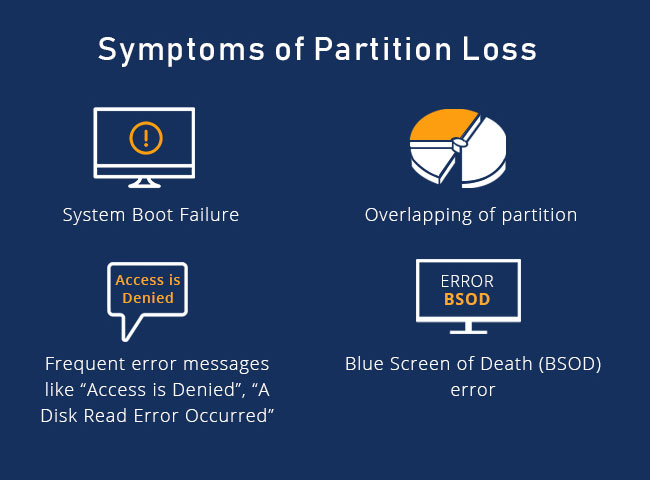 What to do to recover lost partition data?
Your prime concern is to restore deleted partition data, but there are certain things that you should consider:
Do not perform further operations as the more you mess with the hard drive more are the chances of overwriting it, and less will be the chance of partition data recovery.
Don't format the disk thinking that it may bring back things to normal again. Formatting the partition only reduces the probability of recovering lost partition data.
Abstain from hit and trial methods as they can make the matter worse (permanently deleting your files from the partition) if done inappropriately.
How can you restore deleted partition data?
If you are unable to find the hard drive partition in Windows Explorer, then you can check it in Disk Management.
Go to Control Panel, then click on Administrative Tools, after that click on Computer Management and locate the partition.
If the partition is there without the drive letter, then it means only the drive letter is missing, and you can access the partition again by assigning the drive letter.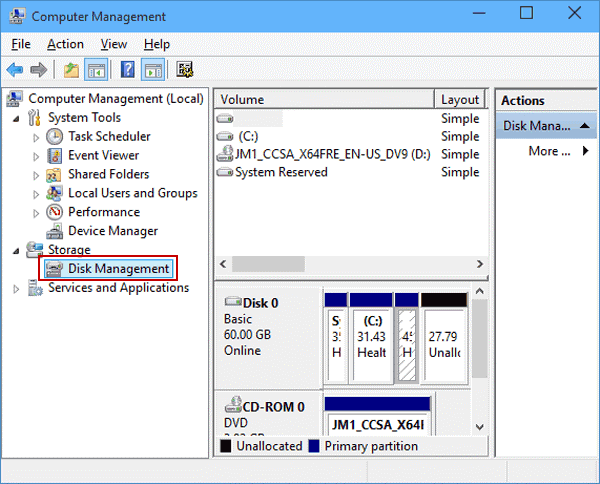 Figure: illustrates the disk management
Run Chkdsk Command
Chkdsk checks and repairs error such as directory errors, cross-linked files, lost clusters, etc. To run Chkdsk, follow these steps:
Search CMD in a windows search box and then Run Command Prompt as administrator.
In the cmd window, type 'chkdsk E: /f where 'E' is the drive letter and 'f' fixes errors on the disk
Note – chkdsk is not useful in case of RAW Partition error.
Once the process is complete, chkdsk repairs errors; however, this command-line is not preferable when you want to recover deleted partition data.
How to Recover Deleted Partition Data using Recovery Software?
Always use reliable and trusted windows data recovery software to restore your deleted partition data.
Note: When you want to recover data from the lost partition, it is critical not to write anything on that partition. Always install the partition data recovery software on a separate drive.
Follow the below steps to recover deleted partitions data using the software:
1: Download and install Windows Data Recovery Software.
2: Launch the software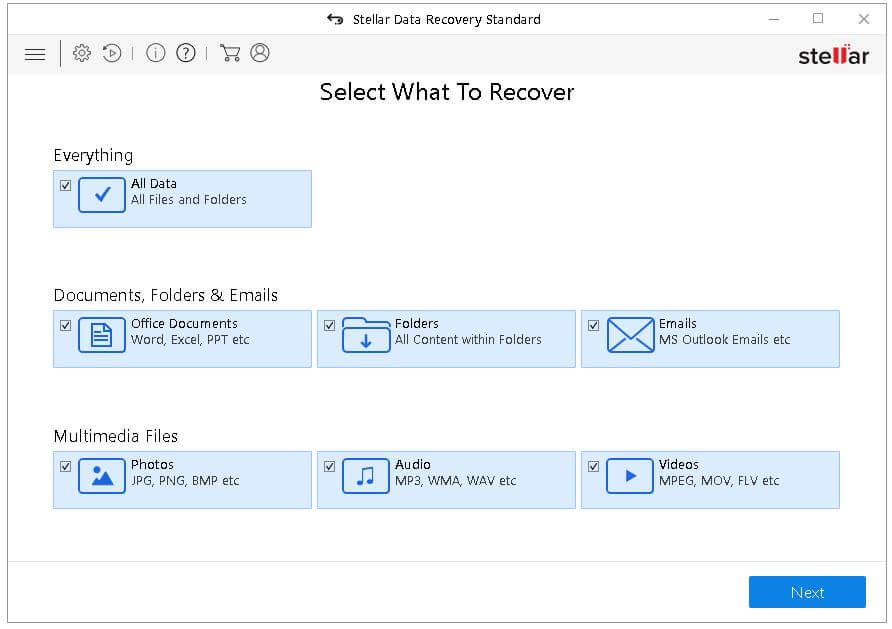 3: Select what you want to recover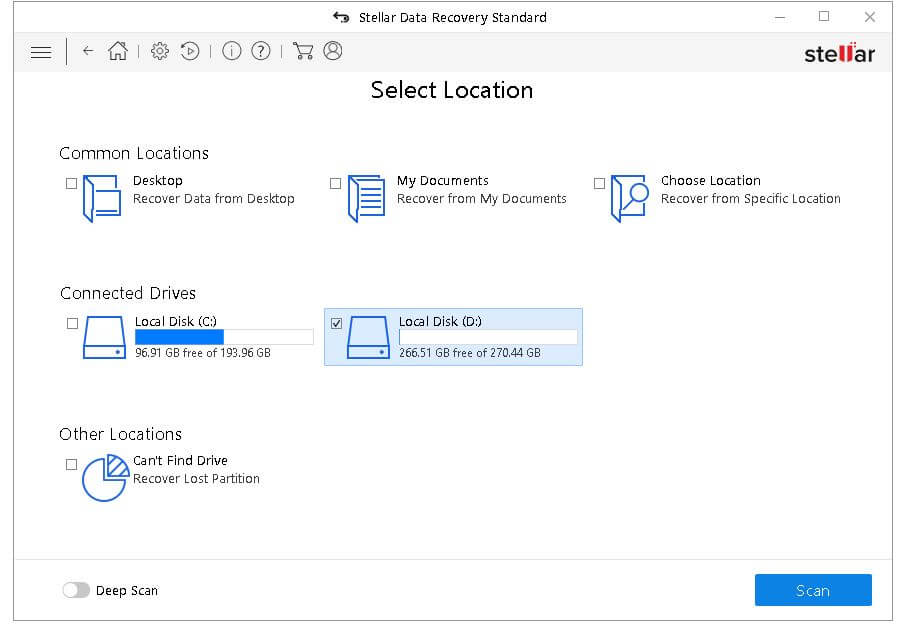 4: Click Next
5: Select 'Can't Find Drive' option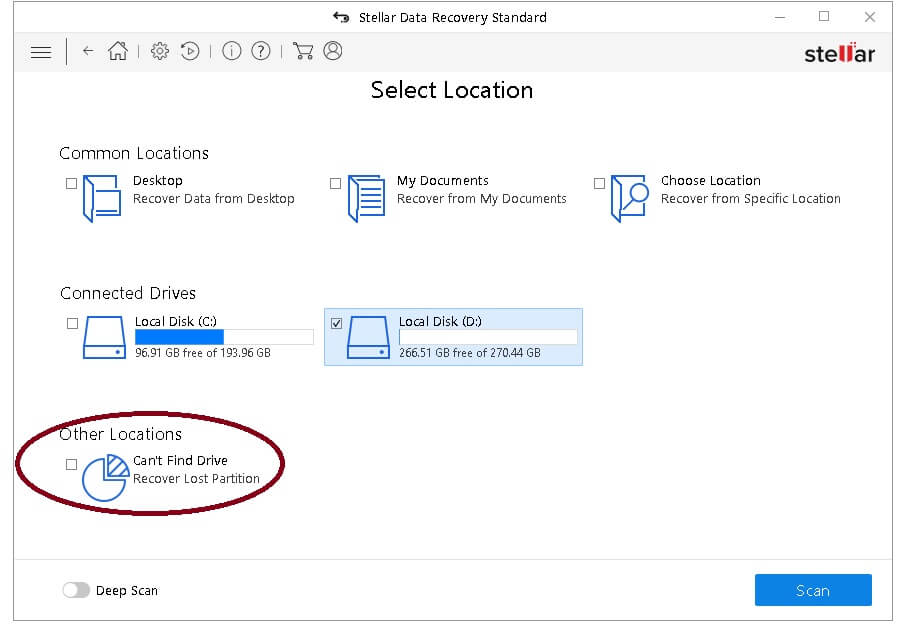 6: Select the desired hard drive partition and then click on Scan
7: After completing the scan, you can preview all the files on the left side of the window.
8: Select the files you want to recover and click "Save."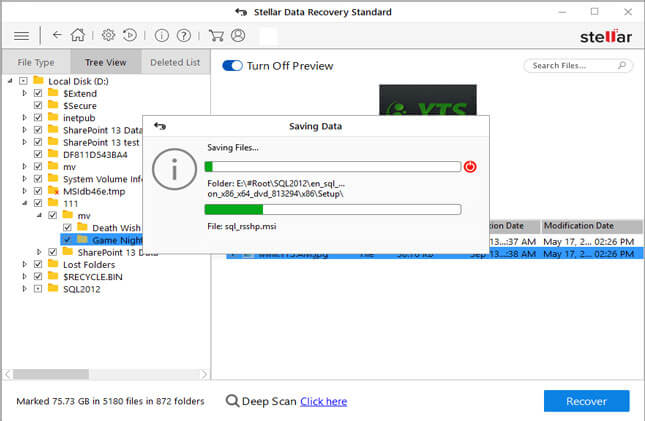 Data Recovery Service can help you to recover lost partition data
Also, if the situation is severe and your data is critical, then you can take the help of a data recovery services provider. Stellar Data Recovery is one such name that has helped its clients in the recovery of their data. We are ISO 9001:2015 & ISO 27001:2013 certified company. We have always committed to bring in top-of-the-line products and services to our customers in pan India.
The Most Common Reasons for Lost Partition
We cannot deny the significance of partitions as it increases our productivity and protects our data. However, if something unexpected happens to the partition's index file, then you won't be able to access the data on that partition. Sometimes, there are situations when we are unable to access the partition: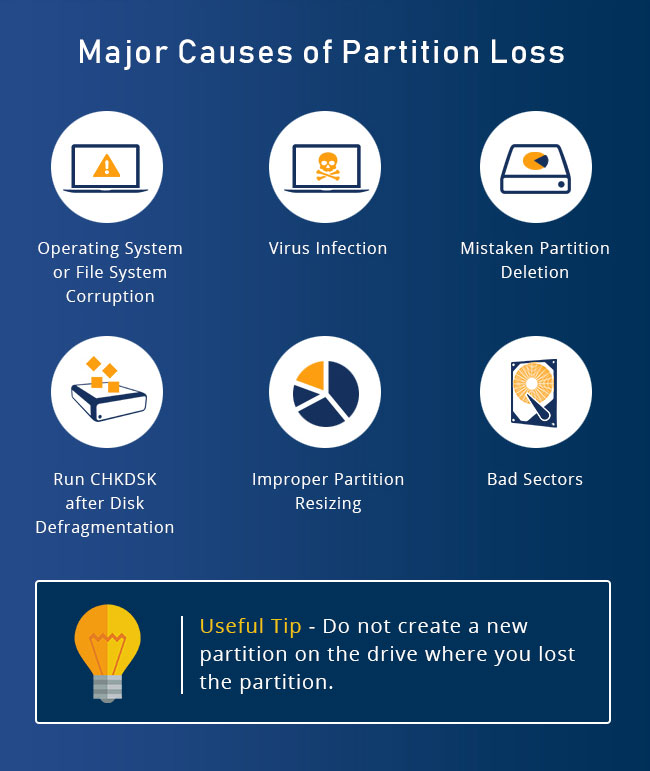 Computer virus intrusion: When the partition is infected by the virus, then the Operating System is unable to locate it. Further, we cannot locate the partition in Disk Management as well.
Damaged Master Boot Record: Master Boot Record contains information about the partition and includes a table that locates each partition, master boot code, and disk signature.
Partition is hidden/drive letter is missing: If a partition has not been allocated a drive letter, then it remains hidden from Operating System. Also, if the assigned drive letter is changed, then accessing it with the previous letter runs an error.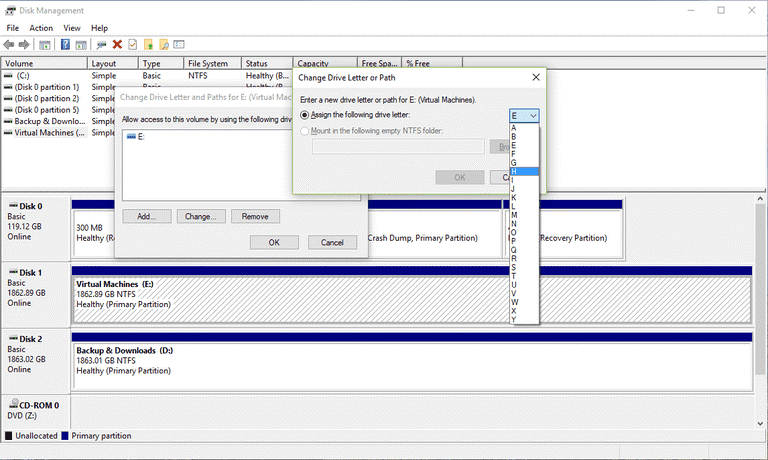 Partition becomes RAW: This is the case when the partition is not formatted with the file system.
Access is denied to the partition: This error indicates that you don't have access to the partition. To have permission to access the content of the partition, you need its ownership.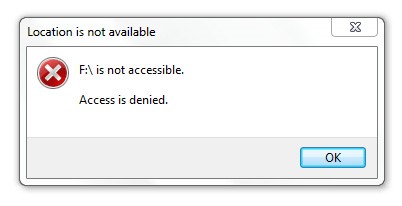 Partition shows unallocated space: This is the error when the partition has data; still, it shows unallocated space.
File directory becomes corrupt and unreadable: This error occurs when the MFT (Master File Table) is damaged.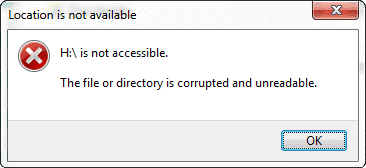 Accidental deletion of partition: Accidental deletion of partition is also one of the reasons for partition loss.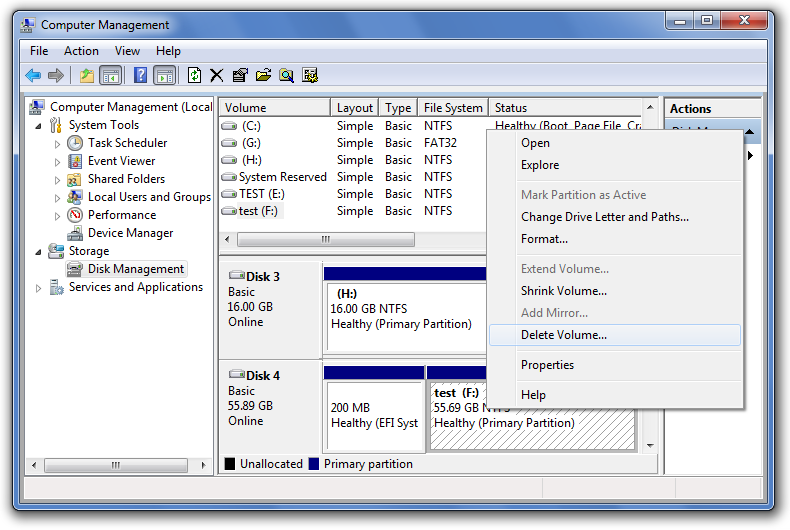 Hard Drive Partition helps you to store and manage your files in a much better way. Besides, you can create, format and assign new drive letters to the partition without worrying about the risk of losing your data. Above all, ensure to have a backup of your important data.