How to Fix MOV File index?
Updated on September 28, 2023
Summary: In this blog, we've discussed the causes that may result in corruption of MOV file and the methods to fix MOV file index. We've also mentioned about a trusted
video repair software
that can help in resolving the issue.
Below, we'll be discussing the methods to fix corrupt/damaged MOV file index. The best and safest way to fix corrupt MOV files is to use a video repair tool, such as Stellar Repair for Video. Free Download this powerful DIY video repair tool now and preview your repaired videos.

MOV is a video file format introduced by Apple in 1998. It is compatible with both Mac and Windows platforms. MOV files need QuickTime player to run. QuickTime media player comes pre-installed on Apple systems. However, one can download it for free on Windows systems.
Table of Content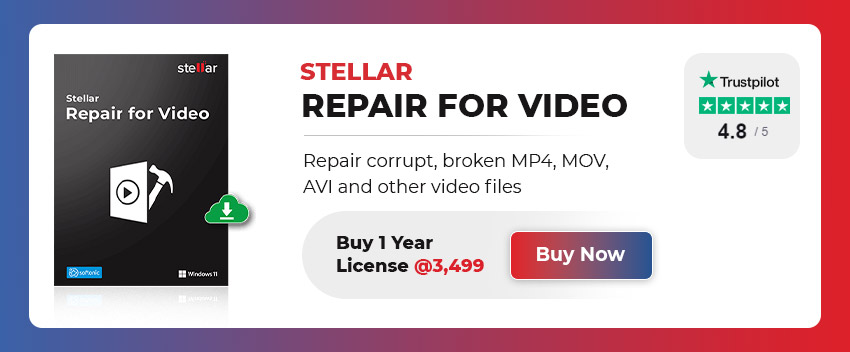 At times, the MOV file index gets damaged or corrupt because of which you may encounter problems, such as video won't resume after a pause, fast-forward or rewinding, dragging the video slider won't work, etc.
Common Reasons for MOV File Index Corruption
There are multiple reasons that may lead to MOV file index corruption. Some common reasons are:
Problems with file compression
MOV file downloaded from an unreliable internet source
Interruption while transferring or downloading the video file
Video recorded with camera running on low battery or has less storage space
Index has broken during editing of the file
Video file infected with virus
Index got corrupt due to corruption in storage drive or media
Technical glitches during recording or saving of the video file
Check Here For: How to fix grainy video?
Methods to Fix MOV File Index
You can use free and open source VLC Media Player's built-in video repair feature to fix the issue. If VLC doesn't fix the video issue, use a professional video repair software such as Stellar Repair for Video. The advanced algorithms of the video repair tool rebuild the corrupt file index.
Method #1: Repair MOV File with VLC Player</strong
You can use VLC Media Player – a free and open-source application, to fix the MOV file by converting it to AVI file format. Follow the given steps:
[Note]: Before following the steps below to convert the MOV into AVI format, make sure to make a copy or create a backup of the MOV file.
Step 1. Right-click the MOV file. Choose Rename. Change the MOV file extension to .AVI.
Step 2. Launch the VLC Player.
Step 3. Click Tools > Preferences > Input or Codecs.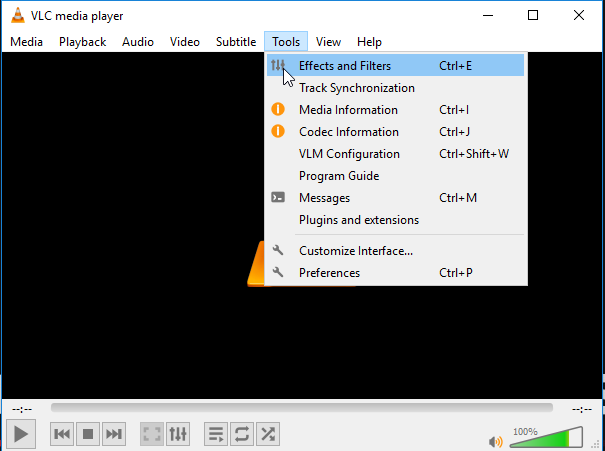 Step 4. From the dropdown menu, next to Damaged or incomplete AVI file, select Always Fix.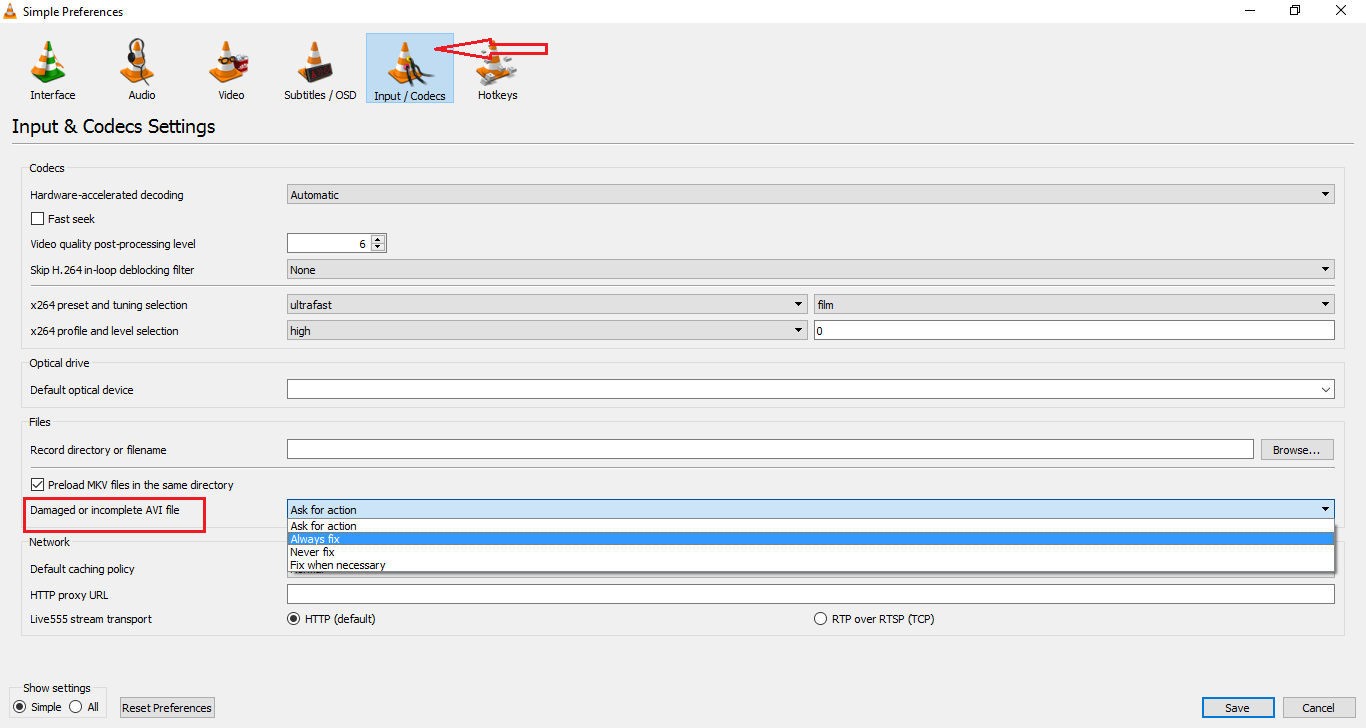 Step 5. Click Save.
Step 6. Try playing the file with the VLC Media Player and see if the problem is fixed.
Method #2: Repair MOV File Index Using Video Repair Tool
If the VLC Media Player is not able to fix the issue, you need an effective video repair software, like Stellar Repair for Video. The software repairs files of all popular video file formats.
It can fix all the problems with your MOV file, including broken/corrupt indexes. It can also repair grainy, pixilated, choppy, damaged, and corrupt videos.
Steps to repair corrupt MOV file by using the software
You just need to download, install, and launch the software on your computer, and follow the steps shared below:

Step 1. From the main interface, click Add File to add the MOV file.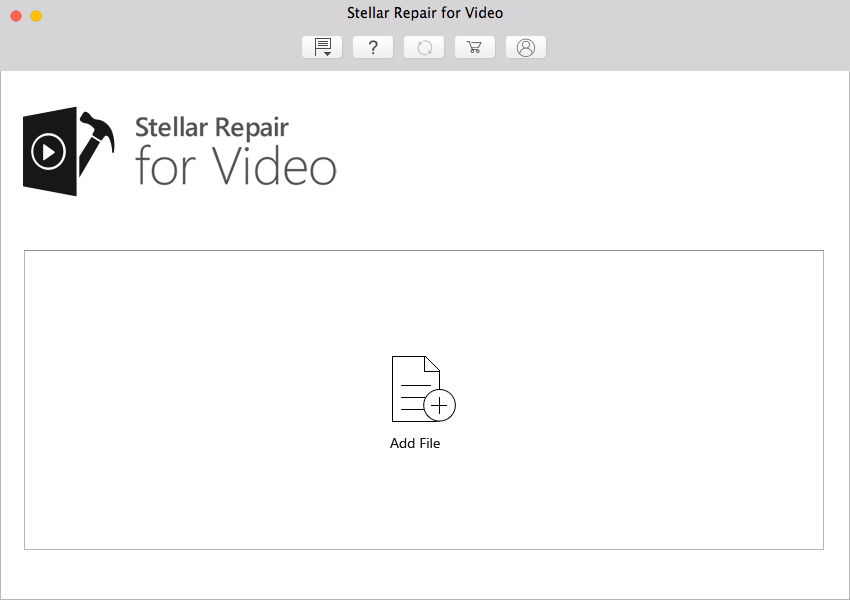 Fig 1: Main Interface of Stellar Repair for Video
Step 2. Click Repair to start the repairing process. Wait for the repair process to complete.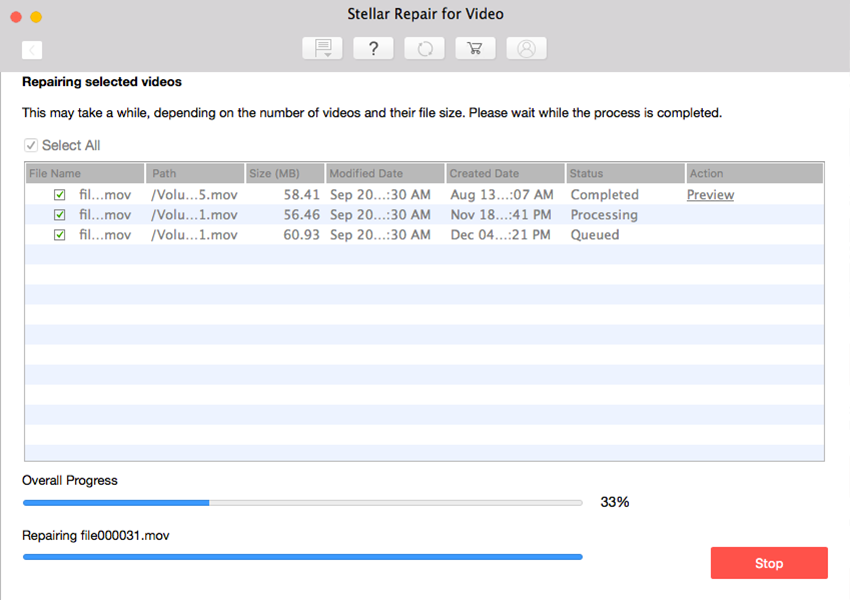 Fig 2: Corrupt Video Files being Repaired 
Step 3. Preview the repaired video file. Then, save the file at the desired location by clicking Save Repaired Files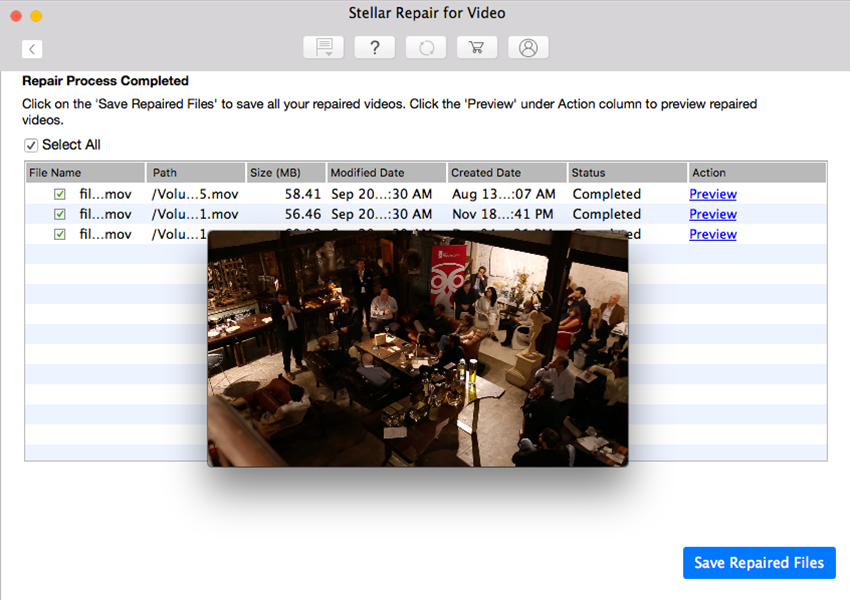 Fig 3: Preview and save Repaired video files. 
With the help of free demo version repaired video files can be previewed, However to save those repaired videos you need to buy activation key of stellar repair for video which can be purchased via buy now page.
Key Features of Stellar Repair for Video
Stellar Repair for Video is 100% safe and efficient video repair software. The software has several impressive features that make it a preferred and trustworthy choice to repair corrupt/broken MOV files.
Supports Windows as well as Mac systems.
Fixes all popular video file formats, including MOV, MP4, AVI, MKV, etc.
Allows adding and repairing multiple corrupt videos.
The 'Advance Repair' option helps in fixing complex corruption in video files.
Fixes video errors and all other playability issues.
Allows to preview the repaired videos before saving them.
Repairs all the components of video files.
Also Repairs out-of-sync, grainy, distorted, discolored, choppy, blurry, frozen, damaged, and corrupt videos.
Repairs corrupt videos shot with digital cameras, DSLRs, drones, surveillance cameras, etc.
Also Read: How To Recover Deleted Videos: Quick & Easy Solutions?
Useful Tips
Like any other file, MOV files are also prone to corruption. If any component or index of the file gets corrupt, you may face issues while playing the video. Here are a few tips to prevent video file corruption:
Always use an antivirus on your system.
Keep your system up-to-date.
Always 'safely remove' the device containing your MOV file.
Don't interrupt file download, transfer, or the editing process.
Don't record a video when your camera is low on battery or storage space.
At times, MOV files don't play because of an incompatible media player, Ensure that you have QuickTime Player to run the MOV file.
Also Check Methods to repair Corrupt MKV Video Files
Conclusion:
MOV files may get corrupt or damaged due to various reasons. You can try to fix the problem by using VLC Media Player. However, the best solution to fix MOV file corruption is to use an effective software, such as Stellar Repair for Video. The software is easy-to-use and can repair videos of all popular file formats- MP4, MOV, AVI, and other file types.