Solution: How to quickly fix Grainy Videos?
Summary: In this blog, we will discuss the various methods to fix grainy videos, and we will understand the reasons which cause the videos to turn grainy. Also, we will discuss the use of  Stellar Video Repair software to repair grainy videos or pixilated videos.


To evaluate the software capabilities, try the free demo version and view how effectively the software repairs grains in the videos. The advanced software efficiently removes all kinds of noise in the videos without you making much effort. Just add the video file in the application and click the repair button and your videos are ready to play seamlessly in no time!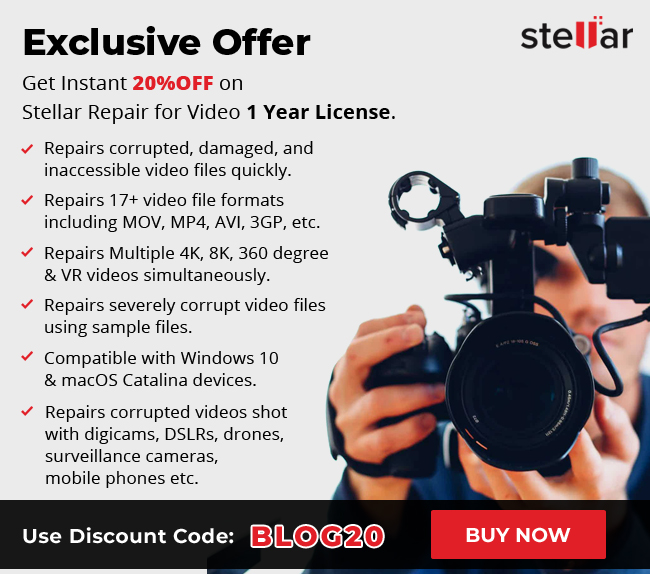 Case  1: 'I recently started shooting with my new Canon T7i. For some reason, I keep getting grainy footage and pixilated videos, even when I shoot in daylight. Is it my camera fault? I use a Chromebook. How can I fix grainy videos on Chromebook?'
 Case 2:  'I shot few travel videos with my Nikon D3200 in different video settings. After importing them into Final Cut most of the clips are grainy. They are shot in the 1080p 24p setting at night. how to fix grainy footage? I cannot shoot them again.'
It is heartbreaking to find your precious videos playing poorly with grains or pixelation. Revisiting those places and shooting the video again is not always the option.  Read on this post to know what all you can do to fix grainy videos or pixilated videos.
What is the reason behind Grainy Videos?
Grains in the videos don't always mean your camera is at fault. It could be the result of wrong camera settings or inappropriate light conditions. Videos shot with lower aperture and higher ISO can turn out Video grainy. Low light or shooting at night results in grainy choppy videos, if the camera settings are not proper.
Methods to Fix Grainy Videos?
Although the modern DSLR, camcorders, drones, smartphones, etc., are advanced enough to shoot in low light or automatically adjust to settings as per the need. However, the issue of the grainy video can still occur if you shoot in manual mode, use wrong settings or there's no proper light during the shoot. Thankfully, there are methods you can apply to remove the unwanted grains and noise in the videos. Also, you can try some workarounds for how to make videos less grainy.
Best Methods for video grain removal or Pixelation in your videos:
Method 1: Use Video Editing Software with Noise Filters
You can fix grainy videos with the help of video editing software, such as Adobe Premiere Pro, Final Cut Pro X, Lightworks, and Avid Media Composer etc.
These video editing programs have advanced filters to reduce noise and improve quality of video. Apply these filters and check if they can reduce the grains in the video.
Method 2: Noise Reduction Video Plugins
Noise reduction plugins are the best way to reduce video imperfections. They are extremely effective to clean grains in videos, pixels or mosaic in the videos.
You can get them online – free and paid, for your Premier Pro, After Effects and other video editing programs. Some popularly used video plugins for noise reduction are Neat Video, Red Giant, and Magic Bullet Denoiser.
Method 3: Use Adobe After Effects
Video editing software such as Adobe Premiere Pro, Adobe After Effects, Light works, Final Cut Pro, etc., have filters that reduce grains and other noise in the video.  Download the video editing tool on your Mac or PC, import the problem file in it and use the filters to remove the grains, pixelation or mosaic in the videos and to clean grainy videos. Play around with the various filter options and settings to get the best results.
For instance, to fix grainy videos in After Effects use inbuilt Remove Grain option in the software.  Go to Effect > Noise & Grain > Remove Grain. Further, you can adjust the Noise Reduction values in the Settings of the Channel Noise Reduction control and then switch to viewing mode to Final output and check if grain is removed.
To use this method, it is essential to have video editing skills and be well aware of the software features. However, beginners in video editing may first try free programs Windows Movie Maker or Filmora that also has features to fix noise in videos.
Method 4: Reduce the Size of your Playback Window
Decrease the size of your playback Window, it helps to minimize grain and improve video clarity. However, this workaround is possible with only online grainy video which cannot be repaired and saved.
Method 5: Use Video Repair Software for Grainy Videos
You may not be proficient in video editing or keen to spend on noise reduction plugins. Then, choose a professional video repair software. Stellar Repair for Video is a powerful video repair tool that reduces such kinds of video issues. The foremost benefit of using Stellar video repair software is that it fixes the grainy videos and even fix pixelated video without any ado for you.
Extremely easy to use, the software doesn't require technical know-how. Just download the tool on your Mac or PC and follow the simple on-screen instructions.  Moreover, you can use Stellar Repair for Video to fix other corruption issues such as jerky, flickering, blurry, choppy, broken, or missing sound etc.
You can quickly remove noise from corrupted AVI, MP4, MOV, WEBM, 3G2, 3GP, ASF, WMV, FLV, DIVX, MPEG, MTS, MKV, AVCHD, MJPEG, M4V, and F4V videos.  The grainy video repair tool works on videos shot with a drone, DSLR, mobile phone, GoPro, CCTV, car dash cam etc.
Key benefits of using Stellar Repair for Video Software
Easy to use and simple interface
Quickly repair grainy videos or pixelated videos
Preview before saving the repaired video
Support multiple file formats
Fixes multiple corrupt videos in one go
'Advance repair' feature for severely damaged videos
Supports all cameras and storage cards and drives
Step-by-step: How to fix Grainy Videos or Pixilated Videos?
Step 1: Download and launch Stellar Repair for Video on your PC/ Mac
Step 2: On the home page o f the software click on Add File to add the grainy/ pixelated videos.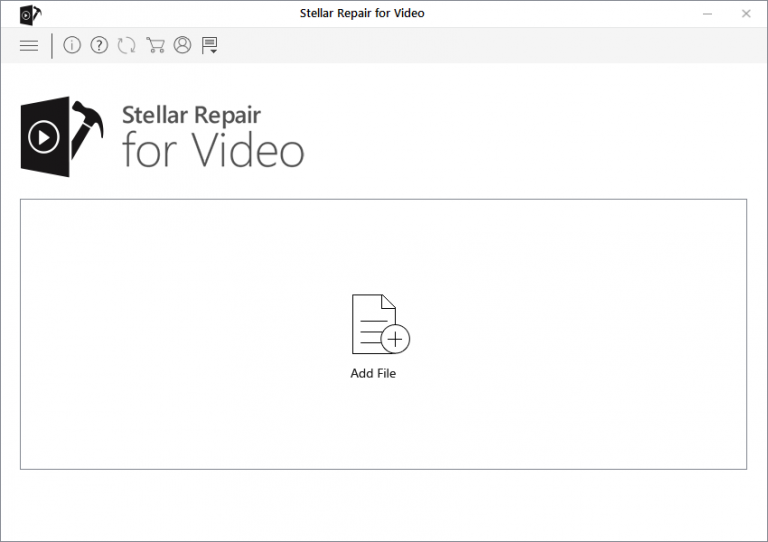 The main screen of Stellar Repair for Video
Step 3: List of video files that you added and need repair appears on the next screen. Click Repair.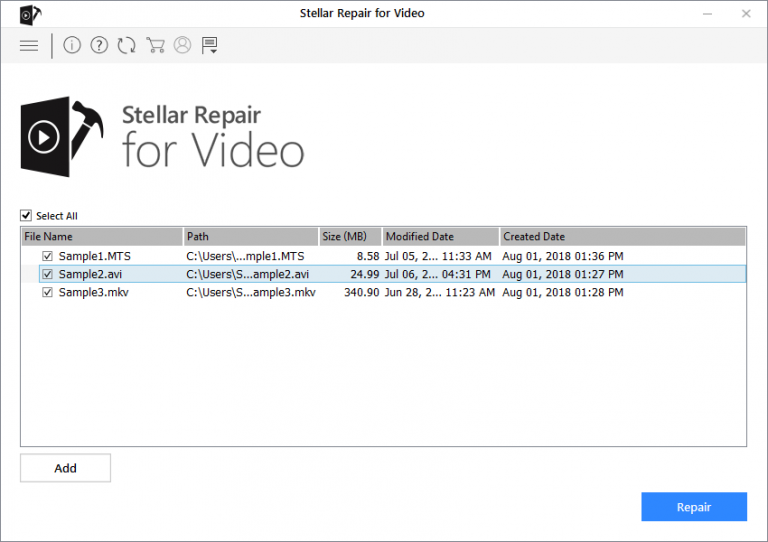 The software displays the list of added videos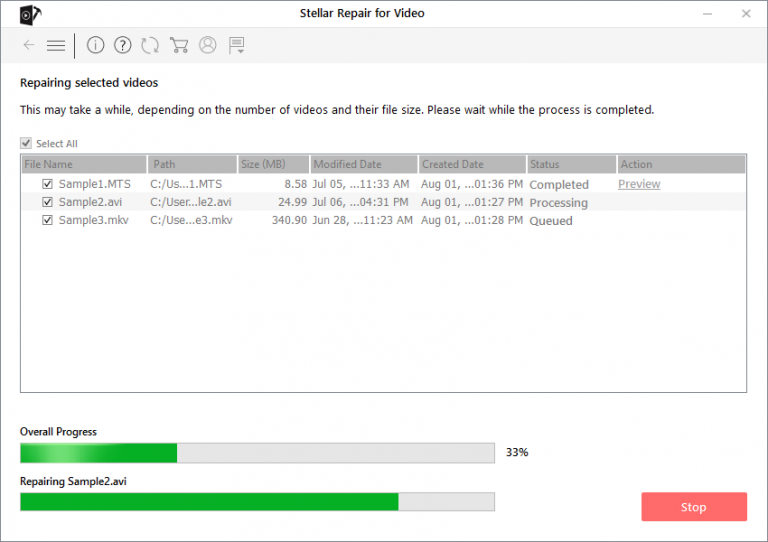 Progress bar indicating the repairing process (The repair process begins)
Step 4: A 'Repair process completed' message appears. Click on Preview to watch the repaired videos. Click on Save Repaired File.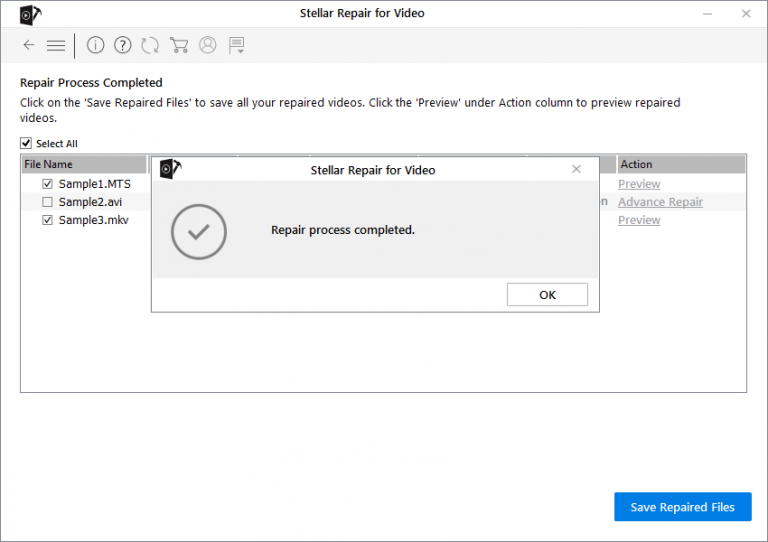 Preview and save the repaired grainy videos
Tips to Avoid Grainy Videos
To avoid unwanted entry of grainy videos remember the below mention points:
Get maximum light on the subject
Prefer shooting in natural daylight
Use halogen or incandescent lights for indoor and night recordings
Shoot at lower ISO for better video quality
Keep your camera aperture wide open for maximum light
Wrapping Up
Grains in the videos are annoying. Mostly they occur because of inappropriate camera settings and low light conditions. However, there are applications which works on video grain removal and effectively clean up grainy videos. Also, always remember to take backup of the videos on regular basis.
You can use the video editing software like Premier, Pro that has noise reduction filters or opt for video plugins. Both these methods require some level of technical knowledge about video editing techniques.
For any query reach us by giving comments in the box below.