Stellar Repair for Video – A Complete Solution for Corrupted Video File Repair
Table of Content
Wedding, birthday party, kid's first performance at school, an adventurous trip, and many more…..your videos are important and losing them to corruption can be a painful loss.
Videos may become inaccessible, flickering, out-of-sync, play partially with missing parts or have other issues. There could be various reasons for such video corruption like virus infection in the storage drive or improper transfer download of video file etc.  However, the good part is that regardless of the reason of corruption and the type of corruption, you can repair these corrupt videos.
Here we bring a highly efficient video repair software that repairs all sorts of corrupt videos and makes them flawlessly playable again.
A Complete Solution for Corrupted Video File Repair– Stellar Repair for Video
Stellar Repair for Video is a complete corrupted video file repair utility boosted with several advanced features. It is fast, easy to use, and supports various file formats of different cameras.
It efficiently fixes the videos that get damaged due to virus infection, improper system shutdown, interruption during download/ transfer, read & write errors, or corruption in the storage drive and more.
This video repair application for videos is 100% secure and easy to use.  The do-it-yourself software has an intuitive interface that makes the video repair process smooth and simple. You can quickly repair multiple corrupt videos at a time in three steps – Add File, Repair, and Save.  Even if you don't have the technical know-how or feel uncomfortable with software usage, you can easily use this repair tool.
The software is available for both Windows and Mac users.
Fix Various Types of Corruptions
The corrupted repair software for video fixes almost all types of problems in the corrupt or damaged videos. You can easily repair all your videos that have turned inaccessible, grainy, pixelated, blurry, truncated, have missing sound, out-of-sync, jerky, distorted, show black screen, etc.
In fact, it's one of the rare repair tools for a video that resolves sound issues in the corrupt videos. The software is well adept to fix the corruption in the header of video files, sound section issues, errors in movement of videos, corruption in video frames, errors in the video slider movement, and corrupt data of video files.
If your video is showing errors such as including 'error loading media', 'MP4 file could not be played' while opening, then to use Stellar Repair for Video to resolve the problem.
Fix Videos of Multiple Types from Various Sources
The software can repair corrupt videos shot with any brand of camera, saved in storage devices. You can easily repair videos shot with DSLR, camcorder, drone, CCTV, smartphone, iPhone, car dashcam, etc.
Stellar Repair for Video supports various video file formats such as MP4, MOV, AVI, WMV, ASF, MKV, FLV, DIVX, WEBM, MJPEG, MPEG, AVCHD, MTS, M4V, 3G2, 3GP, and F4V.
The software works with SD card, microSD card, SDHC, SDXC, memory card, pen drive, memory stick, CF card, smartphone, and external hard drive etc. For corrupted video file repair, trust Stellar Repair for video software, look no further.
Step-by-Step: How to Repair Corrupt Video Files?
Step 1: Download and launch Stellar Repair for Video on your PC or Mac
Step 2: Click Add File and browse to add corrupt videos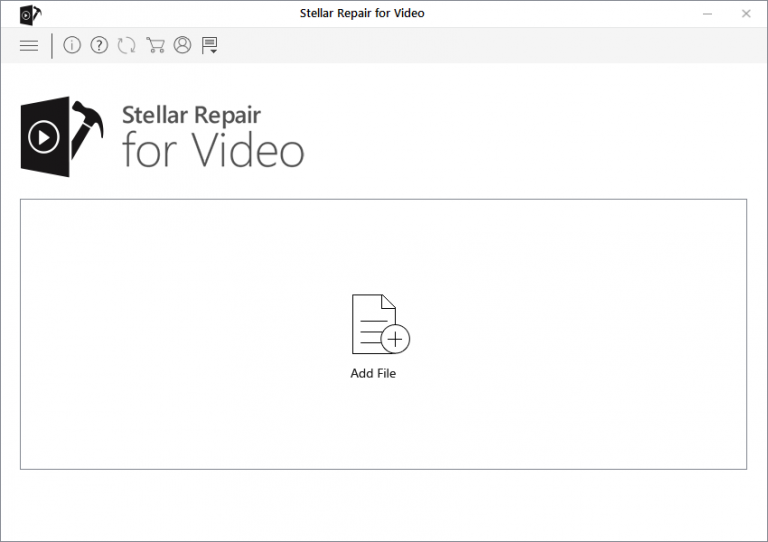 Figure: Main screen of Stellar Repair for Video
Step 3: Click Repair. The repairing process starts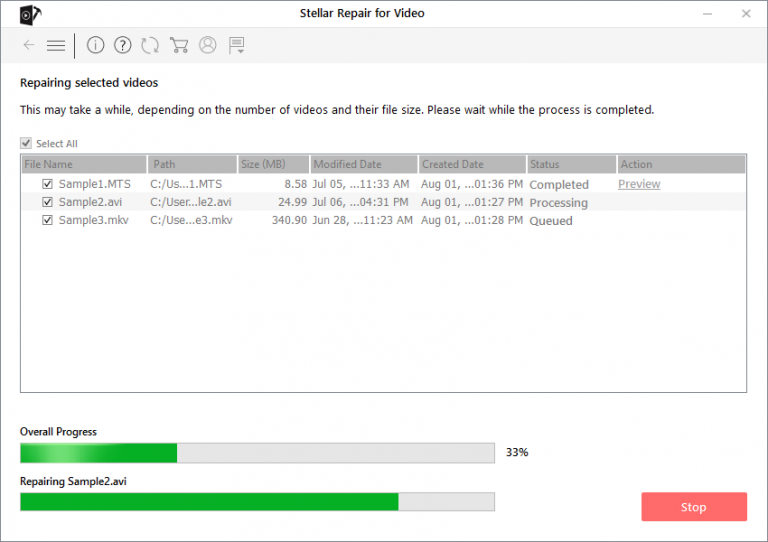 Figure:  The repairing process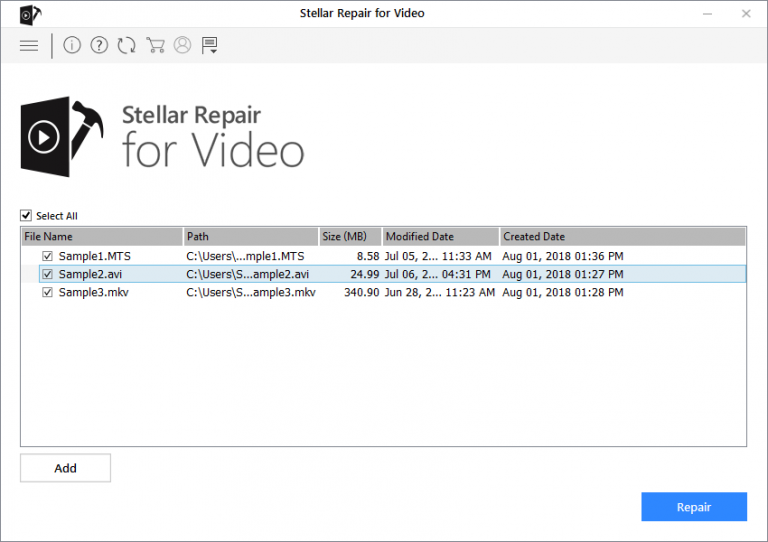 Figure: Software displays the list of added videos
Once the repair process completes, you can also preview each repaired video before saving. Click on the Preview option given against the repaired file.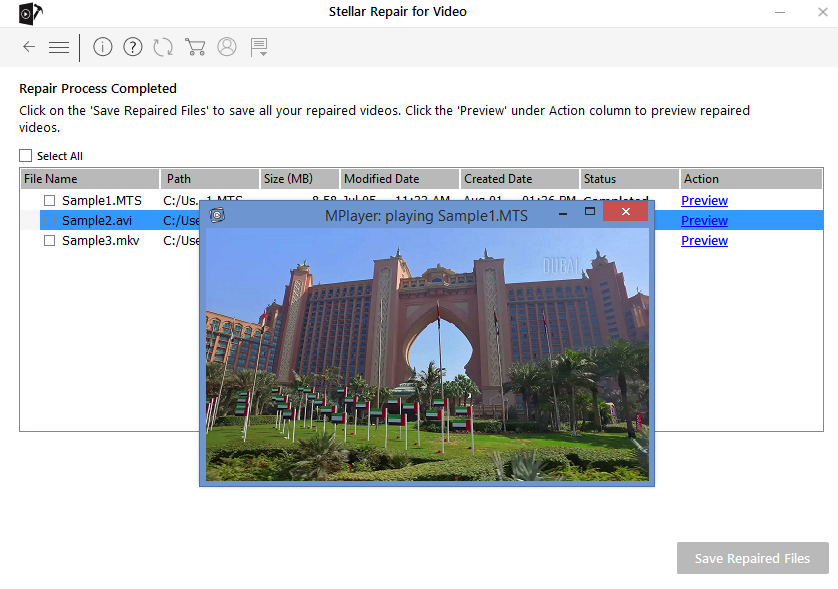 Figure: Preview and save the repaired video files
 Step 4: Click Save Repaired File. Next, select the location where you wish to save the repaired videos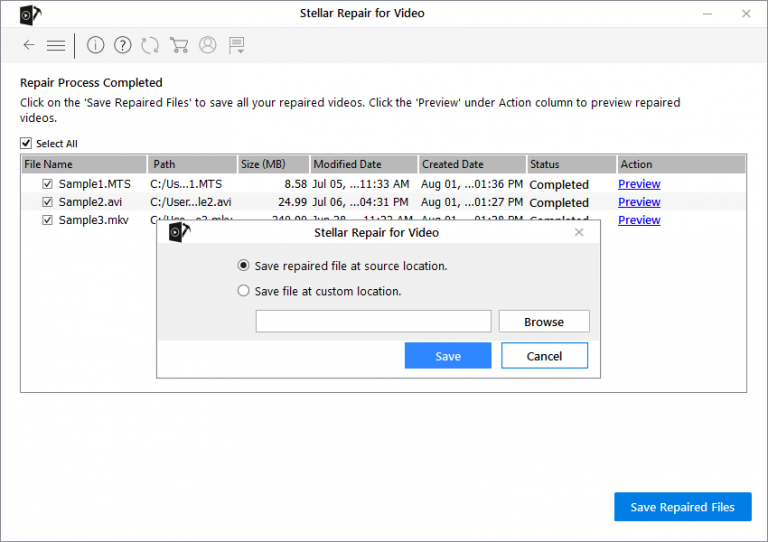 Figure: Save the repaired videos at your desired location 
Key Advantages of Using Stellar Repair for Video
Simple and user-friendly interface
Fast to repair
Preview repaired videos before saving
Repairs almost all kinds of corruption issues
Repairs unlimited videos in one go
'Advance Repair' feature for severely corrupt videos
Wide device support
Conclusion
When it comes to distorted, broken or corrupt videos, you can trust Stellar Repair for Video. The fast and efficient repair capabilities along with ease of use have already made the software the popular choice of millions of users around the globe.
Stellar Video Repair is a completely safe tool that can work on multiple corrupt videos from various sources and make them perfectly playable again.
For a complete solution for Corrupted Video File Repair– check the link below
To get corrupted video file repair – simply download the software here and repair your corrupt video files. You may try the free demo version too, which offers the preview of repaired videos.
For any query, do share with us in the comment section below.