Guide to Fix a Corrupt H.265/ HEVC Video File
Summary: This post shares the best ways to fix corrupt H.265/ HEVC Video File, broken, distorted or inaccessible H.265/ HEVC videos. It also shares the common causes of HEVC video corruption. Plus, you'll know some useful tips to protect HEVC videos from corruption.


'I recorded a H.265 video using my Samsung NX1 camera. But when I transferred it to PC, the video was not playing. Is my video file corrupt? How can I Fix Corrupt H.265/ HEVC Video File
H.265, also known as High Efficiency Video Coding (HEVC), is high quality 4K UHD video shot with some of the latest high-end cameras. Although H.265 is an advanced video compression that encodes videos twice as efficiently than H.264, it is not devoid of file corruption problem.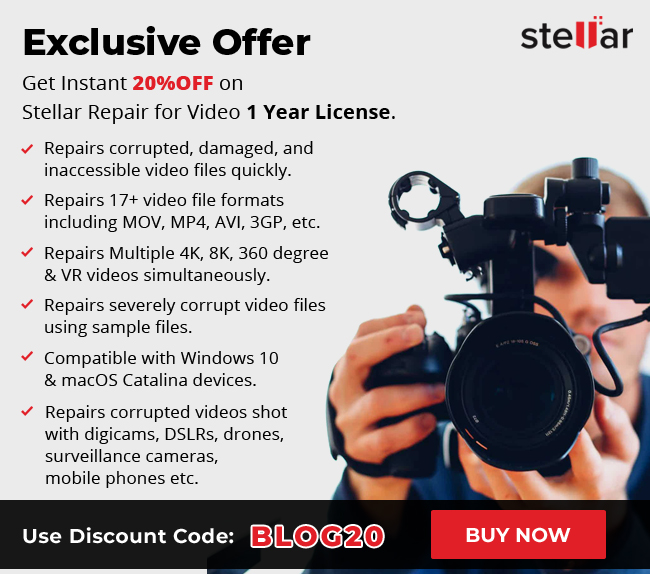 H.265 or HEVC videos with .mov, .mp4, or .hevc file extension can get corrupt due to various reasons. Nevertheless, you can repair corrupt or damaged H.265 videos and fix non-playing or playback issues.
Common causes of H.265 video corruption
Sudden system shut down while downloading, watching, or editing the HEVC video
Abrupt disruption during HEVC video file transfer or download
Video file compression issue
Operating system crash
Virus infection
Corruption or bad sectors in the storage drive
Vide file corruption after using an insecure data recovery software
Physically damaged storage drive
Unplayable HEVC or H.265 videos may not be corrupt! Try these workarounds…
If HEVC videos are not playing in a media player or play choppy, it doesn't always imply that the file is corrupt. It can be due to compatibility issue.
As H.265 is a relatively new video compression format, it is not yet adopted by many devices, operating systems, and media players. For instance, HEVC videos won't play on Windows PC or Windows Media Player. Commonly, devices and players support H.265 predecessor – H.264 only.
So before you repair corrupt video file, try these workarounds to fix distorted or unplayable H.265 videos.
Use H.265 video player
If your media player is not playing HEVC videos, it may be because of absence of supporting codec. Switch to a player that supports H.265 videos such as VLC Media Player, File Viewer Plus, 5K Player, etc. Ensure you download the latest version of the player.
Download H.265 video codecs
If you receive the codec related error messages (such as below), install H.265 video codec.
'Windows Media Player cannot play the file because the required video codec is not installed on your computer.'
'A codec is required to play this file.'
'Missing 0xc00d5212 codec.'
'Media Player encountered an error.'
You can download codec x265 or a codec pack containing HEVC codecs. Right codecs let you play H.265/ HEVC compression videos on any device and player.
Convert H.265 to H.264 format
If your device doesn't support H.265, then move to H.264 format. You can convert H.265 video to H.264 by using any desktop or online HEVC video converter such as Convertio, AnyConv etc.
If these methods don't fix unplayable or choppy H.265 videos, get on to an advanced H.265 video repair software.
How to fix  Corrupt H.265 / HEVC Video File?
The only way to fix H.265 video corruption is with the help of a video repair software. Before you pick a video repair tool, make sure it supports HEVC/ H.265 compression format.
Stellar Repair for Video is a one-off software that effectively works on H.265 videos, without affecting the original file structure. The software fixes corruption in video header, frames, sound section, and video slider. You can easily fix damaged HEVC videos that turn choppy, jerky, truncated, freeze at intervals, black screen, out-of-sync or have other playback issues.
The software can also fix H.265 videos showing errors such as 'error code 0xc10100be', 'error loading media', 'file could not be played', etc. The 100% secure Stellar Repair for Video software repairs H.265 videos in just 3 steps – Add file, Repair, and Save.
The software can fix damaged HEVC videos shot from Galaxy S9 Android, Panasonic Lumix, Samsung NX1, Canon XF 705, iPhone, iPad, DJI or Hikvision CCTV and other cameras.
Key benefits of using Stellar Repair for Video to Fix Corrupt H.265/ HEVC Video File:
Repairs unlimited 4k, HD H.265 videos.
Simultaneously repairs multiple HEVC videos.
Supports H.265 videos from DSLR, smartphone, GoPro, CCTV, or drone.
Available for both Windows and Mac system.
In Steps: To Fix Corrupt H.265/ HEVC Video File with Stellar Repair for Video
Step 1: Download & launch Stellar Repair for Video on your Windows PC or Mac
Step 2: Click Add file to upload the corrupt H.265 videos.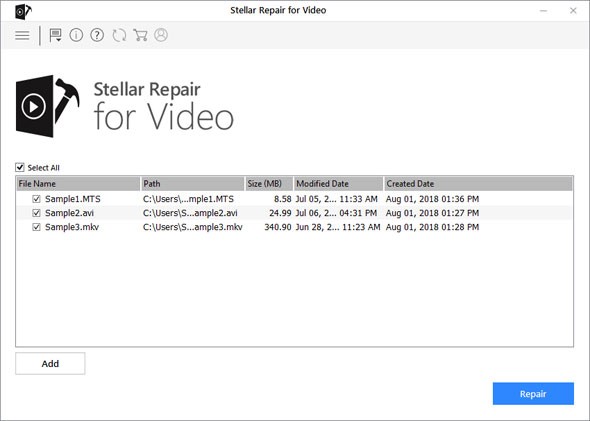 Step 3: Click repair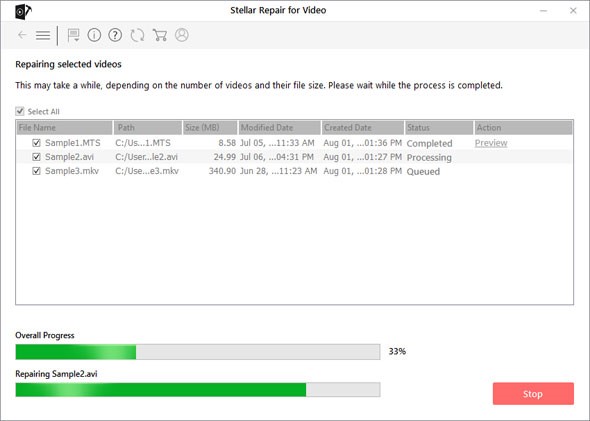 Step 4: Preview the repaired videos. Click Save Repaired Files to save them at a desired location.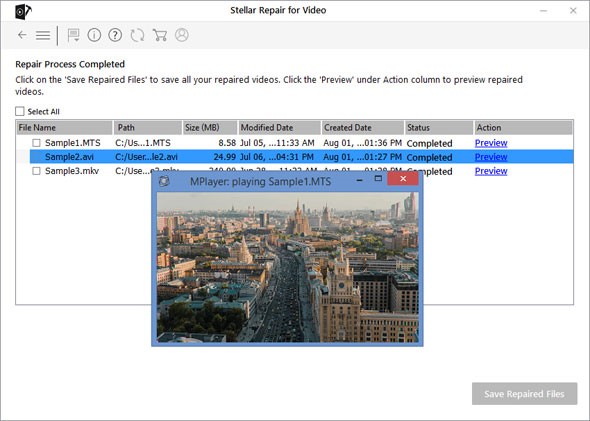 5 Tips to protect H.265 videos from corruption
Keep your devices fully charged before initiating H.265 video editing, download, or transfer.
Don't disconnect device or internet during video transfer or download.
Don't shoot H.265 videos at low camera battery.
Use Class 10 or above speed card to store HEVC videos.
Install antivirus on your computer
Wrapping Up
It is frustrating to lose high quality 4K videos to corruption. Thanks to advance software such as Stellar Repair for Video that can efficiently fix corrupt H.265 videos in no time. Often H.265 video problem is due to device incompatibility.
So, it's recommended to try the given workarounds before you use a video repair tool. When these methods don't work, seek the help of Stellar Repair for Video software.
Try the free version that lets you preview the repaired H.265 videos.