How to Recover Data From Quick Format Hard Drive ?
Summary: Data Loss is very common bound-to-happen. Several factors can lead to data loss such as accidental deletion of data, corruption of data, formatting of data, etc. However, the point to consider here, whatever be the cause of data loss, is that data recovery is possible. What you need to keep in mind is that the data should not be overwritten. This blog entails one such Quick Format Hard Drive scenario and data recovery aspect. Read more and Choose the given solution to recover data from format hard drive.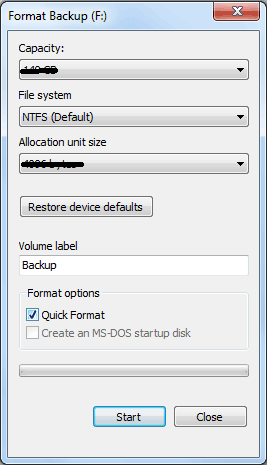 Stellar Remote Recovery Services
In continuation of our commitment to data care services and to ensure that data loss situations don't affect you or your business, we have launched a cutting-edge Remote Data Recovery Service.
This service allows you to recover data over the Internet without getting your device physically touched by the experts, thus offering safe and contactless recovery. Our contactless remote data recovery service is available across Windows, Mac, and Linux systems.
Accidentally quick formatted hard drive?
Imagine a scenario where you accidentally quick format the external hard drive While formatting USB Flash Drive on the Computer. Suppose you have two drive one is HDD and another is USB Flash Drive. While performing some actions on USB Drive, you found that it is almost full, so to erase the data from it, you decided to Format. Before formatting, you moved all your critical data from USB to External Hard Drive. After transfer, while performing a quick format, you accidentally format the external hard drive instead of USB. After a successful Format, when you accessed the USB, you found that it still includes the original data. You checked the External Hard drive to view if the data is moved or not, but surprisingly, it is Empty.
You are wondering what to do now? How to regain lost data from Quick Format hard drive?
If you come across this or similar situation, read it to know the solution to recover data from format hard drive.
What is the Quick Format?
In simple words, it is a quick and easy process to erase/delete data from any storage device. This method removes files from the partition without scanning the disk for Bad Sectors.
These are the few reasons users perform quick format:
To remove all data stored on the storage device.
To change the file system type.
Why Is It a Preferred Option In Comparison To Full Format?
Users usually prefer Quick format over Full Format because of its simplicity, easiness, and high-speed operability.
Is It Possible to Recover Data from Formatted Hard Drive?
Indeed, Yes!
Why Is It Possible To Recover Data from format Hard Drive?
Yes, it is possible to recover data after quick format because
This type of formatting only removes data entries.
As similar to Full Format; It does not overwrite the data.
Only rebuilds the File System.
It is still available at the Memory location.
Only data details erase from the directory.
Solutions to Recover Data from Quick Format Hard Drive
Solution 1: Stellar Windows Data Recovery Software
Stellar Windows data recovery software is a DIY software. It is an effective solution to recover lost data from the quick formatted hard drive. However, With the help of software, you can recover data from all logical cases like deleted, corrupted, formatted, etc. You can follow the given steps to recover data using Stellar Windows Data Recovery software.
1: Download the Windows Data Recovery Software and install it on your computer.
2: Run the software and click on the 'Data Recovery' module.
3: Choose the drive that you have formatted.
4: Start the scan process, and the software will search through the data traces.
5: You can also use the option 'deep scan'.
6: Preview the files you want to recover/restore and then click on 'Recover data'.
With the help of software, you can get all the lost files on your computer. The software is easy to use, and 100% safe and secure. Our Windows Data Recovery software can recover data from all kind of data loss situations and all file types.
Pros
Automated
Easy to execute
Minimal Human Intervention
Cons
Comes with a Price Tag
Works only in Logical Cases
 If you are reading this blog, you can get the Special Offer 
Now Get

20%

Off On Our Premium Windows Data Recovery Software. Use

BLOG20*

at the time of Checkout.

*Exclusive offer for our blog readers.
Solution 2: Data Recovery Service
Last but not least, this efficient approach also helps you to regain your lost data with great ease. Currently, tens of thousands of data recovery service providers are available in the market to cater to your request, but one such service provider who has marked a strong foothold is Stellar Data Recovery. It offers world-class data recovery services for all internal/external hard drives to removable devices.
Pros:
Ensures Security and Confidentiality of Data
Cater to both Physical failure and Logical failure
State-of-the-art Class 100 Cleanroom Lab facility for physically damaged hard drive
Cons:
Sometimes it takes a longer time than anticipated depending upon the state, size, and condition of the device.
Note – Furthermore keep a regular backup of your data to avoid data loss.
Additional Reading: How to recover files after format windows 10?
Conclusion
Data Recovery is one of the most vital needs of the fast-evolving Digitized environment. Whether we talk about individuals or enterprise, it is essential for both the perspective. The challenging situation arises during the recovery method selection, as you cannot accept more loss of data.
Furthermore, to make your strenuous selection easy, we have put forward the most common ways of quick formatted hard drive recovery methods. In conclusion, you may choose any of these recovery solutions – service or software; as per your needs and requirements.
Frequently Asked Questions
Ques: What is the difference between Full format and Quick format?
Ans: When it comes to formatting a hard drive or any other storage device, don't get confused between a quick format and full format. Likewise you can choose any option according to the necessity.
If you do a full format, it will remove all files stored in the hard drive further more start a scan for the bad sector and fix them. However, full format take more time than a quick format.
Similarly, in quick format, formatting can only remove the files, but it will not scan and fix bad sectors in the hard drive. The quick format option is the best choice if you have already formatted the hard drive and already fixed the bad sectors.