Free Data Recovery Software
Stellar Free Data Recovery, formerly known as Stellar Phoenix—is an exceptionally robust and user-friendly solution for all your data loss woes. Whether you've inadvertently deleted files, encountered drive formatting, hard drive corruption, or faced any common data loss scenario, our free data recovery software is your trusted tool for data retrieval.
The free data recovery software excels in recovering those vital files that may have mysteriously vanished from digital storage devices, ensuring that no important data is left behind.
Recovers data from formatted partitions and crashed/unbootable systems.
The software offers recovery of data from Formatted, Encrypted, or Corrupted Drives.
Stellar extends a generous offer, allowing you to recover up to 1 GB of files without incurring any costs.
Stellar's user-friendly interface makes data recovery accessible to users of all backgrounds.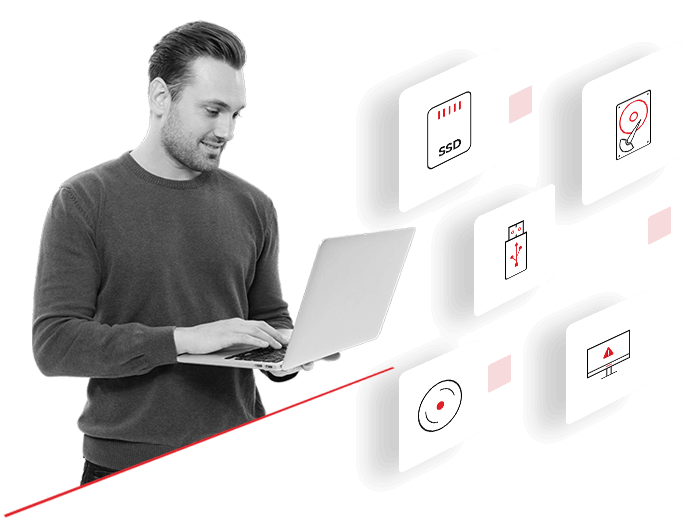 Maximize Data Recovery
Recover Any Type of File from any Storage Media
Stellar Data Recovery is a powerful software that enables fast and easy retrieval of lost data from any Windows-based disk. It lets you scan the storage disk and retrieves all types of files at no cost.
Recovers All Types of Files
This free data recovery tool can recover unlimited file types and formats. It can recover photos, videos, audio files, emails, documents, or any other type of files in any format.

Photos/Pictures
JPG/JPEG, TIFF/TIF, PNG, BMP, GIF, PSD, CRW, CR2, NEF, ORF, SR2, MRW, DCR, WMF, RAW, etc.

Videos
MP4, MOV, WMV, MKV, 3GP, AVI, MPEG, DIVX, OGG, MTS, F4V, VID, MQV, M4B, & M4V.

Audio/Music
RPS, MP3, AU, WAV, MIDI, OGG, AIFF, RM, WMA, RA, M4P, M4A, ACD, AMR, and more.

Mails
EML, MSG, PST, MBOX, EDB, etc.

Documents
DOC, DOCX, XLS, XLSX, PDF, TXT, RTF, PPT, PPTX, etc.

RAR/ZIP
RAR, ZIP, 7Z, SITX, GZ, PUP, MPKG, etc.
Supports All Types of Storage Media
You can easily install this disk recovery software on a Windows PC to recover lost or deleted data from internal hard drive and any external storage device, supported by your system. It also facilitates data recovery from RAW drive volumes.

Laptop/Desktop
The software easily and effectively recovers data from the internal hard drive of your desktop/laptop.

External Hard Disk Drive
The software allows you to recover data from any external hard disk drive (HDD).

Solid State Drive
The software supports data recovery from modern non-magnetic hard drives – SSDs.

Pen Drive
With this free software, you can recover data from flash-based external or removable data storage devices, such as pen drives.

SD Card
By using this software, you can get back your data lost from SD card of your mobile, camera, or any other device.
CD/DVD
This free data recovery software can help you recover data from optical media, such as CDs and DVDs.
Rating & Reviews
Most tested. Most awarded. For over 30 years,
we've been recognized as experts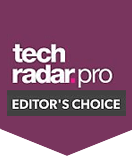 Top Award By
Techradar.pro

Stellar Data Recovery is one of the best data recovery tools we've used, with highly customizable searches, a huge file-type library, and deep scan abilities. Overall, Stellar Data Recovery is a great file retrieval tool with powerful advanced options for business. In its simplest form, it enables anyone to retrieve lost data from a computer or external storage device.

I had 2 Western Digital Hard drives from 2010 which had lot of old Photos and important documents but I was not able to recover for years and I tried lot of softwares like iCare, recuva etc but none recognized the drive. Stellar Professional Software for Data Recovery scanned my drive and recovered all the 500 GB of Data. Highly recommended and very useful.
---


MANISH MATHUR
I tried with several free recovery software's, which didn't work out. When I was trying like this , I landed on Stellar recovery software. I tried recovering the data using Stellar data recovery software. I could successfully recover all the data using this software. Thank you so much for saving my day.
---


Veerabhadrudu
I feel happy to recovering my data's and they are doing well professional job. My data is recover 80% but software is good.
---


Narendra Kumar
I formatted the d drive of my desktop by mistake. Next day, I scanned my drive first from the demo version of Stellar professional and then bought it for recovery. It worked for me and I was able to recover all of the lost data (size: approx 250Gb). Thanks !
---


Ashish Kumar


Data Recovery In-Lab Service
Unable to recover your Windows data with data recovery software?
Ask an expert to take over.
80% of the times, Stellar Data Recovery Software will be able to recover your Windows data. In case the cause of data loss is severe physical damage to the hard drive, software can't do it for you. But, we will still recover your data. Our data recovery experts have decades of experience with in-lab data recovery as a service.
Technical Specifications
About Product
---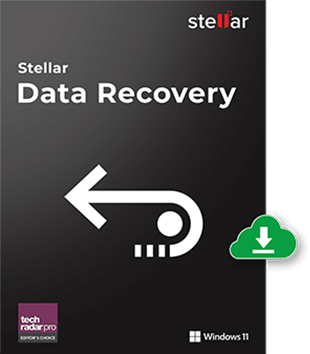 Version
11.0
Release Date
February, 2023
License Usage
Single User
Edition
Free, Standard, Professional, Premium, Technician, Toolkit
Language Supported
English, Deutsch, Français, Italiano, Español, 日本語 , 한국어, Português Brasileiro, Dutch, हिंदी
System Requirements
---

Processor
Intel compatible (x86, x64)
Operating System
Windows 11, 10, 8.1, 8 & 7
Memory
4 GB minimum (8 GB recommended)
Hard Disk
250 MB for installation files
Documents
---
stellar FREE Data Recovery software
Fast & Easy Data Recovery – Get Back your Data in 3 Steps
The free data recovery tool helps you restore up to 1 GB of data at absolutely no cost. Data recovery with this software is a simple 3-step process -- 'Select', 'Scan', and 'Recover'.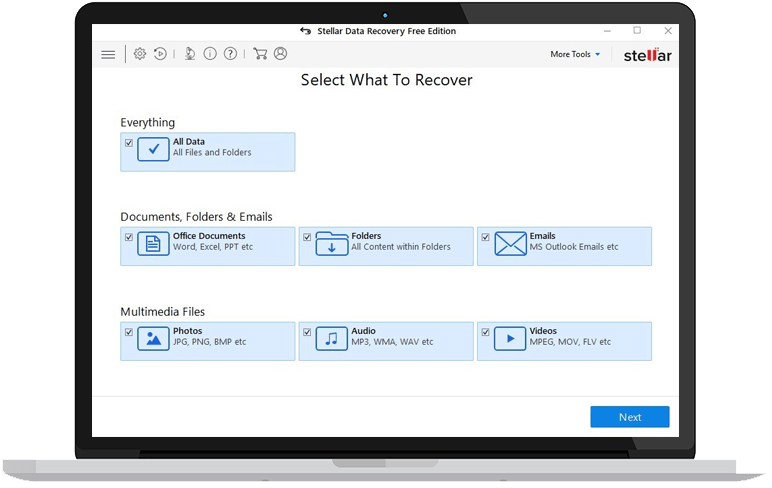 Select File Type
Select the type of data you want to recover and click 'Next'.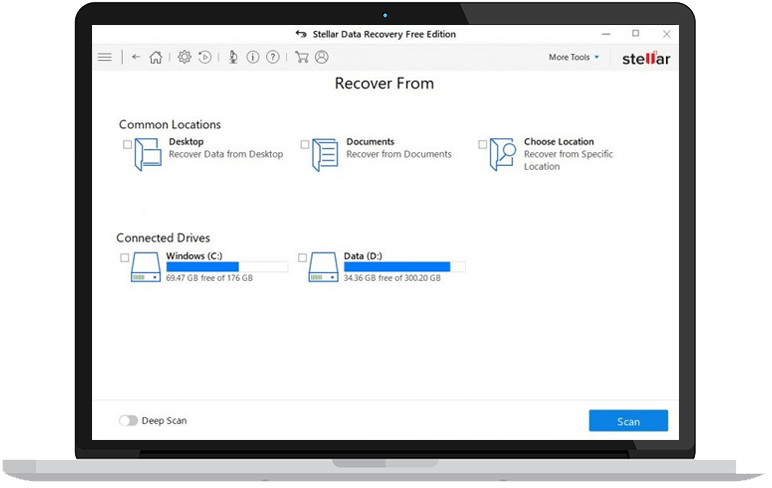 Select Recover From
Select the location or drive volume and click 'Scan'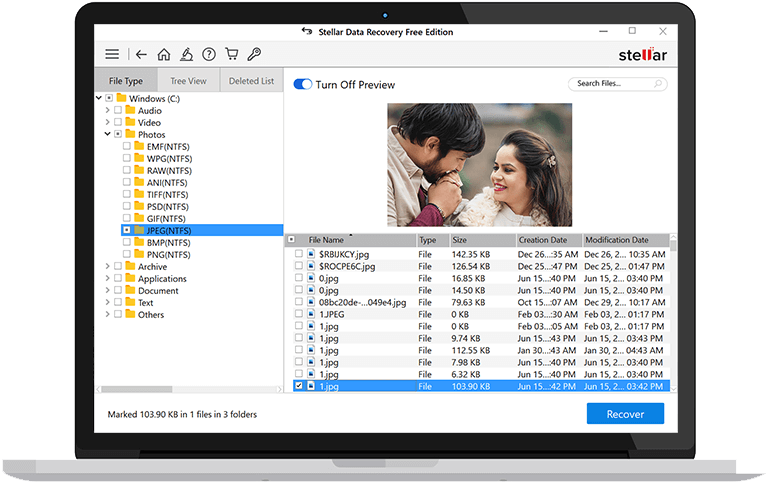 Preview & Recover
Preview & select the files and then click 'Recover' to save them.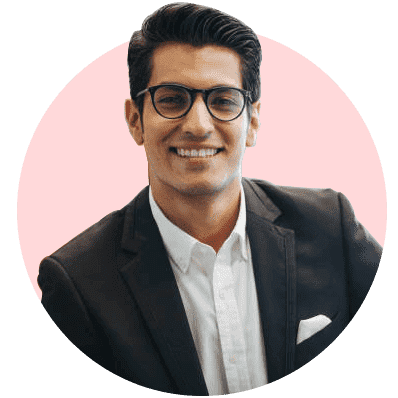 Use Stellar Data Recovery Free Edition
Stellar's Free Data Recovery Software empowers you to retrieve an extensive array of data types, encompassing documents, photos, videos, presentations (PPT), PDFs, DOCX, and more. Regardless of how the digital files have vanished - from the recycle bin to hard disk drives (HDDs), solid-state drives (SSDs), or external storage media.
With a remarkable track record spanning over three decades, Stellar has garnered the trust of millions of users worldwide. Your digital life need not be disrupted by data loss. Download Stellar Data Recovery Software For Free now and reclaim your lost or deleted data, regardless of the underlying cause."
* Recover up to 1GB lost or deleted data for free.
Go To Mac Version
FAQ
How can I recover my deleted files for free?
You just need to download and install the Stellar Free Data Recovery software and then follow the given 3-step process:
Select the type of files you want to recover, and click 'Next'
Choose the location from where the files were deleted and click 'Scan'
Preview the files, select the files you want to recover, and click 'Recover' to save them at a desired location
Can I recover files deleted a long time ago?
Yes. You can recover deleted files from PC/storage media a long time ago, unless they're overwritten by new data.
Can I recover specific types of files with the help of this software?
Yes. The software allows you to choose and recover specific type of files.
What is difference between free version and paid version of the data recovery software?
To know the difference between free version and paid version of the software, refer to the table given below:
| | |
| --- | --- |
| Free Version | Paid Version |
| Recovers up to 1 GB data for free | Unlimited amount of data can be recovered |
| Individual files exceeding 25 MB are skipped during recovery | Recovery of all files, irrespective of their sizes |
| No technical support is available | Free technical support is provided |
To switch to paid version of software check here to do unlimited data recovery
How do I upgrade Stellar Data Recovery software from free version to paid version?
Do I get technical support with free version of Stellar Data Recovery software?
Technical support is provided with paid version of the software.
How much time does it take to recover data by using Windows Data Recovery software?
The time taken by the software to recover data depends upon the type, capacity, and the amount of data stored on the drive/volume from which you want to recover data.
However, while scanning the drive, you can see the scan progress and get to know the "Time left" for scanning.