Why does Stellar Data Recovery Software take Long Time to Scan the Drive?
Stellar Data Recovery software may take long time to scan your hard disk because of the following major reasons:
Reason 1 – Hard Disk Drive is connected to Slower USB Ports
Ensure that your external hard drive is connected to SATA or USB 3.0 port instead of USB 2.0 port. That is because USB 2.0 ports or below can slow down the scan time considerably, especially when the storage volume is 250 GB or larger.
Reason 2 – Insufficient RAM
Make sure you have enough RAM in your system. This is because lower RAM can make your system slow to respond.
Reason 3 – Poor Hard Drive Health
Hard drives status can also be a reason for software taking time to scan. You can monitor Disk health and SMART status. Stellar has a tool to monitor the disk health and status. Use Stellar Drive Monitor tool to keep real-time track of hard disk drive health and performance, which helps warn you of impending drive failure while there is still time to take preventive action.
Key Features of Stellar Drive Monitor:
Can be used to test any PATA/SATA disk, USB drives and SSD
Runs continuously in the background, providing real-time information about hard disk's health
Option to scan and display bad sectors on the disk
Option to clone failing drive
How to use Stellar Drive Monitor?
Follow these steps to use Stellar Drive Monitor:
Step 1:
Install and launch Stellar Data Recovery Professional (Windows/Mac) software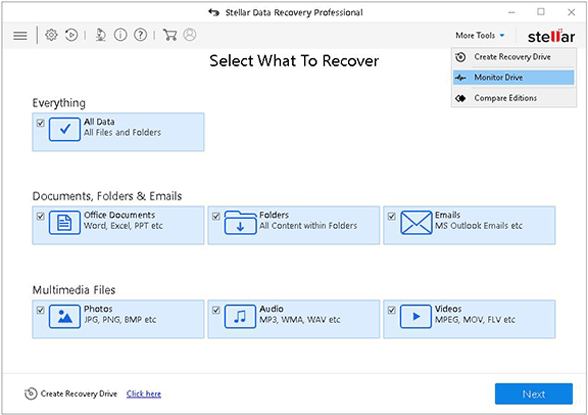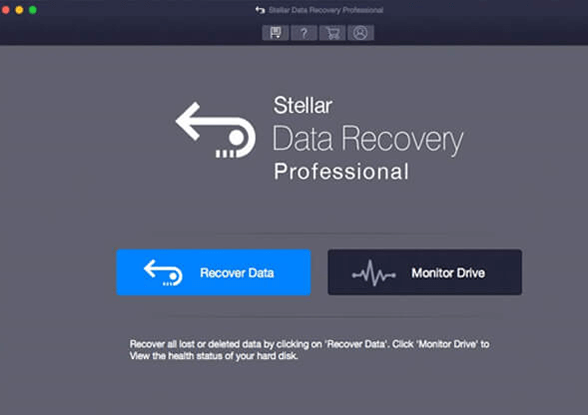 Step 2:
From the software main interface, click 'Monitor Drive' and the following screen will pop-up: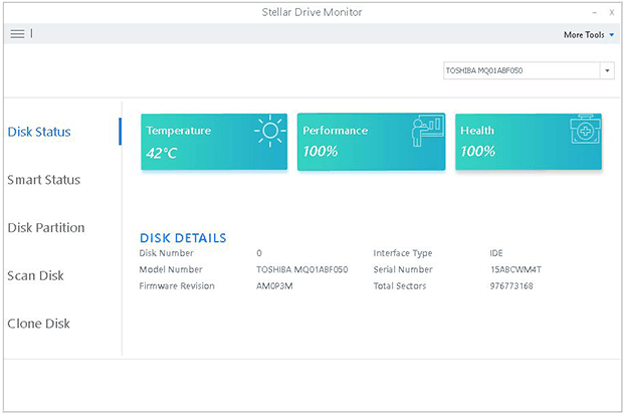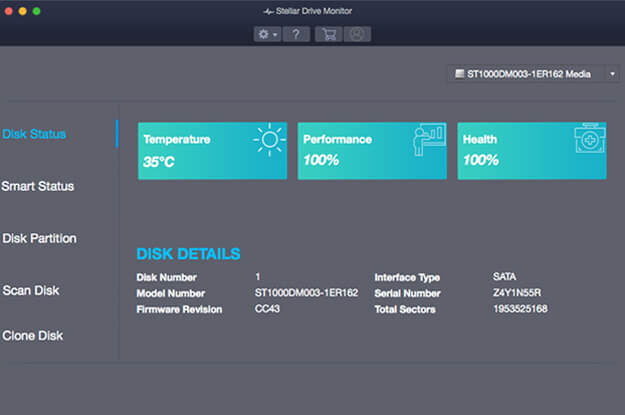 Step 3:
Run the following modules included in Stellar Drive Monitor to monitor the status of your disks:
3.1. Disk Status
This module provides information about the overall health of the hard disk, which comprises:
Temperature – The 'Disk Status' module changes color according to the temperature range of the disk. A disk may fail if the temperature goes beyond the specific range described as follows:
| | | |
| --- | --- | --- |
| Hard Disk Temperature | Suitability | Color |
| Less than 49°C | Ideal | Blue/Teal |
| 50°C to 65°C | Acceptable | Orange |
| More than 65°C | Too hot | Red |
NOTE: The temperature range is user-defined and can be modified from the Settings window.
Performance – The performance of the disk depends mainly on the access time. Thus, the performance factor included in the 'Disk Status' module displays the transfer rate of the disks.
Health – The health factor determines the total running time of the disk, write/read errors, etc.
| | | |
| --- | --- | --- |
| Hard Disk Health | Suitability | Color |
| More than 80% | Ideal | Blue/Teal |
| 80% to 65% | Acceptable | Orange |
| Less than 65% | Too hot | Red |
Other than displaying the statistical information about a hard disk the software also exhibits details of the disks connected or selected from the top right pane. These details include Disk number, Interface Type, Model Number, etc.
3.2. Smart Status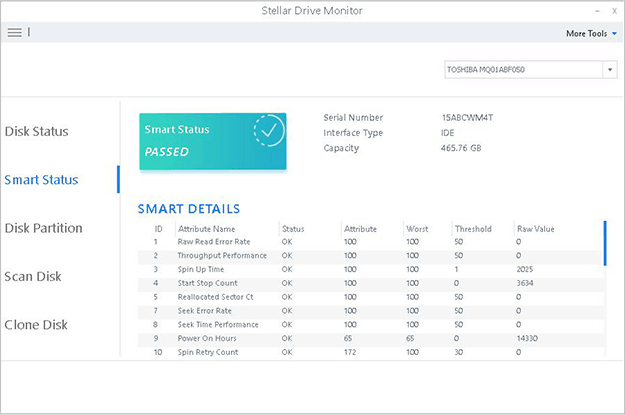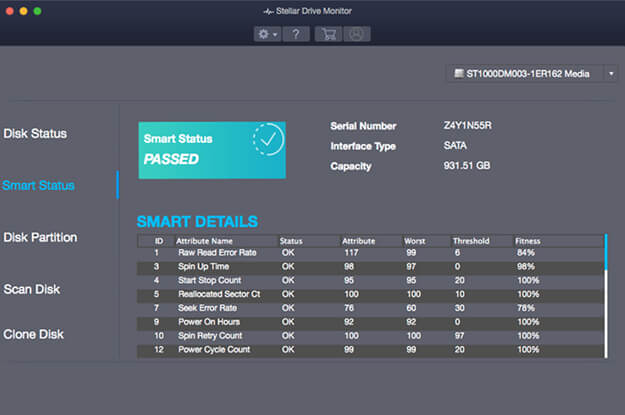 The 'Smart Status' module helps determine drive SMART status which comprises:
ID of the attribute
Attribute Name
Status of the hard drive (either OK or FAIL)
Attribute Value
Worst Value
Threshold
Fitness Percentage
To use the 'Smart Status' module, click Smart Status and select a desired storage drive. And then, click Scan.
3.3. Disk Partition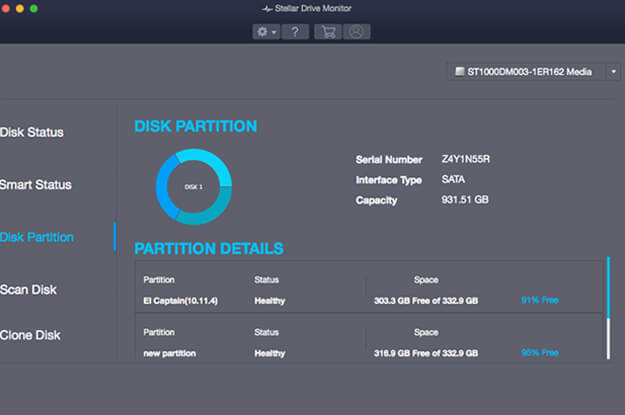 The 'Disk Partition' module displays information, including Partition details of a hard disk including:
Partition: Tells about each partition represented by a drive letter, for example, B; C and so on.
Status: Determines partition status like healthy or failed
Space: Determines available storage capacity
The module also provides details including the Serial number, Interface type and the Capacity of the disk
3.4. Scan Disk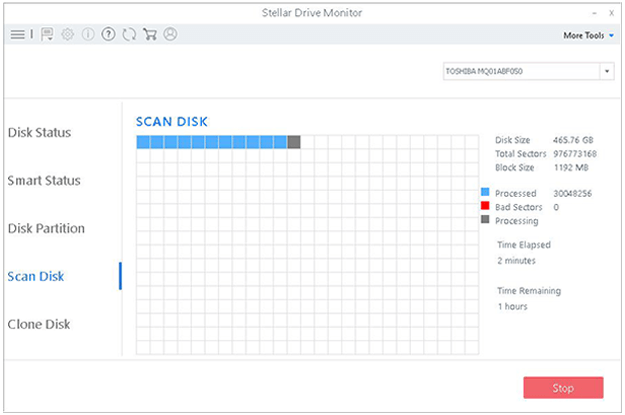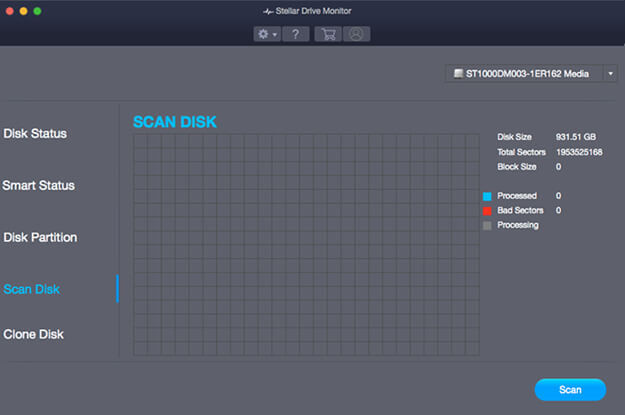 This module helps scan a disk for bad sectors. To scan a disk follow these steps:
Step 1: Run Stellar Drive Monitor
Step 2: From the top right pane of the drive monitor wizard, select a hard disk for scanning
Step 3: Click Scan to initiate the scanning process
Step 4: Once you receive the 'Scan Completed' message, click OK.
NOTE: The blocks that have been scanned and show up in blue are healthy, while blocks containing bad sectors are colored red.
3.5. Clone Disk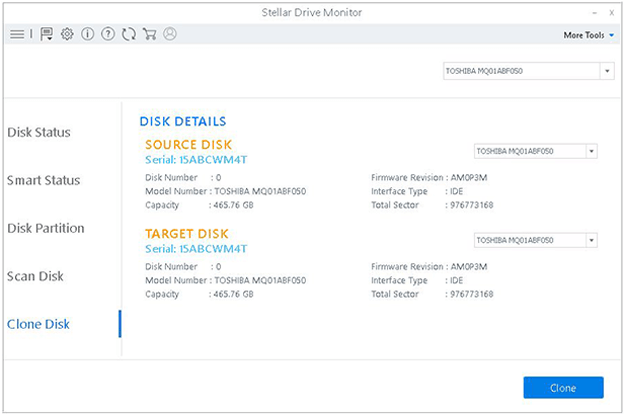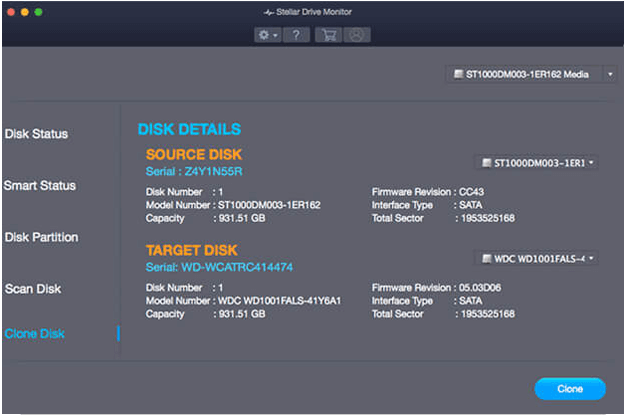 The 'Clone Disk' module of the Drive Monitor utility helps in creating a replica of the failing drive, by overwriting data on the target disk with the data from the source disk. Follow these steps to clone a disk:
Step 1: Run Stellar Drive Monitor
Step 2: In the Clone Disk pane, select 'Source Disk' and 'Target Disk' from the drop-down list
Step 3: Click Clone to initiate the cloning process
Step 4: A warning message gets displayed on the screen. Click Start to begin the cloning process
Step 5: The percentage of cloning process completed is displayed in a circular progress bar as shown below:
Step 6: 'Disk cloning finished' message gets displayed once the cloning process is complete. Click OK.
Reason 4 – Accumulation of bad sectors on the drive
Solution – If the drive has too many bad sectors the data recovery software may get stuck. In that case, clone your disk or create an image of the disk. But, if the data is critical to you, reach out to a data recovery expert or service provider to avoid permanent data loss – due to data recovery activities. Using Stellar Data Recovery Services can help you recover lost data from bad sectors in hard drive partitions.
Special Offer from Stellar
Get exclusive offer on stellar data recovery software, drop email to help@stellarinfo.com