An Overview of Exchange Repair Software
Exchange Database Recovery Software
Stellar Repair for Exchange is an advanced tool to repair and recover corrupt or damaged Exchange databases. The software helps administrators fix Exchange issues, such as 'Dirty Shutdown Error,' 'Jet Exchange Error,' etc. Such errors remain unsolved due to limitations of inbuilt utilities, such as EAC, PowerShell, and Eseutil commands. The software recovers all mailboxes and items, such as emails, contacts, attachments, calendars, tasks, notes, journals, and public folders.
The users need to download Server Console.exe to grant full mailbox rights to disconnected mailboxes.
Repairs Large EDB Files
Repairs corrupt or damaged Exchange EDB files
Recovers deleted Exchange mailbox items and Public Folders
Exports recovered mailboxes and items to Live Exchange and Office 365
Converts EDB files to multiple file formats, such as PST, RTF, MS, EML, PDF, & HTML
Performs eDiscovery Search & Granular Recovery
Displays an enhanced preview of mailbox items before saving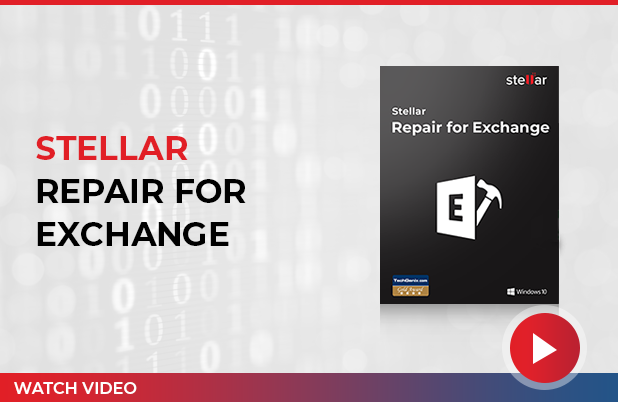 Top Use Cases to Repair EDB Files
Most Advanced & Recommended Software by MVPs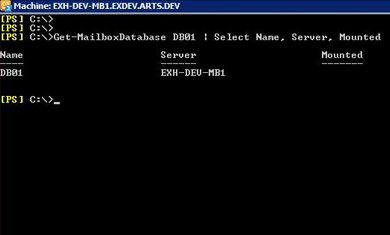 Exchange Database Mounting IssueS
Exchange database mounting error can lead to non-accessibility of mailboxes and downtime. Stellar Repair for Exchange helps administrators fix inconsistent Exchange databases and export mailboxes to PST, Live Exchange or Office 365 account.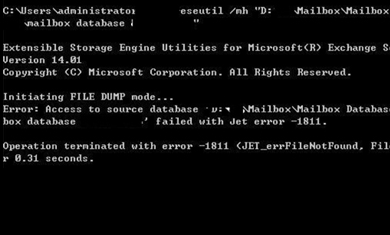 Jet Engine Error
This error is encountered when damage occurs in the Exchange server at the file, database, or application level. Stellar Exchange Recovery software can help recover from Jet Engine Error by repairing the database and mailboxes.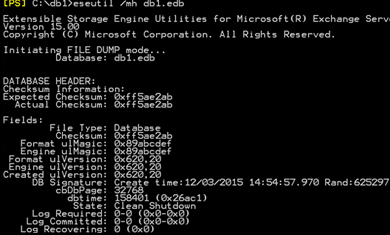 Exchange EDB Corruption
Common issues, such as server crash, malicious attacks, power failure, etc. may lead to database corruption and cause errors like dirty shutdown, database integrity, logical damage, etc. Stellar Repair for Exchange can help regain access to corrupted EDB files and mailboxes in just a few clicks.
Key Features of Exchange Recovery Software
All in One Solution for Exchange Mailbox Recovery

CONVERTS EDB FILES TO MULTIPLE FORMATS
Stellar Repair for Exchange can repair EDB file and extract multiple mailboxes simultaneously to PST, Live Exchange, and Office 365. Users can also choose to save mailboxes and items in various other file formats, such as EML, MSG, RTF, PDF, or HTML. The software feature Quick Scan and Extensive Scan options to repair severely damaged or corrupt Exchange database files with 100% integrity.

PARALLEL PROCESSING FOR FASTER RECOVERY
The Exchange recovery can process and save up to 4 mailboxes simultaneously to PST, Office 365 or Live Exchange server. This significantly reduces time required to repair Exchange database and recover mailboxes. The software also provides you with an option to create a new mailbox and manually map mailboxes, making it seamless to export existing or deleted mailboxes, individual items, and searched items to correct mailboxes on the Live Exchange or OFFICE 365.

SET MAILBOX EXPORT PRIORITY
Before exporting the mailboxes to PST, Live Exchange, or Office 365, the Exchange recovery software provides option to set mailbox priority. By changing priority of mailbox, you choose to export the mailbox first or last based on your requirements. You can set or change mailbox export priority by entering or selecting the Priority queue number in the priority column. This feature is helpful when you need to export critical mailboxes quickly.

RECOVER DELETED EXCHANGE MAILBOXES
This powerful Exchange recovery software helps users recover all accidentally or intentionally deleted mailboxes, including all mailbox components. The software highlights deleted mailboxes and items with red color and a deleted icon. Users can click on a deleted item or mailbox to see its preview before saving to PST or other file formats.

PERFORM E-DISCOVERY AND GRANULAR RECOVERY
Stellar Repair for Exchange features options to perform eDiscovery search to find mailboxes, folders, or items and recover them to PST and other supported file formats. Users can perform granular recovery based upon various search criteria, such as 'To', 'From', 'Cc', 'Subject', 'Attachment Name', 'Item Type', 'Body', etc.

FREE PREVIEW OF USER MAILBOXES
After repairing a corrupt or damaged Exchange database file, the software displays an enhanced preview of mailboxes and mail items in a three-pane preview window. This helps in selective recovery of mailboxes and verifies mailboxes before saving. You can see free preview of all mailbox items including Emails, Attachments, Notes, Calendar Entries, Contacts, Sent Items, etc. If it can be previewed, it can be recovered.

Free Download 100% Secure

Buy Now
* Download the free trial version of Exchange server recovery to scan & preview your recoverable mailboxes.
How It works
Detailed Working of Exchange Repair Software
This Exchange repair software also repairs extensively damaged, dismounted, and offline EDB files and restores content from inaccessible mailboxes.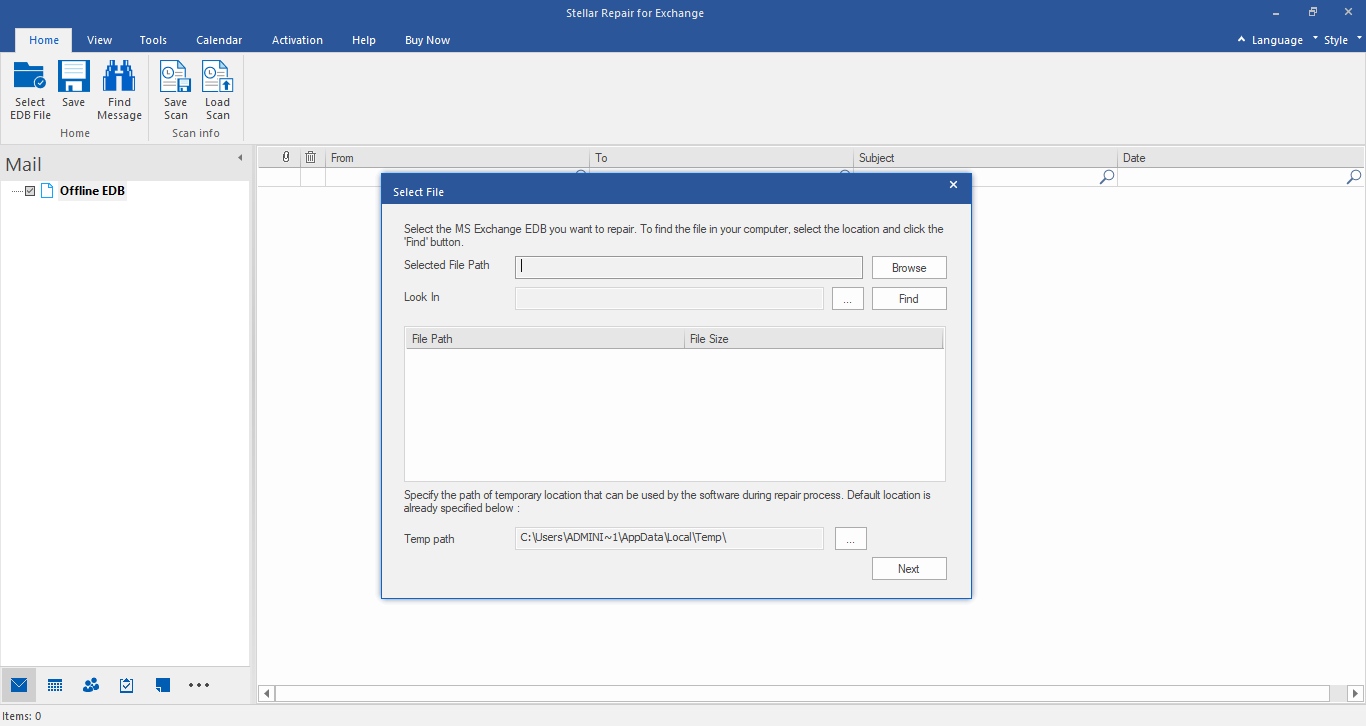 Select EDB File
Click Browse or use Find option to select EDB file and Start Scan.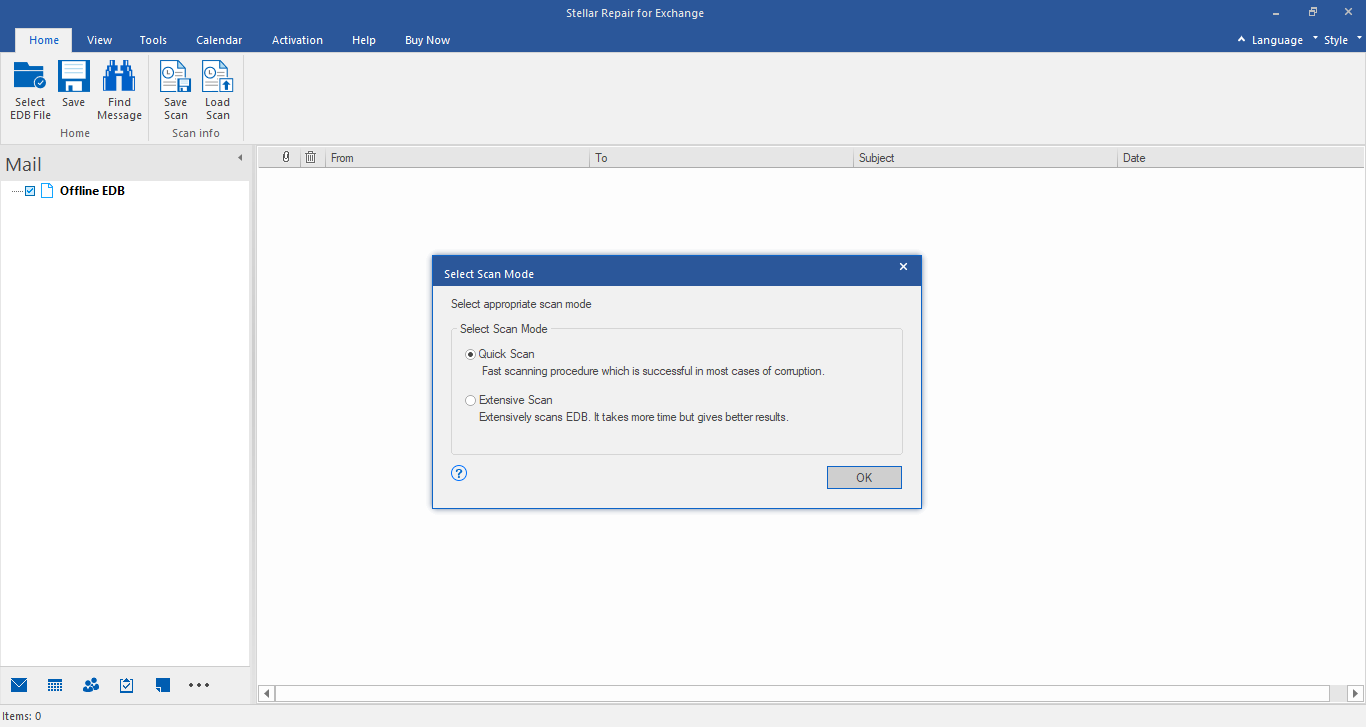 Scan EDB File
Scan EDB File 'Quick Scan' option is the fast mode to scan and repair corrupt EDB file, and 'Extensive Scan' is for a comprehensive scan of severely corrupt EDB files.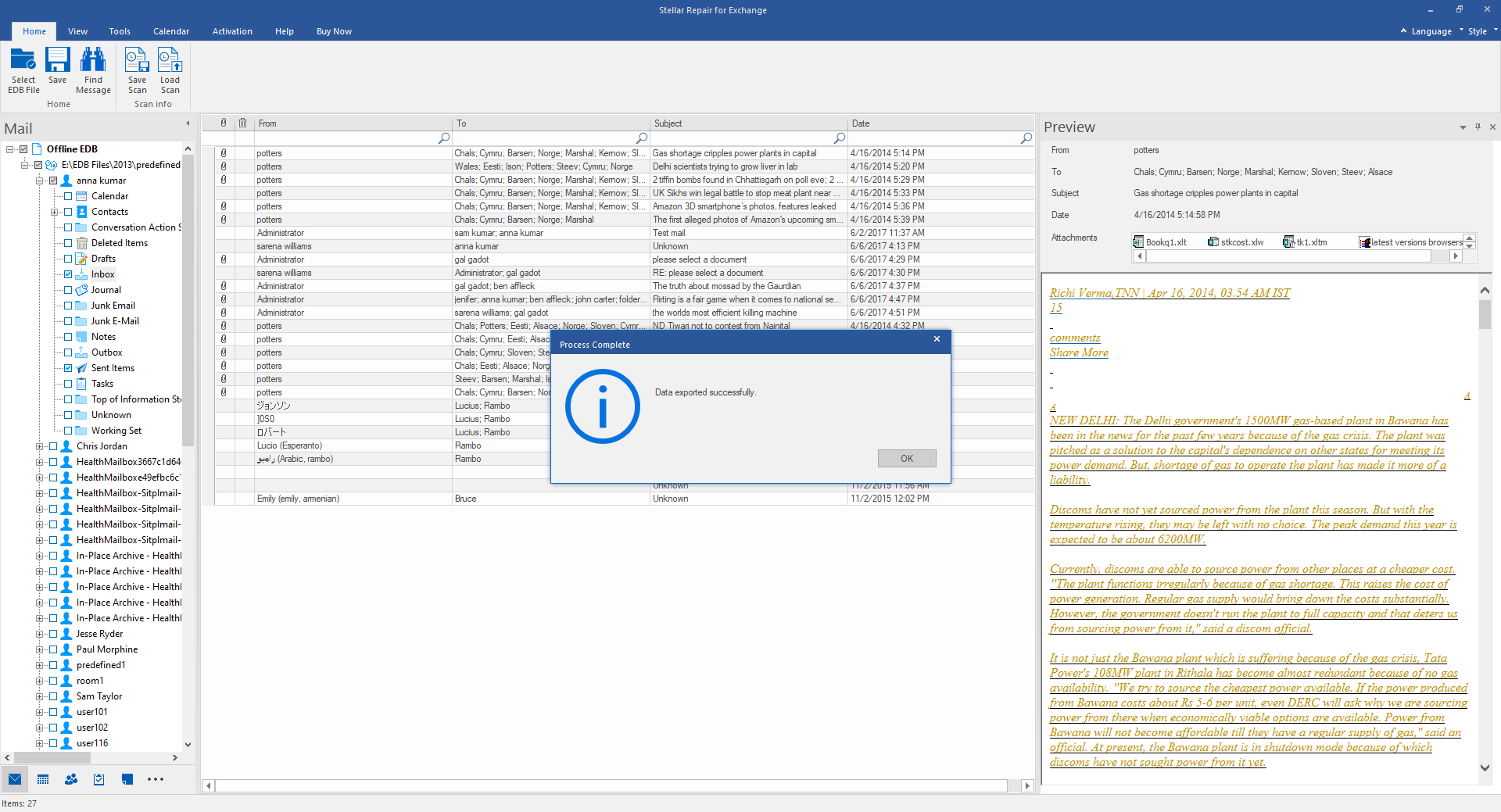 Preview
Select mailboxes, click Save and then choose a desired save option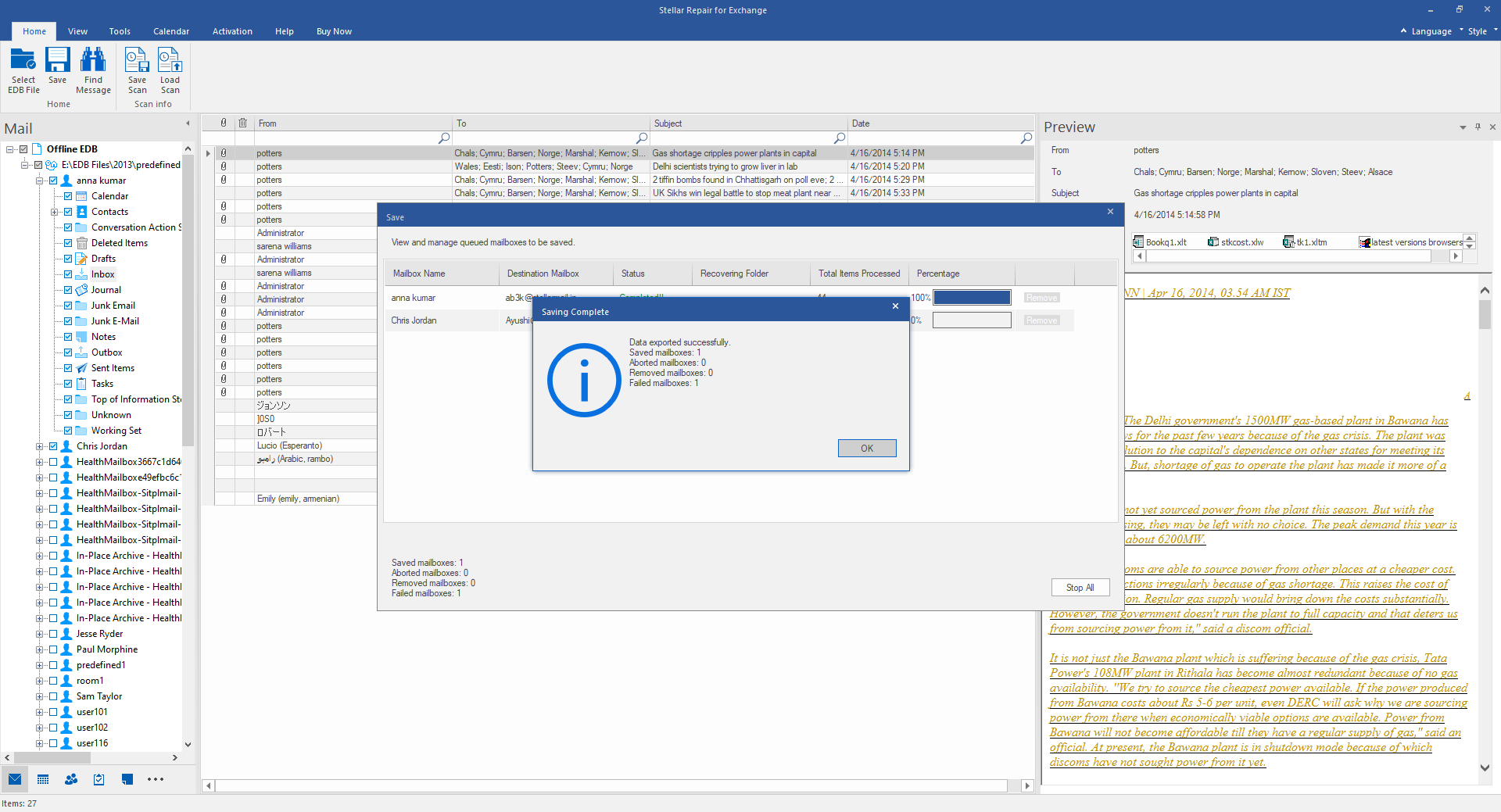 Export
Select the configured Outlook profile with Administrator privileges; enter password and other required credentials to start exporting mailboxes to desired file format or to the destination Exchange server or Office 365 account
Technical Specification
About Product
---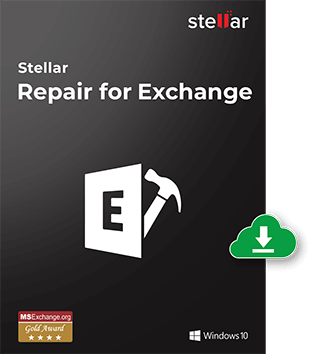 Version
10.0
Release Date
June, 2022
License Usage
Single/Multiple Users
Version Support
MS Exchange 2019, 2016, 2013, and lower versions
Edition
Corporate, Technician, & Toolkit
Language Supported
English, German, French, Spanish, Italian
System Requirements
---

Processor
Intel compatible (x86, x64)
Operating System
Windows 11, 10, 8.1, 8, 7 & Windows Server 2016, 2012, 2008
Memory
4 GB minimum (8 GB recommended)
Hard Disk
250 MB of free space
Documents
---
Get The Software at Best Price
Compare Edition for Stellar Repair for Exchange
Stellar Repair for Exchange is available in different editions, based on the features and functionalities. Explore and compare the features of each edition, and choose exchange repair software of your choice.
` 39,999
` 31,999

Buy Now
---
Repair corrupt EDB file & Recovers Mails, Contacts, Calendars, Tasks, and Notes
Export the recovered mailboxes & Public folders to Live Exchange, Office 365 or PST
Single User License
Repair up to 100 mailboxes
Free Update for 1 Year
Most Popular
` 59,999
` 48,999

Buy Now
---
Repair corrupt EDB file & Recovers Mails, Contacts, Calendars, Tasks, and Notes
Export the recovered mailboxes & Public folders to Live Exchange, Office 365 or PST
Multiple User License
Repair Unlimited Mailboxes
` 129,999
` 81,999

Buy Now
---
5 in 1 Exchange Repair Toolkit
Multiple User License
Repair unlimited mailboxes
Extract offline mailboxes from corrupt Exchange backup file
Convert EDB file to PST format
Convert inaccessible OST to PST
Reset lost password of Windows Server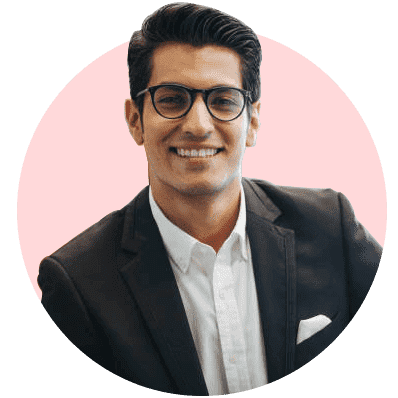 Start Using Stellar Repair for Exchange Today With Our Free Trial.
Stellar Repair for Exchange recovers dismounted and offline Exchange EDB files.
* Download the free trial version of Exchange server recovery to scan & preview your recoverable mailboxes.
FAQ
How can demo version of Stellar Repair for Exchange software help?
The demo version of the stellar exchange repairs helps users to evaluate software functionality. The demo version scans for corrupt ED files and helps to preview the recoverable items
Is technical support available for Stellar Repair for Exchange?
Technical support is available for the paid version of the software till the subscription validity.