Windows Detected Hard Disk Problem- Solutions to Fix it
Windows detected hard disk problem error This is the most common issue irrespective of whether you are running Windows 7, Windows 8, Window 10, or Windows XP.
When this error message appears, it suggests two solutions:
Backing up the files immediately to prevent Data Loss
Contact the System Manufacturer to decide on whether the disk needs to be Repaired or Replaced Of course, this error seems frustrating as it keeps popping up every 5 or 10 minutes yet it is important to understand the nature of the error, whether it is related to the system, file, or hard drive, its reasons and solutions.
What Does 'Windows has Detected Hard Disk Problem' Mean?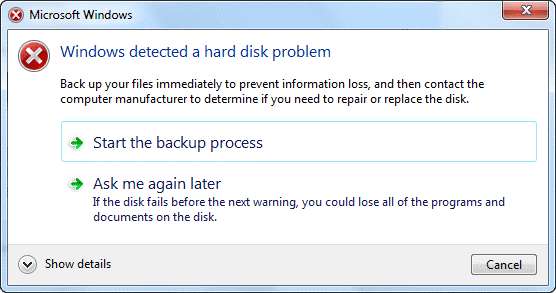 This error message indicates a serious warning —
A hard drive is failing.
A hard drive will die either sooner or later.
All the data that the hard drive includes is at stake. It will be lost once the disk dies.
Windows system file may become corrupt.
The Operating System may not be booting.
The PC may freeze.
The PC is consuming a long loading time and fails to respond.
What are the Reasons for Windows Detected Hard Disk Problem?
Several factors tend to generate "Windows detected hard disk problem" error. Majorly, hard drive failure is the main reason. Some of the other reasons include:
Logical/ Mechanical Error
There are several mechanical and logical errors on the hard drive that which leads to bad sectors or a corrupt file system. When these issues arise, the system generates a hard disk problem error to prevent data loss.
Virus attack is a common occurrence. Irrespective of whether you have powerful antivirus software or not on your system, it may still be vulnerable. Though the presence of an anti-virus software makes it different yet this does not indicate that the system is virus-proof. So, once the system is infected by a virus, some damage will happen, which in most cases even the anti-virus software may not be able to repair.
Sometimes the System File Error such as important system files deletion, excessive startup entries, improper PC shut down, fragmented files, registry error, to name a few can be the cause.  Consequently,  The reason being, all these actions lead to corrupt system files entries. Above all, it further results in improper working due to missing link or incorrect data.
Though neglected yet it is also a major cause as sometimes, users by accident carry out several improper actions. These actions have the potential to impact the system performance such as system file properties changes, system registry setting modification, improper plugins installation, etc.
How to Fix Windows Detected Hard Disk Problem?
Below are the possible solutions—
Solution 1: Go for System File Checker
Windows offer several basic tools to handle such errors. With these simple tools, you can easily fix the error as they are easy to use.
Follow the below steps:
1. Click Start
2. Under Search box, enter cmd
3. Right-click and select "Run as administrator" option
4. Under command prompt, type SFC /scannow
5. Press Enter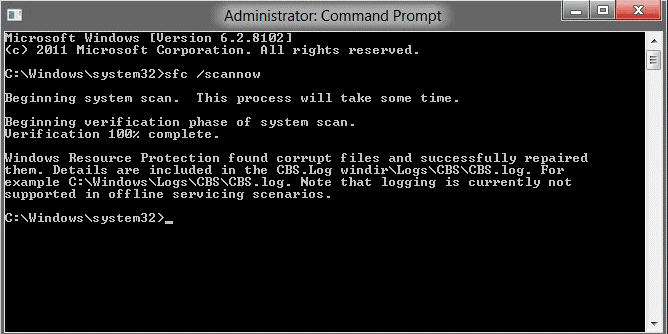 This is a fast process, by which you can replace the corrupt files with a backup copy.
Note: Make sure to close the window only after complete verification.
Solution 2: Perform ChkDsk
Another approach to resolve the issue is to perform a chkDsk. This helps to check and repair error for FAT as well as NTFS File System. So, if the error is due to File System Error, it is a viable solution. Follow the below steps:
1. Open Command Prompt
2. Type ChkDsk and enter the Partition Drive Letter(chkdsk (drive letter) /f" to identify the disk error)
3. Press Enter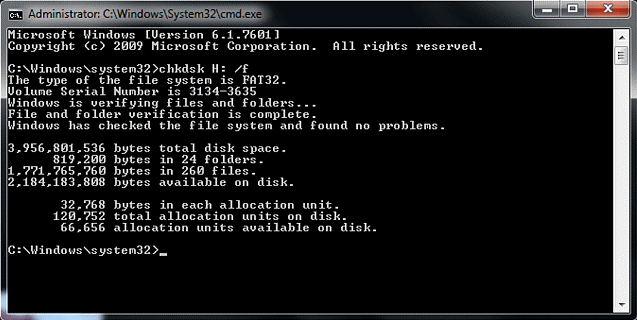 Note: Make sure to back up the data before executing the command.
Solution 3: Check the Hard Disk for Bad Sectors
When the issue is not with the Partition File system or the System, verification of the hard drive health is another trick. The reason being, it might have bad sectors. In such scenarios, when the cause of the error is bad sectors, going for the windows data recovery software seems to be a practical option.
Solution 4: Contact a Professional Data Recovery Center
As a last resort, when none of the afore-stated solutions seems feasible, trusting on a Professional data recovery service provider is an ideal solution. The reason being, by joining hands with them, you can easily handle all types of cases with great ease and convenience.  Furthermore, one such professional data recovery service provider is Stellar Data Recovery.
We are handling the wide clientele across 15 locations in India since the last two decades. Thanks to our strong and dedicated R & D team, experienced Data Recovery Experts, and State-of-the-Art Class 100 Clean Room Labs, we have garnered around 3 million+ satisfied customers.
USP:
Guaranteed Privacy of Data
Risk-Free Recovery assurance
No Recovery, No Charge policy
Well-organized and reliable service
Class 100 Clean Room Facility
The Final Word!
Hard Drive is the core component of the Computer. We all use it to store our valuable data. Thus, when it fails, data is at stake. In this situation, the question that arises is how to fix the hard disk problem on windows. Depending on your needs and requirements, in other words, you can choose the approach you consider as the best fit and minimize data loss.