[Solution]Fix Ntfs.sys Error in Windows 10?
Summary: Ntfs.sys is a Windows system file that is crucial for running Windows. It's a driver that allows the operating system (OS) to access the NTFS partition on your Windows hard drive. Try the recommended solutions to fix the Ntfs.sys error in Windows 10, you can try stellar Windows data recovery software to recover your lost data.

If this file gets corrupt or there's a problem with the NTFS hard drive, you might receive a Blue Screen of Death (BSOD) error. If you get BSOD with SYSTEM_SERVICE_EXCEPTION (Ntfs.sys) error message, it means the system file is corrupt. And if you receive the error NTFS_File_SYSTEM (Ntfs.sys), it indicates a problem with the driver. Let's see an instance of Ntfs.sys error reported by a user on the Microsoft community forum.
इस पोस्ट को हिंदी में पढ़ने के लिए यहां क्लिक करें।
My PC is on a constant loop with a blue screen. It starts to load Windows 10 but then dies of a blue screen. I have tried removing the hard disk and putting it into another PC, but as soon as I hit on the drive the new PC dies of a blue screen. I also tried accessing the hard disk on a different PC as a secondary hard drive. But when I hit the drive letter, the PC crashes.
So, I assume the disk is corrupt. Is there a way of extracting data? Does anyone come across any third-party data recovery software and are they any good?
If you're also facing a similar issue, don't worry. In this post, we'll discuss some effective solutions to fix the Ntfs. sys error in Windows 10.
USEFUL TIP:
If you're facing Ntfs.sys error with BSOD, it is suggested to recover and backup the data. For this, you can use Stellar Data Recovery software that can recover data even from a non-bootable PC. 
 Methods to Fix Ntfs.sys Error in Windows 10
The primary reason for such errors is system file corruption or bad sectors on the drive. We've mentioned below some methods to fix this issue. But you need to first enter the safe mode with networking on your Windows 10 system.
Method 1: Run System File Checker Tool
System File Checker (SFC) tool is a built-in utility in Windows that can check and repair missing or corrupted system files. You can run System File Checker from Windows Command Prompt to fix the Ntfs.sys error if it's due to corrupt or broken system files. To do so, follow the given steps:
Step 1. In Safe Mode, click the text box at the bottom-left corner and type cmd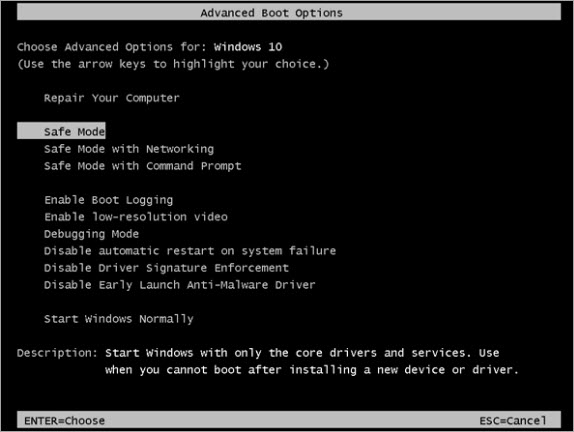 Step 2. Right-click "Command Prompt" and select "Run as administrator"
Step 3. Run DISM.exe to make a Windows image to protect your data before running SFC Scan. Type the complete command given below and hit Enter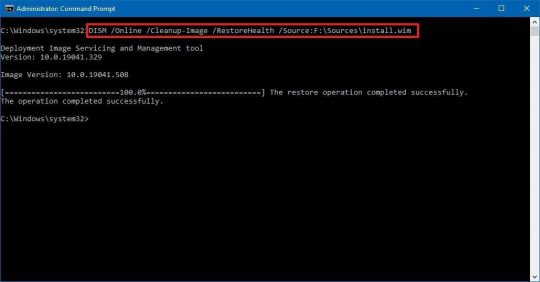 DISM /Online /Cleanup-Image /RestoreHealth
Step 4. When the DISM command is successfully executed, enter the following command. It will start scanning and repairing your system files
sfc /scannow
Step 5. After the execution of sfc /scannow, exit the Safe Mode and try booting the system normally, and see if the issue is fixed
Method 2: Use Windows Error Checking Tool
Windows Error Checking tool can fix minor NTFS file system issues with your system's hard drive. If you're getting the error 'Ntfs.sys' because of issues with the NTFS system hard disk, using the Windows Error Checking tool may resolve the problem. Follow the given steps:
Open This PC on your system
Right-click a partition on the drive, and select Properties


Choose the Tools tab
Click Check, and wait for the operation to complete

Check and fix other partitions by using the same steps
After the completion of the repairing process, exit the safe mode and try booting the system normally to see if the issue is fixed
Method 3: Run CHKDSK Command
Running chkdsk command from Command Prompt helps fix disk corruption and disk errors. If disk problems are the root cause of the error, you can run chkdsk command on your Windows 10 system. The steps are as follows:
Type cmd in the text box in the bottom-left corner of your Windows desktop screen
Right-click Command Prompt, and choose Run as administrator
Grant permissions (if prompted)
This will open Command Prompt window with Administrative rights.
Type the command given below, and hit Enter
chkdsk /f /r x:
Where, x is the drive letter of a volume on your system's hard disk.
/f fixes errors.
/r identifies the bad sectors and tries to read information from them.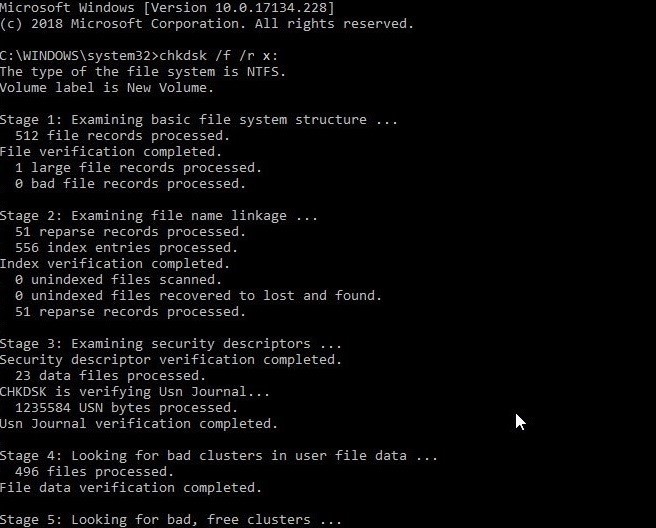 Run the same command for other partitions by replacing the drive letter (x, in the example) with the targeted partition's drive letter
 Now, boot the system in normal mode and see if the error is fixed
If the error is still unresolved, using a trusted data recovery software is the best way to get back all your precious data.
Use Windows Data Recovery Software to Recover Data Lost due to Ntfs.sys Error in Windows 10
To fetch your crucial data from a system throwing Ntfs.sys error, use an effective data recovery tool such as Stellar Windows Data Recovery. The software supports all versions of Windows OS, including the latest Windows 10. This powerful software can recover deleted files of any type, even from unbootable systems. It has an intuitive interface that allows you to easily recover data by following just three simple steps – Select, Scan, and Recover. The software supports recovery from NTFS formatted drive, exFAT, FAT16, & FAT32 formatted drives.
Watch the video on  "Recover Deleted Photos, Videos & Files" with the help of Stellar Recovery Software