How to Evaluate Free Data Recovery Software for Windows 11?
Summary: The new version of the Windows operating system i.e. Windows 11 has arrived. Many Windows users have already upgraded to the latest OS. However, if you have lost data while upgrading to Windows 11 and don't have a backup, then the best way to recover such data is by using reliable windows data recovery software. But it's a difficult task to decide which data recovery software is the best as there are a plethora of options available.

In this post, we will list some key features that you must consider while choosing a free data recovery software for Windows 11.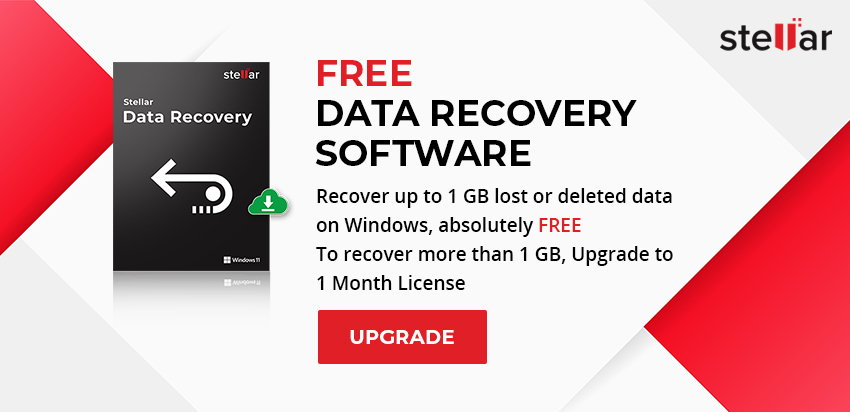 इस पोस्ट को हिंदी में पढ़ने के लिए यहां क्लिक करें

Features to look for in a Free Data Recovery Software
Make sure to consider the below-listed features while choosing the best data recovery software for Windows 11:
Compatibility with Different Storage Devices
It's essential for a data recovery software to be compatible with most, if not all, of the popular storage media, such as HDDs, SSDs, USB drives, etc. It must also be capable of recovering data from storage devices with NTFS, exFAT, FAT16, and FAT32 file systems.
Also, check what Free Data Recovery Tools stellar has to offer.
Recovery from Encrypted Media
Many times, users encrypt crucial data using the BitLocker Encryption feature on Windows. If you end up losing the data from the encrypted drives, then you would need a data recovery software that has the feature to recover data from BitLocker-encrypted drives.
Recovery from Formatted or Corrupted Drive
Sometimes, you accidentally format the drive or it gets corrupted, resulting in data inaccessibility. Therefore, look for software that has the capability to recover data from an accidentally formatted or corrupted drive.
Recovers All Types of Files
It's advised to select a software that has the widest range of file type support. Therefore, while choosing one, ensure that it recovers all types of files, such as documents, photos, videos, email data files, etc.
Preview Option
Consider a data recovery software that allows you to preview the recovered data before saving it. It helps you to evaluate the quality of the recoverable data.
Free Data Recovery
While selecting a data retrieving software, look if it has a free version. It helps you to evaluate its functionality and features.
Updates and Support
When it comes to advanced and reliable data recovery software, it always comes with free regular updates and a dedicated support system available round the clock.
Which Free Data Recovery Software Fits the Above-Mentioned Criteria?
Now, you might be thinking if there is a data recovery software available with all the above features. Well, the answer is Yes. Stellar Data Recovery is one such software that fits the above criteria. The software is compatible with both Windows and Mac operating systems. In addition, it comes with a free version that allows you to recover up to 1 GB of lost or deleted data. Once you're satisfied with the results, you can choose from upgraded versions of this software for unlimited or free data recovery.

There are three different versions of Stellar Data Recovery – Standard, Professional, and Premium, based on the features and functionality. Depending on your need, you can choose either the 1-month or the 1-year license.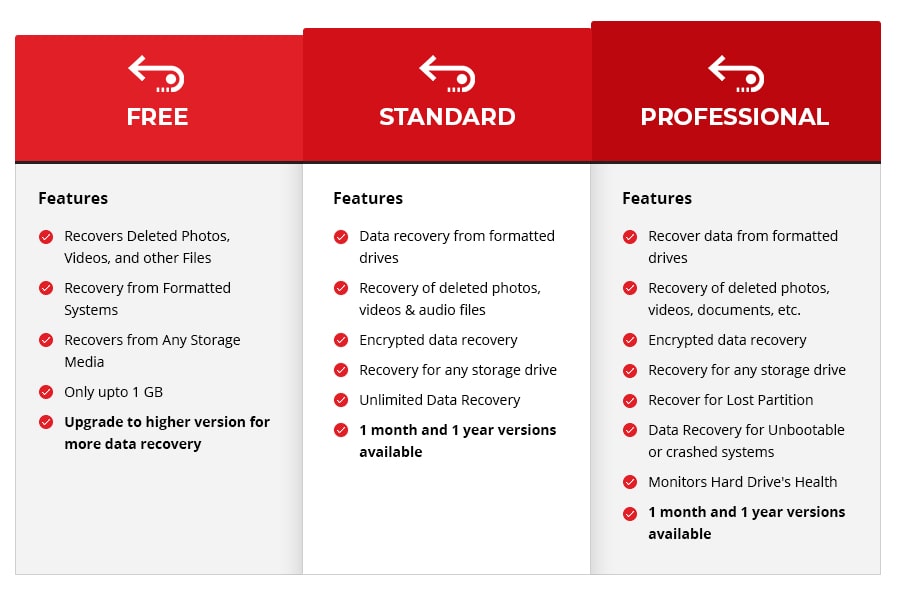 Note: Indian customers can avail of an extra 10% off on Stellar Data Recovery software. In addition, they get free technical support depending on the license duration. They also get a Free Discount Coupon for In-Lab Data Recovery Services.
Also check, Get Additional Discount and Coupons on Stellar Software
Closing Thoughts
Stellar Data Recovery Software isn't only restricted to the above-listed features but has other advanced features. Like recovery from lost Windows partition, recovery from RAW drives, SMART drive monitoring, etc. Thus, you can go ahead and choose this data recovery software for retrieving the lost or deleted data seamlessly on Windows 11 and other versions.