How to Retrieve Deleted Word Documents for Free?
This guide takes you through various possible methods to safely recover deleted word documents in a Windows PC or laptop. Follow the instructions carefully to recover your deleted, unsaved, and lost Word documents from MS Word 2002, 2003, 2007, 2010, 2013, 2016, and 2019. 
Accidentally deleting an important document is anyone's worst nightmare. But such situations are inevitable and could arise due to numerous reasons. The worst part—it always leads to a feeling of complete panic and helplessness. But you should remain calm and look out for possible ways to get back an accidentally deleted or lost the WordPress document.
To help you, we have detailed some methods to recover deleted Microsoft Word documents in a Windows PC. These methods will help you recover Word documents which were deleted or lost due to reasons such as,
Accidental deletion and use of 'Shift+Del' key which bypasses the Recycle Bin
Drive formatting
Due to confusion over the filename
System crash or abrupt shutdown
MS Word application crash
Disk errors such as corruption
How to Recover Deleted Word Documents for Free?
Start by checking the Recycle Bin folder. If you are lucky enough, you will find the deleted Word document file there. To restore, right-click on the MS Word document file and click 'Restore' or use 'Cut/Paste' option.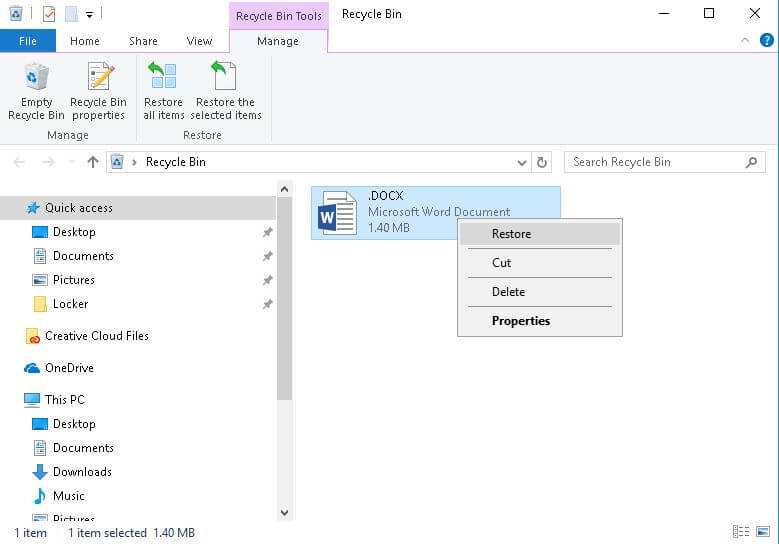 Tip: This method works only when you have not deleted the file permanently or emptied the Recycle Bin folder manually.
In case the file is not found in the Recycle Bin folder, follow the methods given below to recover permanently deleted Word documents. Please note that these methods are mostly Hit & Trials and may not work in most cases of deleted Word document recovery.
If the Word document file(s) is critical, don't risk it.
Stellar Data Recovery for Windows for Deleted Word Documents Recovery
Leverage MS Word file recovery software such as Stellar Data Recovery for Windows to quickly recover deleted MS Word documents.
The software can recover all types of deleted Word document file formats created by using MS Word 2002, 2003, 2007, 2010, 2013, 2016, or 2019. The steps to recover lost and permanently deleted Word documents are as follow,
Install and launch Stellar Data Recovery Software for Windows

Select 'Office Documents' from the option and click 'Next'
Click 'Choose Location' and choose the folder or drive volume from where you saved the Word document file or accidentally deleted it
The software supports Word document file recovery from both internal and external storage media
Click 'Scan'
After the scan, click 'File Type' in the left pane and then click on the 'Documents' folder
Use 'Search' bar at the top right corner to locate lost documents quickly for recovery
If you don't remember the file name, go to 'Tree View' in the left pane and navigate to the folder location from where Word file was lost
Click on the Word document file to see its preview before saving
Select it and click 'Recover.'
Click 'Browse' to choose a save location on a different drive volume and click 'Start Saving.'
Manual Methods to Recover Deleted Word Document files,
Method 1: Find and Restore from Auto-Backup File 
This process works when you have the backup option enabled on the Microsoft Word application. Here are the steps you need to follow to recover your deleted Word document file.
Word 2010
Word 2007
Word 2002 & Word 2003
Start Word 2010
•Click on the File menu and select Open
•In the Files of type list (All Word documents), click All Files
•Click the backup file that you found, and then click Open.
Start Word 2007
•Click the Microsoft Office icon at the top left and then choose Open.
•In the Files of type list, click All Files
•Click the backup file that you found, and then click Open.

Start MS Word
•On the File menu, click Open
•Point to the arrow in the Files of type box, click All Files *.*, select the backup file, and then click Open
Tip: It is all right if you don't remember the folder where you stored the backup document. Search for backup files on your entire system by searching for *.wbk files.
Method 2: MS Word Auto Recovery
When you start working on a Word document, the MS Word AutoSaves a temporary copy of your document at C:\Users\User.name\AppData\Roaming\Microsoft\Word\. 
You can click 'File' and restore a Word document from the AutoSaved copy of the original document that disappeared after a computer or Word application crash.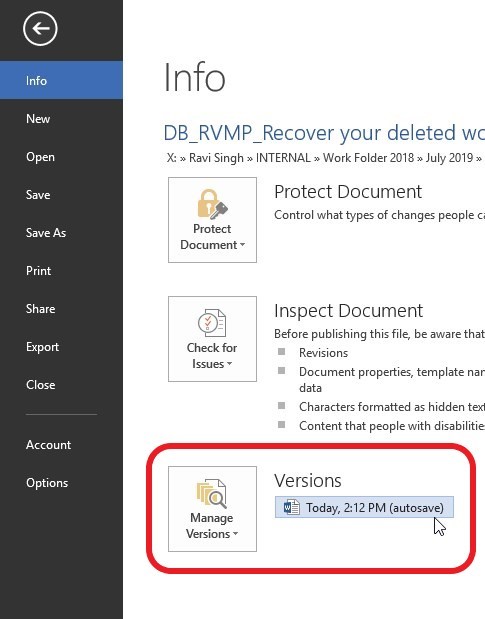 Again, this is not a foolproof method as you may not find the AutoSaved file. Even if you find the AutoSaved file, the chances are that the most recent changes and text on the file are missing.
 Method 3: Recover Unsaved Word Files with Document Recovery
 You can use this method for Microsoft Word 2010, Word 2013, Word 2016, and Word 2019.
Click the File
Click the Manage Versions
From the list, click Recover Unsaved Documents.

An open dialog box displays unsaved recoverable Word documents

Select the Word document you wish to recover and click the Open button
The recovered Word document is now open, and you can now save the document or copy the content
Also, read Deleted file recovery from PC/Mac/SD cards and RAID Servers.
Conclusion
In a data loss situation, the key thing is to remain calm. And stop using the storage media or the system from where data is lost to prevent overwriting and maximize the chances of successful Word document recovery.
Use proprietary methods, as explained in this blog post to restore a lost, deleted, or unsaved Word document. However, if the methods don't work and when the document is critical, use Stellar Data Recovery software to recover accidentally deleted or lost Word document file from a Windows PC and supported internal or external storage media.
The software supports the recovery of all types of Office and Word document file formats created by MS Office 2002 or 2019.