How to Retrieve Deleted Word Documents for Free?
Recover your deleted word documents for free.
Accidentally deleting an important document is anyone's worst nightmare. These situations could arise as a result of numeous reasons. But, it always leads to a feeling of complete panic and helplessness.
When do Word Documents Get Deleted?
Word documents can get deleted due to a number of reasons including the following:
Accidentally formatting your entire hard drive.
Responding to a command prompt for deleting files.
Accidentally deleting a document due to a confusion over the filename.
Bypassing the recycle bin altogether.
Using the Shift +Delete buttons.
There are a number of reasons that causes word documents to get deleted accidentally. However, there are many steps that one can take to try and recover the documents.
How to Recover Deleted Word Documents?
Method 1 – Find the Word Backup file 
This process will only work if you have backup enabled on Microsoft Word. Here are the steps you need to follow to recover your deleted Word file.
Word 2010
Word 2007
Word 2002 & Word 2003
•Start Word 2010.
•On the File menu, click Open.
• In the Files of type list (All Word documents), click All Files.
•Click the backup file that you found, and then click Open.
•Start Word 2007.
•Click the Microsoft Office Button, and then click Open.
• In the Files of type list, click All Files.
•Click the backup file that you found, and then click Open.

•Start Word.
•On the File menu, click Open.
•Point to the arrow in the Files of type box, click All Files *.*, select the file, and then click Open

Tip: It is all right if you don't remember the folder where you stored the backup document. Search for backup files on your entire system by searching for *.wbpk files
 Method 2 – Check the Recycle Bin
Go to "Recycle Bin" icon on your desktop.
Double-click this icon to open.
Search for your document in the recycle bin.
If you find your document there, right click on it and select "Restore".
Tip: This method will only work if you're lucky enough to have not deleted the file permanently or emptied the recycle bin
Method 3 – Search your Temporary Files
Usually, temporary files are created for all files. These are stored in the system's temporary files folder. If you're lucky you might find it there.
Click and Open Windows Search
Search for *.tmp files
Again, this method is not foolproof. Your file may not get saved as a temporary file if there is not enough space in the temporary files folder. In that case, you may not be able to recover the file through this method.
Method 4 –Word's Auto Recovery
If your computer crashes, the Word Auto recovery file may appear on the left side of the Word window. If it doesn't appear on its own, don't worry. You can try searching for it on your own by searching *.asd files on the computer using windows search.
Again this is not a foolproof method and you may not have been able to find the AutoSaved file. Even if you find the AutoSaved file, chances are the most recent data on the file could be missing.
Method 5 – Recover Unsaved Word Files with Document Recovery
 You can use this method for Microsoft Word 2010, Word 2013, and Word 2016.
Click the File tab.
Click the Manage Document button.
From the list, click Recover Unsaved Documents.
The Open dialog box displays unsaved recoverable Word documents.
Select the Word document you wish to recover and click the Open button.
The recovered Word document is now open.
Click the Save As button to save the document.
 Method 6 – Recover with Stellar Data Recovery Software. 
Luckily, even if all else fails, you can recover deleted word documents. The best solution for this is a good data recovery software. Stellar's data recovery software for Windows is one of the best ones around in 2018. If the other methods don't work, click on below link to download the data recovery software.

Here's why Stellar's Data Recovery Software is one of the best in the business.
It downloads quickly, installs fast, and is easy to scan.
The software also has a seamless interface.
Recovers word documents from most devices with equal ease.
Has advanced recovery algorithm to scan your computer deeply and helps you restore lost files.
It simultaneously scans many File Systems (NTFS, FAT, FAT16, FAT32, and ExFat) in a logical drive.
It gives you the detailed scanning status including scanning status, time elapsed, and time left.
Supports Windows 10 / 8.1 / 8 / 7 / Vista / XP.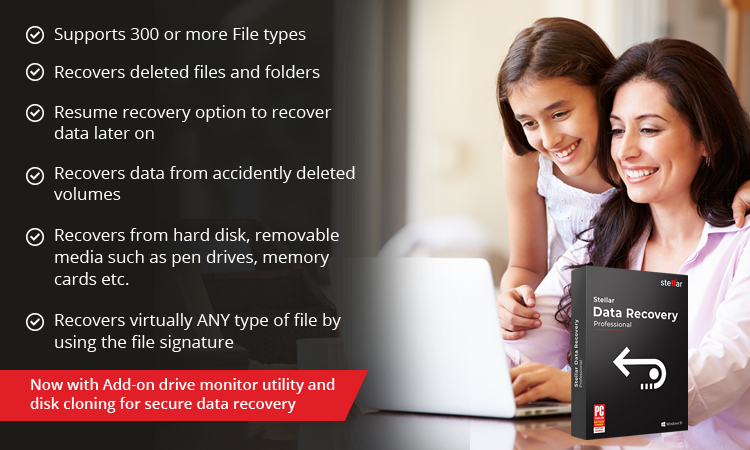 The important thing in a situation where you accidentally delete a Word document is not to panic. Begin by trying the first five methods outlined in this article. In all likelihood, one of them should work and you should be able to recover your document. However, none of the methods is foolproof. If you do find yourself in such a situation, then download Stellar's Data Recovery software. It is guaranteed to recover your deleted word documents without any damage.