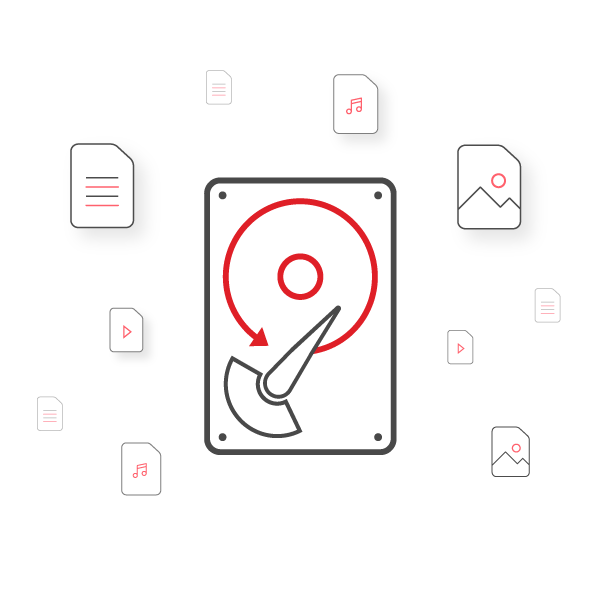 Stellar offers the most robust hard drive recovery software in the market, tailored to cater to all its users' needs. This meticulously engineered hard drive recovery tool guarantees a 100% success rate in data restoration, irrespective of the type of hard drive.
With a straightforward 3-step DIY process, users can effortlessly recover more than 300 file types using Stellar's hard disk recovery software, which prides itself on its user-friendly interface, ensuring a seamless and intuitive recovery journey.
Precisely retrieves files by name and type.
Recovers data from formatted partitions and crashed/unbootable systems.
Offers 100% accuracy, dependability, and efficiency in hard disk recovery.
Provides a preview of recoverable files before purchase to eliminate surprises.
This hard drive recovery tool conducts a thorough scan of deleted or formatted data, pinpointing and recovering it, all while offering a sneak peek of recoverable files before they are saved.
Experience the ease of data recovery as you regain access to valuable files and cherished memories through Stellar Hard Disk Recovery Software. Be it accidental deletions, formatting mishaps, or unexpected data loss, this software offers a dependable and user-friendly solution for preserving your data intact. Stellar hard disk recovery software supports data recovery from all types of hard drives such as PATA, SATA, SAS, SCSI etc.
Windows Data Recovery for Corporate Clients
Stellar is the only name worth remembering for India's leading corporations, for their Windows data recovery needs. India's top 1000 companies feature many happy and loyal Stellar Data Recovery software users. Contact us for our special corporate offers.












Data Recovery From Windows Devices for Govt. Agencies
We've helped the Indian government to recover data from Windows devices in many tricky situations. Stellar Data Recovery is the brand trusted by India's premier government originations and agencies.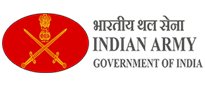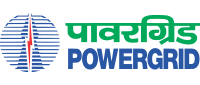 Maximize Data Recovery
Recover Data From Hard Disk Drives

Photo/Raw File Format Supported
JPEG, TIFF, TIF, PNG, BMP, GIF, NEF, CR2, CRW, ORF, SR2, K25, KDC, DCR, RAF, MRW, PEF, ARW, DNG, ERF, NRW, MOS, RAW, X3F, EIP, IIQ, SRW and BAY.

Video Format Supported
WMV, AVI, MPEG, MPG, ASF, MOV, MP4, 3GP, 3G2, MTS, DIVX, FLV, M4V, VOB, MKV, WEBM, HDMOV, MXF, OGM, M1V, M2TS, M2T, DV, F4V, SVI, TOD, OGV, MPV, AVCHD, MP2, MPE, M2V, WM, AMV, MP4V, 3GP2, 3GPP, 3GPP2, QT, HDV, F4P, TS, PS, DVCPRO and DVCPROHD.

Audio Formats Support
WMA, WAV, MP3, MIDI, MID, AAC, AIF, AIFF, AMR, AU, CAF, DSS, M4A, OGG, RA, RM, M4R, M4B, AIFC, F4A, M4P, F4B, OGA, OGX, SND, MPA, MPE, M3U, FLAC, ADT, ADTS and CDA.

Document Format Supported
DOC, DOCX, DOT, DOTX, XLS, XLSX, PPT, PPTX, PPTM, POT, POTX, POTM, PPSX, PPS, ODP, PDF, XLA, XLAM, XLT, XLSM, XLSB, XLTX, XLTM, ODT, ODS, DOCM, DOTM and DOT.

Email & RAR/ZIP formats Support
EML, MSG, PST, MBOX, EDB, etc.
RAR, ZIP, 7Z, SITX, GZ, PUP, MPKG, etc.

Text/Application Formats Support
JSP, ASPX, PHP, MHT, HTML, MHTML, TXT, C, CPP, H, PLIST and Apple Mail EMLX/EML.

Hard Drive Make
Western Digital, Seagate, Toshiba, Fujitsu, HP, Sandisk, Dell EMC, Lenovo.

Drive & Devices
Hard Drive, Desktop Internal Drive, Laptop Drive, External Drive, SSD.

Inaccessible RAW storage devices
Recover your data from Inaccessible RAW storage devices.
Hard Drive Type
SATA, PATA, SAS, SCSI, Fiber Channel, Firewire, eSATA, USB

SD Card
Recover your data from SD card or memory card of your mobile, camera, or any other device.

Solid State Drives
Support data recovery from modern non-magnetic hard drives – SSDs.

Free Download 100% Secure

Buy Now
* Download the free trial version to scan & preview your lost or deleted data.
We Are Rated 'The Best' By Our Customers
Stellar data recovery software is rated best by many leading online review websites and also is preferred choice of millions of users worldwide.
I had 2 Western Digital Hard drives from 2010 which had lot of old Photos and important documents but I was not able to recover for years and I tried lot of softwares like iCare, recuva etc but none recognized the drive. Stellar Professional Software for Data Recovery scanned my drive and recovered all the 500 GB of Data. Highly recommended and very useful.
---


MANISH MATHUR
I tried with several free recovery software's, which didn't work out. When I was trying like this , I landed on Stellar recovery software. I tried recovering the data using Stellar data recovery software. I could successfully recover all the data using this software. Thank you so much for saving my day.
---


Veerabhadrudu
I feel happy to recovering my data's and they are doing well professional job. My data is recover 80% but software is good.
---


Narendra Kumar
I formatted the d drive of my desktop by mistake. Next day, I scanned my drive first from the demo version of Stellar professional and then bought it for recovery. It worked for me and I was able to recover all of the lost data (size: approx 250Gb). Thanks !
---


Ashish Kumar


Data Recovery In-Lab Service
Unable to recover your Windows data with data recovery software?
Ask an expert to take over.
80% of the times, Stellar Data Recovery Software will be able to recover your Windows data. In case the cause of data loss is severe physical damage to the hard drive, software can't do it for you. But, we will still recover your data. Our data recovery experts have decades of experience with in-lab data recovery as a service.
Technical Specifications
About Product
Stellar Data Recovery for Windows
| | |
| --- | --- |
| Version: | 11.0 |
| License Usage: | Single User |
| Edition: | Standard, Professional, Premium, Technician, Toolkit |
| Language Supported: | English, Deutsch, Français, Italiano, Español, 日本語 , 한국어, Português Brasileiro, Dutch, हिंदी |
| Release Date: | February, 2023 |
System Requirements
| | |
| --- | --- |
| Processor: | Intel compatible (x86, x64) |
| Memory: | 4 GB minimum (8 GB recommended) |
| Hard Disk: | 250 MB for installation files |
| Operating System: | Windows 11, 10, 8.1, 8 & 7 (Service Pack 1) |
Documents
Fast & Easy Data Recovery – Get Back your Data in 3 Steps
Step 1 : Select File Type
Select the type of data you want to recover and click 'Next'.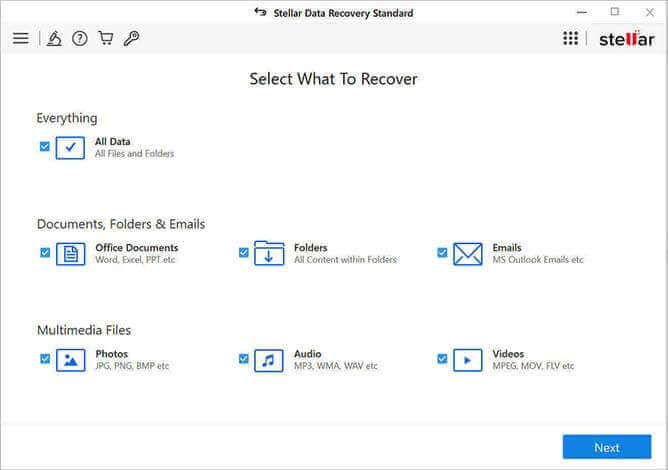 Step 2 : Select Drive Location and Scan
Select the folder location or drive volume and click 'Scan'.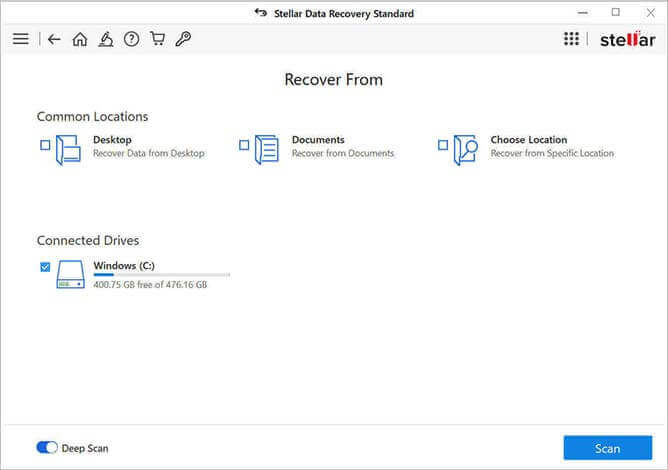 Step 3 : Preview & Recover
Preview & select the files and click 'Recover' to save them.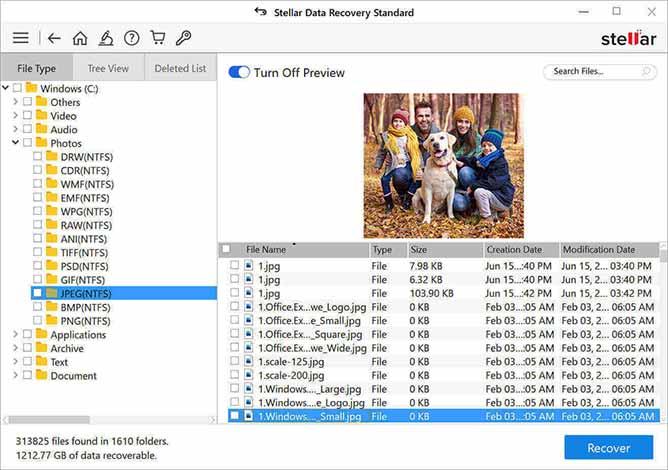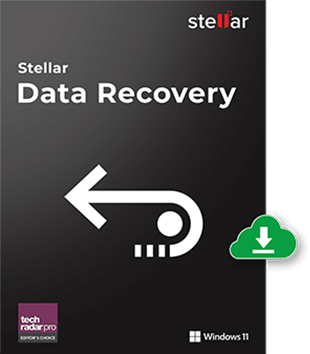 Start Using Hard Disk Recovery Software Today
Stellar Hard Drive Recovery Software recovers data from most hard drive brands such as Western Digital, Seagate, Toshiba, Fujistu etc.
Notably, this software is proudly "Made in India," and it offers unparalleled pre-sale and post-sale support through chat, email, and phone calls to guarantee a seamless experience for users.

Free Download 100% Secure

Buy Now
* Download the free trial version to scan & preview your lost or deleted data.
FAQ
How can this software help recover data from deleted partition?
If you've lost data due to the deletion of a hard drive partition, you can use Stellar Data Recovery software to recover the data.
Here are the steps:
Download and install Stellar Data Recovery software and launch it
From the interface, select "Everything" checkbox and click "Next"
Choose "Can't Find Drive" and click "Scan"
Select the hard drive and click search
This will list all the partitions including the deleted ones.
Select the deleted partition and click "Scan"
After scanning is complete, choose the files you want to save and click "Recover"
When prompted, "Browse" a location to save the selected files and click Start Saving
What are the Signs of Hard Drive Failure?
Signs of hard drive failure include unusual noises like clicking or grinding, frequent system crashes and freezes, slow overall performance, disappearing or corrupted files and folders, recurring file errors, and boot issues such as "boot device not found" errors or blue screens of death (BSOD). Recognizing these warning signs early can help prevent data loss by allowing you to back up your data and address the failing drive before it completely malfunctions.
Read More - Different Types Of Hard Drive Failure And Data Recovery Solutions
How to restore deleted files from external hard disk drives?
Restoring deleted files from an external hard disk drive is possible with the right approach. First, check the recycle bin or trash folder on your computer to see if the deleted files are recoverable from there. Consider using stellar data recovery software for Windows to restore or recover deleted files from external hard disks. Install the software on your computer, connect the external hard drive, and then run a deep scan to locate and recover the deleted files. Acting quickly and avoiding using the external drive extensively to prevent overwriting the deleted data is crucial. Once the stellar hard disk recovery software completes the scan, you can preview and select the files you want to restore and save them to a different location to avoid overwriting.
How to use Stellar's hard disk recovery software to recover data from formatted hard disk?
Follow the steps given below to recover data from a formatted hard drive by using Stellar Data Recovery Software:
Download and install Stellar Data Recovery software and launch it
From the main interface, select "Everything" checkbox and click "Next"
Choose the formatted drive/volume under "Connected Drives" and click "Scan"
After scanning is complete, choose the files you want to save and click "Recover"
When prompted, "Browse" a location to save the selected files and click Start Saving
Can this data software help recover data from hard disk which is not detecting?
If you're unable to see the hard drive in the Windows Disk Management utility, it might have physically crashed. In such a case, you can seek the help of Stellar Data Recovery Service to recover data from physically crashed/failed drives.
Is this software compatible with Windows 11?
Yes. This software is compatible with all the versions of Windows OS, including Windows 11.
Is there any free version of hard disk recovery software?
Yes, Stellar provides a
Free Version
of its hard disk recovery software. The free version of Stellar Data Recovery software offers 1 GB free, which is totally free and can effectively retrieve deleted or lost data from hard drives of various brands and models.