Tips to Recover Files Deleted from Recycle Bin on Windows
Summary – This blog explains the methods to recover files deleted from Recycle Bin on your Windows system, which can be either PC or laptop. Both hard disk data recovery service and software have been suggested to recover data deleted from the Bin. However, various factors decide as to which method proves to be successful.   
On your Windows PC or laptop, the Recycle Bin is a folder where all deleted files and folders having multimedia data are stored soon after they are deleted either by using the Delete key on your keyboard or choosing the Delete option offered by selecting the file(s) and giving a right-click, from their location. Thus, you can access this folder to recover all your deleted data that can be either files or folders containing any multimedia data such as text, images, audios, and videos. To do so, you only need to go to the Recycle Bin folder by giving a double-click on it and use either Restore all items or Restore the selected items option on the Restore tab. You can choose from these two options depending on the requirement: whether you wish to recover all or a few selected items.
The deleted files and folders present in the Recycle Bin folder of your Windows Operating system, which you can restore as when required, signifies that the deleted data items in the Bin are not yet removed from the hard disk drive of your Windows machine. And, that you can seamlessly restore one or all your data file(s) and folder(s) to the original location where it was stored on the HDD partitions or volumes before deletion.
However, if you are in a situation where you need to recover files deleted from Recycle Bin or the ones that you had deleted by pressing the Shift and Delete keys simultaneously, then, in such circumstances, you need to employ a few tips to recover files deleted from Recycle Bin folder. Recovering data deleted using Shift and Delete key together also requires extra effort as the likelihood of recovering the deleted Recycle Bin files and folders are slim. Besides, expecting assistance from Microsoft, the developer of the much desired Windows OS, for the purpose of retrieving Recycle Bin deleted data for gaining access to your lost data, becomes more of a speculation.
Let's now look at the tips to recover deleted Recycle Bin data.
Recovering Deleted Recycle Bin Data
In situations when you want to recover files deleted from Recycle Bin or the files and folders deleted using Shift and Delete key simultaneously, you can follow either of the below-mentioned methods
1. Restore Backup – You can recover files deleted from recycle bin either by restoring the backup file you created or from the external data storage device wherein you backed up all your data files and folders. After restoring the backup file, you can run a check to see if the deleted data that you wanted to undelete is present or not. In case of a situation where you have neither created a backup nor backed up your data on any external device, then opting for HDD recovery software or services would be viable solutions.
Step 1
Open – > Recycle Bin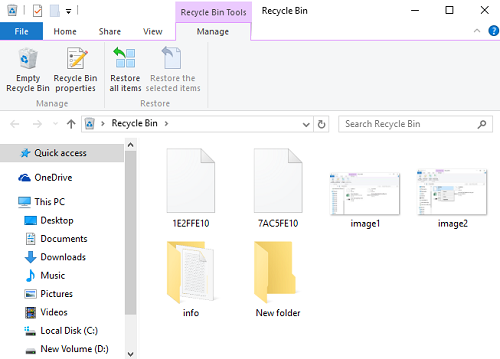 Step 2
Select File or Folder -> Right click -> Restore
(Right click on the file and folder which you want to Restore)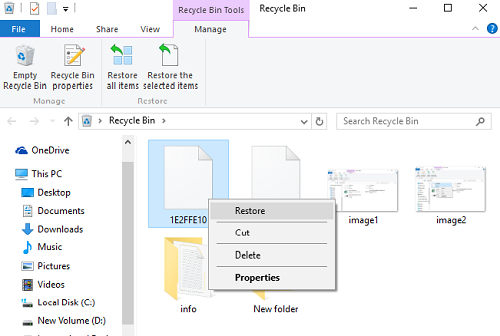 2. Use Deleted Data File Recovery Software – Next, you can recover the data deleted from the Recycle Bin by using any effective and efficient deleted data file recovery software. This method proves to be helpful when you do not have a backup file from which you can restore data. The tool must have the capability to recover deleted data. Also, it must be supported on Windows OS. However, data recovery tools can recover the deleted data provided the hard disk is not overwritten with new data. Also, the challenge here is to be able to find an appropriate software guaranteeing complete deleted data recovery.
3. Obtain Deleted File Recovery Service – In addition to restoring the backup and using deleted data file recovery software, the other way to recover deleted data files and folders is to go for deleted file recovery service. Stellar Data Recovery is Asia's leading data recovery service provider that guarantees comprehensive service for recovering data deleted from the Recycle Bin. There is yet more data recovery service providers that extend their service in the country and abroad.
The Bottom Line
You can use any of the above three deleted data recovery methods that have been described depending on your need. The best possible option would be to go for deleted data recovery service providers. Here, Stellar Data Recovery Services deserves special mention with its industry expertise of 23+years in Data Recovery. All you need to do is to ship your device to the nearest branch and the experts will look into the end-to-end process of recovery. Therefore, you need not indulge in the recovery process on own. And, for your convenience, it offers free-of-cost media pickup from the doorstep, no recovery – no charge policy, etc. which paves the way for a seamless end-to-end data recovery.