How to Recover Deleted CCTV Footage ?
Summary:
With the crime rate increasing each day, having an extra pair of eyes of a CCTV camera offer peace of mind. Leaving the impression that there is someone watching out for your people or other things behind your back. Demand for CCTV cameras is on an upward swing; they are used in commercial setups and local households. Let us see how these security cameras are becoming a necessity in business premises and residential properties.
If in case your CCTV footage is lost and deleted due to unfortunate reasons and it needs to be recovered then to restore Deleted CCTV Footage you will need a Photo recovery software. However, you can also download the free demo version of the Stellar photo recovery software to preview your recovered CCTV Footage before saving.
इस पोस्ट को हिंदी में पढ़ने के लिए यहां क्लिक करें।
Use of CCTV Camera by Businesses: CCTV cameras serve as a boon for business ventures. It also helps to lower the cost and risk by safeguarding their assets with continuous monitoring. These CCTV cameras have replaced security guards. While enhancing the fidelity and accountability to 100% by furnishing real-time remote video surveillance.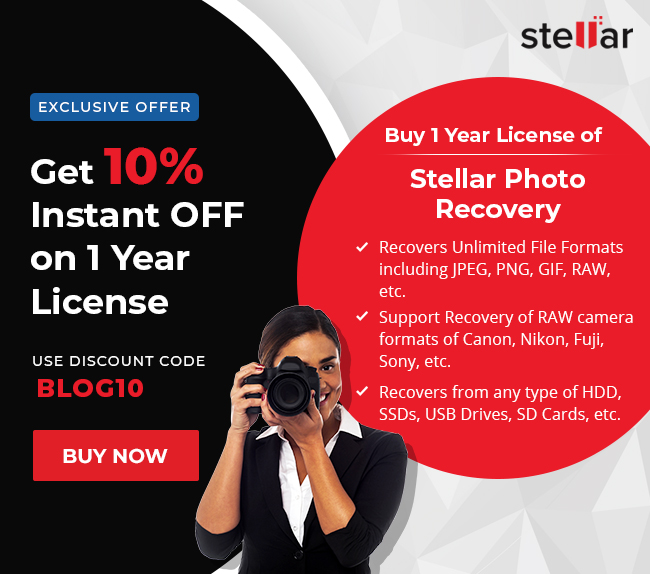 Use of CCTV Camera by Individual: A majority of homeowners are investing in a CCTV camera to keep their homes more secure. The aim is to keep a close watch on the kids and their activities, CCTV camera is a blessing in disguise.
Why CCTV Video is Deleted from the DVR or Hard Drive?
Like every technology, CCTV cameras are prone to damage, which can lead to data loss. There is a need to pay some heed to the reasons of CCTV video loss from Hard Drive. Here are a few prime reasons that can result in damaged recorded footage.
Accidental deletion of CCTV footage.
Failed DVR hard drive (logical and physical failure)
Fire damage to the DVR.
Availability of bad sector in DVR hard disk drive.
Formatted SD card, corrupted, or damaged CCTV SD card or DVR.
Malware or virus attack to CCTV hard drive/SD card.
How to Recover Deleted CCTV Footage?
We will take you through the valuable CCTV footage recovery methods that are effective in restoring the deleted CCTV footage. Follow the below methods to recover Deleted CCTV Footage from DVR.
1:Restore deleted CCTV Footage using backup
In cases related to accidental deletion, wherein, the user erased or deleted video from the DVR or hard drive. If you have a backup, then you can access the files by following these simple steps.
Look for the footage backup folder and open it.
Find the deleted video from the DVR hard drive or SD card and copy it back to the disk or SD card.
2: Recover deleted CCTV Footage using Stellar Photo Recovery Software
In the absence of backup of the deleted CCTV footage or images, you can perform deleted CCTV footage recovery with a powerful data recovery software such as Stellar Photo Recovery software. This software supports the variety of CCTV footage formats captured from different types of CCTV Cameras such as Hikvision, CP Plus, Dahua, Sony, Bosch etc.
Download and Launch Stellar Photo Recovery on your Windows or mac system.
Now from main screen Select your CCTV SD card to recover CCTV footage and click on Scan to start the scanning process.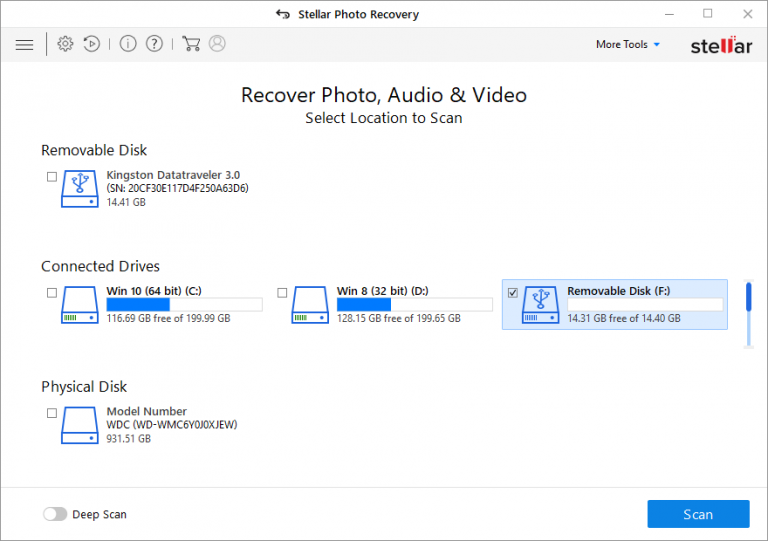 When scanning is done software will display the CCTV photos and videos. Select and preview them.
Note: You can also opt for deep scan option, If you do not see the required footage in the list.

Now Select the files which you want to restore and click recover.
After selection of recover option a dialog box will appear asking you to specify the location to save the videos. Click Save.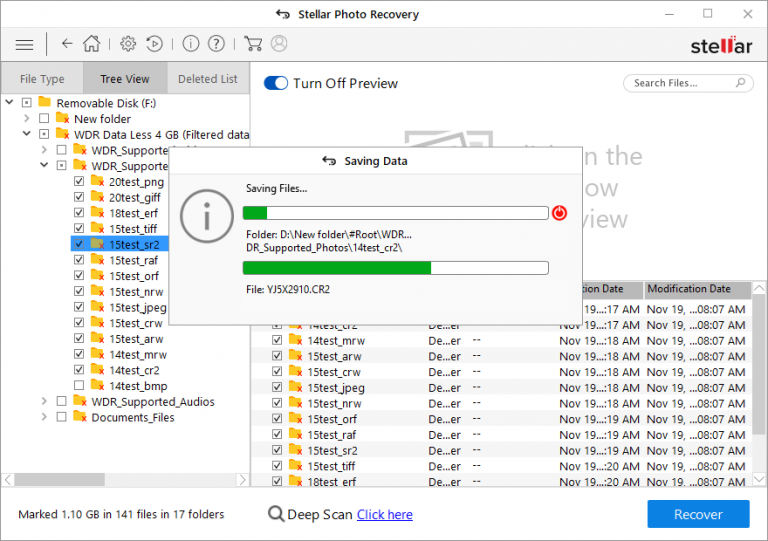 All the CCTV files get saved at your specified location.
3: Recover CCTV footage using Stellar Data Recovery Services
If CCTV footage recovery is not possible from data recovery software then, you can take help from experts. Hence, the Stellar Data Recovery service is recommended for deleted CCTV Footage Recovery.
Benefits of Deleted CCTV Footage Recovery Services
Get in touch with the skilled Data Recovery service providers such as Stellar Data Recovery, an ISO 9001:2008 & ISO 27001:2013 certified company, to regain the lost data. Stellar is well known for its quality and time-bound CCTV/DVR Video recovery service.
The team of recovery specialists, working in Stellar, recover deleted data stored in a damaged DVR with 100% efficiency and accuracy. Our in-house R&D team opens the damaged device in CLASS 100 CLEAN ROOM lab for the highest level of data recovery so that there is no further damage to the data.