Solution: How to Recover Deleted Contacts from iPhone?
Summary: This blog post explains how to recover deleted contacts on iPhone. Read on to know in detail which method amongst them works the best to recover lost contacts on iPhone.
How to Recover Deleted Contacts from iPhone Straight through the Phone
How to Restore Contacts from iCloud
Recover Deleted Contacts from iPhone via iTunes
How to Retrieve Deleted Contacts on iPhone Without Backup
"I accidentally deleted iPhone contacts!" If you own an iPhone and have faced a similar situation before frantically searching for a solution online, you can take a breather now.
Missing iPhone contacts can be a nuisance. But they are relatively common occurrences too, and a lot of solutions exist to fix them. A lot of reasons can lead to iPhone deleted contacts. Some major ones include interruption of iOS updates, accidental deletion of contacts, factory reset, and so on.
If you are reading this, there are high chances that you have not taken a back up. Whatever the case, we will cover every possible method to recover deleted contacts from iPhone. So let's delve into the details of how to restore contacts on iPhone.
How to Restore Deleted Contacts from iPhone Straight through the Phone
If you were logged into your iCloud account on your iPhone and the contacts were being synced in the process. Therefore,  you can quickly recover lost contacts on iPhone by simply restoring the backup. For this need is to follow these steps:
Go to the 'Settings' option on your phone.
If you are using iOS 10.2, choose 'iCloud'. For iOS 10.3 and later, tap on your name and choose 'iCloud'.
Check whether the 'Contacts' option is On or Off. If it is On, turn it off. Then, choose 'Keep on my iPhone'.
Turn it On again. Now choose the 'Merge' option.
This will recover missing iPhone contacts. It will complete when the merging process ends.
If this doesn't work or if the contacts were not synced with iCloud, read on.
How to Restore Contacts from iCloud
You can use this method in the case the 'Contact' option on the iPhone was turned off. But, you would still need a previous syncing of contacts with the iCloud. Here, you can directly download the deleted contacts from iCloud. They can then be exported to the Computer and eventually, saved to your iPhone. Simply follow these steps:
Go to iCloud.com. Log into your account and Click on 'Contacts'
Go to Settings. Click on the cog icon in the bottom left corner.
Click on 'Export vCard'.
Save the resulting file on your computer. The extension would be a .vcf file.
Attach the .vcf file to an email. Send it to yourself.
Open the email on your iPhone. Tap on the attachment.
Tap the 'Add Contacts' button. You will be able to see two options. You can either create a new contact list or merge it with the existing contacts on your phone.
Choose the appropriate option to restore.
Recover Deleted Contacts from iPhone via iTunes
This option will work for you if you have backed up your iPhone using iTunes. You can simply restore the stored backup on your iPhone and retrieve lost contacts. Follow these steps:
Connect your iPhone to the computer. Launch iTunes.
Click on the device tab. Navigate to your phone. Click on it.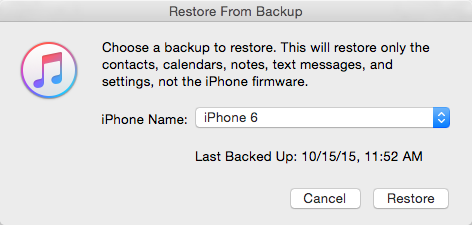 Click on 'Summary'. Choose the option 'Restore iPhone'.
You will see a list of backups previously made. Choose the backup you want to restore. Click on 'Restore iPhone'.  This will restore deleted contacts.
NOTE: Please note that this will also replace all the content on your iPhone. If you don't want to lose the content, consider taking a separate backup for it.
Also Read: Ways to fix iTunes Error 4005
How to Retrieve Deleted Contacts on iPhone Without Backup
In the case you don't have any backup whatsoever, you can still restore deleted contacts from your iPhone. When data is deleted on your iPhone, it is not usually lost immediately, though it can be overwritten with continuous usage.
The iPhone Data Recovery Software can save all your data within minutes. It is one of the best DIY software to recover any accidentally deleted contacts. Not only this, but it can also restore deleted messages, calendars, photos, videos, call history, and more. Try the free demo version to understand the utility of the software and to preview recovered contacts.

Here are the salient features of the software which provide high value to all our customers:
Retrieve all your lost contact details from your iPhone, iTunes, or iCloud backups.
Save Contacts in multiple formats. These include VCF, CSV, and HTML.
Different attributes attached to the contacts are also saved.
Recover all sorts of files from your iPhone. These include missing photos, videos, camera rolls, photo streams, etc.
Data Recovery from encrypted iTunes backup files is supported.
Messages from other apps can be restored. These include WhatsApp, WeChat, Line, Viber, Tango, and Kik.
Selective data from iTunes and iCloud backups can be restored.
Every iPhone model supported. This includes iPhone® X, 8 Plus, 8, 7 Plus, 7, 6S Plus, 6S, 6 Plus, 6, 5S, 5c, 5, 4S And 4.
Scenarios Where Stellar Data Recovery for iPhone can Help You
Whether you are dealing with lost contacts or files, the iPhone Data Recovery Software can help you with anything. It can recover lost data in scenarios like:
Jailbreak
Black Screen of Death
iPhone stuck at Apple logo
Factory Reset
Conclusion
Losing contacts can be scary. They can cut you off from the world. If the first three steps don't work for you, then download iPhone Recovery Software and recover deleted contacts.