How to Recover Excel Files Encrypted by Cerber Ransomware Virus ?
Summary – A ransom-virus, Cerber Ransomware that encrypts all types of data of your computer and then demands a ransom to decrypt them should be immediately removed. This blog is all about to recover encrypted Excel Files affected by Cerber Ransomware Virus. If your computer files have also been hit by this virus, read on to know how to recover the affected files.
Before going into the details of the virus removal and file recovery process, let's know about it a bit more.
What is Cerber Ransomware Virus?
Cerber virus is a malicious computer malware that uses the AES encryption algorithm to encode files on the victim's computer. It penetrates in the system and encrypts various file types some of which are JPG, DOC, RAW, and AVI. With encryption, each file gets a .cerber extension that is also called infectious extension. Some of its variants also add .cerber2 and .cerber3 extension to the affected files. Not just these, some of its variants also add random file extensions such as .a37b, .a563, .ba99, .98a0, etc.
After encryption, a process that makes the affected files unreadable, the virus demands a ransom to decrypt them. Many times, it is stated that the payment must be within a limited time frame, usually seven days, else the ransom amount would get doubled. Also, some of its variants reveal their versions as well. For instance, Cerber Ransomware 4.1.5, Cerber Ransomware 4.1.6, and Cerber Ransomware 5.0.0 that is the latest variant and demands a ransom of $499.
Like any other ransomware type of virus, you may accidentally download it through malicious spam emails carrying an executable virus file.
An In-Depth into Cerber Ransom-Virus
During encryption, the Cerber virus creates three different files that are as follows:
#DECRYPT MY FILES#.txt
#DECRYPT MY FILES#.html
#DECRYPT MY FILES#.vbs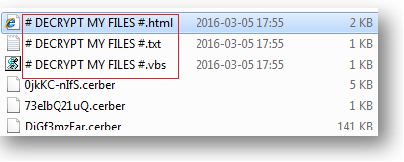 These contain payment instructions in a step-by-step manner. These files have messages stating that users can decrypt the encrypted files only using the Cerber Decryptor. Out of these three files, the #DECRYPT MY FILES#.vbs file contains a VBScript. When it is executed, it displays the following message: "Your documents, databases and other important files have been encrypted!" To download the decryptor, you should make a payment of $xxx.xx. If you delay the payment beyond 7 days, the amount will double.
It is also stated that you can pay only using the Tor browser and by following instructions as indicated on the website titled "Cerber Decryptor". If you are the victim, you can select your preferred language and then proceed to the financial part of the fraud. Although any efficient file recovery mechanism has not been devised yet, you can employ certain techniques that are valuable regarding removing the Cerber virus and recover encrypted files.

Methods to Recover encrypted excel files affected by the cerber ransomware virus
This section highlights some of the ways in which you can recover your files that have been affected by the Cerber virus.
1. Restore Backup – Restoring the backup of the data files is one of the best and cheapest ways of recovering your data files. However, this method is useful only if you have been creating a backup of the files on your computer.
2. Execute file recovery software – Cerber, the Decrypt My Files virus first creates copies of your files and then encrypts them. In the process, the original data files get deleted. In such situations, you can use any useful file recovery software that various companies develop and offer for you to recover your important data files. This is an alternative that you can use in case you do not have a backup.
3. Obtain File Recovery Service – If the above two methods do not prove to be fruitful to Recover encrypted excel files affected by Cerber Ransomware Virus, you can go for file recovery services. Going this way forward, you have a number of advantages, especially if you obtain services from Stellar Data Recovery. First and foremost, you need not perform the file recovery process on your own that requires you to have an in-depth knowledge of the file recovery process. Secondly, you simply need to ship the device and ask the file recovery service provider to recover encrypted excel files.
The Way Forward – Stellar Data Recovery
The above-explained methods are the three ways by which you can recover data encrypted by ransomware virus. You can use any of them for best results. However, restoring from a backup file is possible only if you have created one. Also, it is a time-consuming process and requires a thorough knowledge of the restoration process. Again, all file recovery software tools are not capable of decrypting files from the ransomware. Even if a few are, you need to know the proper steps to run it properly so that it gives the desired results. On the other hand, obtaining data and file recovery services, particularly from Stellar Data Recovery simply requires contacting its closest branch. With this, you will be able to decrypt the files encrypted by Cerber ransomware and thereby recover them.