[Solved]: What to do if Unable to open Files Recovered by using Software?
Summary: Although File corruption and File Loss are sometimes considered to be similar terms, they are different. If a file is corrupted, it doesn't mean that its data is necessarily lost. But file corruption could lead to data loss if not recovered in a timely. Recovering lost files is possible, but if the lost files were also corrupted, their recovery is not going to repair the data. Using file repair software you can recover and also can repair the files, but restoring access to meaningful data would depend upon the effectiveness of the software.
This powerful File Repair software from Stellar is a powerful toolkit designed especially to help Microsoft Office & PDF users resolve all their file repair and recovery needs in minimal time. Free Download to preview repaired and recovered office files for free.

However, it is too early to believe that data is lost forever. There are several methods to restore access to your data with high chances of success. In this article, we are going to discuss the possible reasons why users are unable to open files recovered using software and how we can fix this issue.
Table of Content
Reasons why Users are Unable to Open Files Recovered using the Software
There could be several reasons for files not opening after recovery. Let's review a few of them below:
Bad sectors in the storage device 
Bad blocks or sectors may also turn a recovered file partially/fully inaccessible, as the data stored on the bad sector is not accessible by the system. If a bad sector contains information on the file structure, the corresponding level of logical links disappears, which makes it impossible to open the file after recovery. So, such a file becomes unreadable.
Malware can damage the internal contents of files and viruses can distort the information stored in files to prevent repair, even by using professional data recovery software.
The primary cause behind a file not opening and throwing errors every time is corruption in the file header. This might also be due to virus or malware infections that corrupt the header information which is necessary for opening the file.
Also Read: How to recover permanently deleted Excel files?
Partial or complete overwriting of the file contents with other data
When a file is deleted, only the file reference is removed that contains the file's information like size, location, format, etc. The operating system marks that space available for new data. When a new file is saved, the system checks the device for free space and writes new data there.
Following its own logic, the system may select all or only specific sectors to write new data. This operation can delete some previous records. The more such overwritten sectors, the higher the chances that contents of a deleted file wouldn't be shown after recovery.
Excessive fragmentation of the storage device
On the disk, if sectors are located next to each other and a recorded file makes a single entity, then it is easier for a data recovery app to run the signature analysis of the file contents and recover it without any damage.
However, if the file contents are made up of several fragments scattered all over the drive, some sectors containing important information essential for file recovery may be lost. The absence of file header data or sector data means there is a high chance that the file can't be open even after recovery.
In the case of a damaged file system, the partition is available for use but can't be recognized by the operating system. When the file system is recovered, errors are repaired, but often this action is not enough and the operating system may see some files as lost links that may have opening issues even after recovery.
Physical damage to the storage device
Physical damage to the storage device may cause file corruption. Due to this corruption, files would not open even after recovery until they are repaired.
How to repair corrupted files after data recovery using Stellar File Repair Software?
If files are not opening after recovery through some software application, try a repair software and run the recovery process again. There are several software available to repair data after the recovery of files.
There are some manual methods too but those are specific to the particular type of data, for example, images, documents, folders, etc.
Every type of file has different recovery solutions, but software tools provide recovery for almost every type of data. We at Stellar offer both file repair software and services as a specialized solution.
Stellar File Repair software includes a comprehensive bundle of file repair utilities for repairing corrupt Office documents i.e. repair Excel file, Word, and PowerPoint) and WinZip files. The bundle features a rich and interactive GUI to facilitate the effortless repair of corrupted files. The software toolkit repairs corrupt files and restores the underlying data in its original form.
Steps to repair files using Stellar File Repair Software:
Download and install a stellar file repair toolkit on your system.

Now from the main interface of the software, select the type of files which you wish to repair, it can be either spreadsheet, documents, Powerpoint presentation, etc.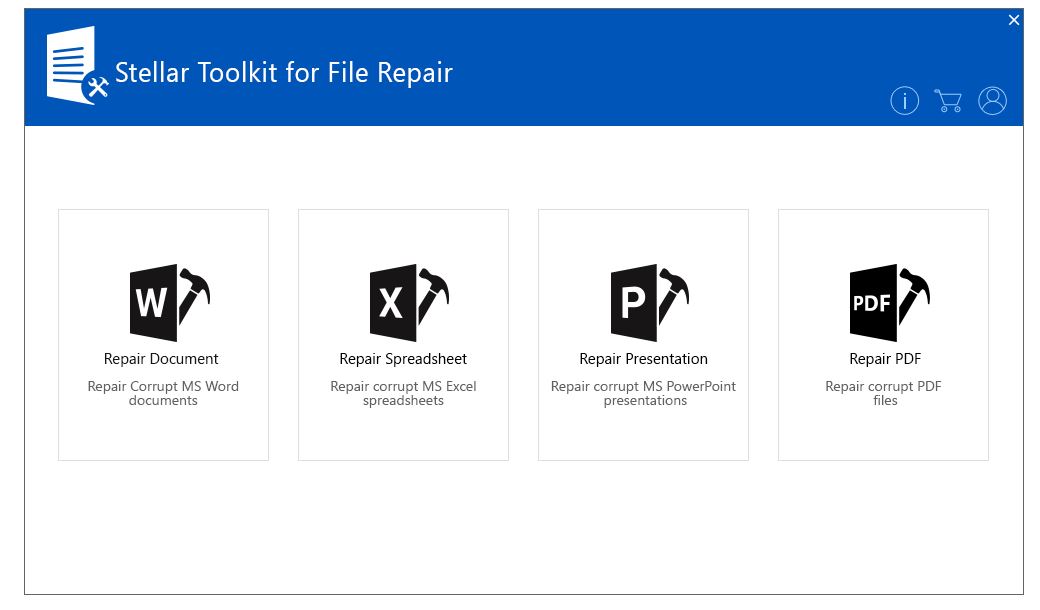 Now Add corrupted files that are required to be repaired and select repair.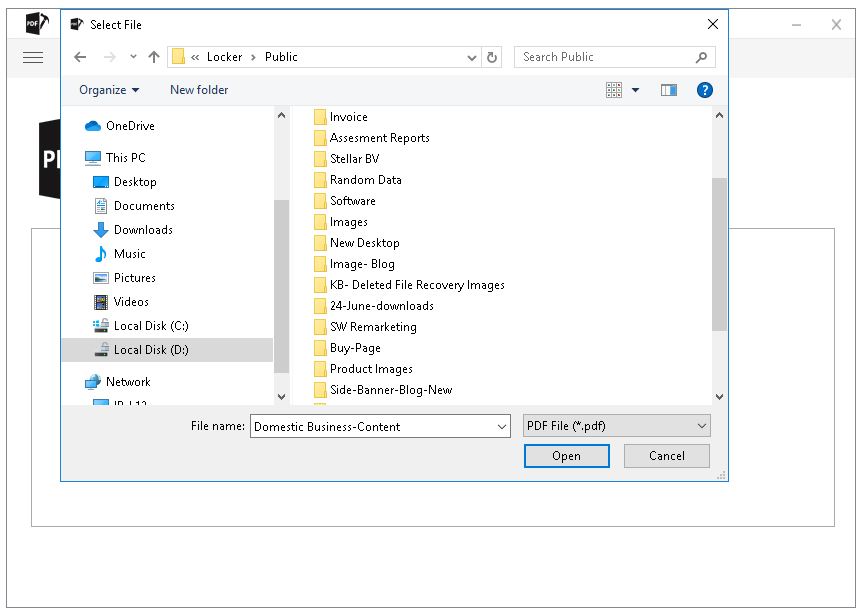 Finally preview and save the required files in desired format and on desired location.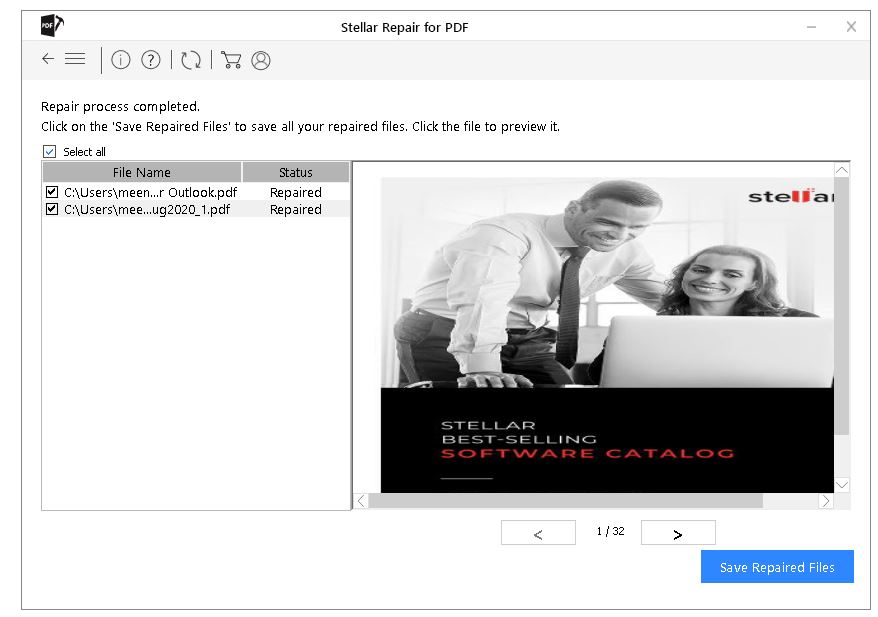 Recover Office files using Stellar File Repair Services
If your files are not opening then possibly your files are corrupt or there is some virus infection that is killing your files. To get rid of the above situation you can try the Stellar file repair software.
Stellar File Repair Services
In case you've tried repairing your corrupt files with the software but still cannot gain access to them, you can seek the help of professional in-lab file repair services from Stellar. Your software amount will be adjusted in Service costs. Are your Recovered Files are in Corrupted Format? If yes, you can repair your corrupted files with the help of the above-mentioned software.
To Sum It Up
Recovering files and restoring their data are two different aspects of recovery. Whenever a file is recovered, its data is not necessarily restored. To restore access to the data in case of a corrupt file, you would require using file repair software or services. Generally, it is recommended to initiate file recovery and repair processes in timely, so as to avoid the chances of permanent loss of data due to reasons such as overwriting.