How to Be Safe on the Internet with Internet Safety Tips ?
Updated on September 11, 2019
Summary: This blog acquaints you with Safer Internet Day 2017, internet safety tips and advice for children as well as young people to use the Internet in a safe and secure way.
In this age of advanced technology, the use of the Internet has increased considerably. It has about 3 billion users that account for 40% of the world's total population. However, these users are not always mindful of the threats and challenges that the Internet may pose to them and their data. Following the phrase "There are two sides to every coin" the Internet also has both hits and misses wherein the latter poses a great threat to the safety and security of your data. Here, Safer Internet Day can help raise awareness about using the Internet in a safe and secure manner, therefore, keeping your data protected from data breach or theft i.e. from unauthorized access.
With the support of European Commission and funding from the Connecting Europe Facility (CEF) programme, Insafe organises Safer Internet Day (SID) jointly with INHOPE in 120 countries in February each year. The chief objective to celebrate this day is to promote the safe and secure use of the Internet, popularly known as online technology. Although this day is organised all across the world, it is especially for children and young people as they are the most common Internet users.
Therefore, they should be aware of the precautions or say safety measures that they should employ when they are online. With this, they can successfully keep the dangers at bay and prevent themselves from getting affected. This year, i.e. Safer Internet Day 2017 will be celebrated on the 7th of February with the theme of Be the change: Unite for a better Internet.

More about Safer Internet Day
This day is celebrated by conducting several activities such as press conferences, activities at schools and colleges, industry actions, the launch of new educational resources. More than anything, it provides a platform and an opportunity for all to reflect on the ways we can unite on activities and actions to help provide a better Internet for all.
Different sections of people who can unite and contribute to a better Internet use are as follows:
Children and young people – Both children and young people must take a stand as digital citizens of the future and make their voices heard for the privacy of their data online. Plus, they should maintain politeness, respect, and behave properly while reporting harmful content and behaviour.
Parents and Social Care Workers – Parents of the small ones under twelve and teenagers must support them in personal development online. They should open up and have a friendly dialogue about the online experience of their children and help them deal with any concern or issue troubling them on the Internet. Even the social care workers must do the same for children who are incapable of dealing with online issues.
Teachers And Educators – Both teachers and educators must equip children and young people with the digital literacy skills they require when using the Internet. This is essential for today's world to keep them confident, protected, and resilient online.
Industries and businesses – Industries as well as businesses must create and promote positive content that they post online. Also, they should provide safe online services and support users through effective solutions for all issues people face online.
Decision Makers and Politicians – People from this category must lead to legislation and governance to build a culture where educating, supporting, and self-regulation of online content and services and function well as well as flourish.
From all the above, parents play an important role in making the Internet a safe place for their children. Also, they are the ones who are most worried and concerned about their child's safety and security, especially online. Their involvement in helping their children in Internet usage should range from making them aware of the dangers that exist online to educating them on ways of keeping themselves protected and make their life better.
Below are 9 internet safety tips for parents that they can employ themselves and in some cases advise their children to keep them safer online!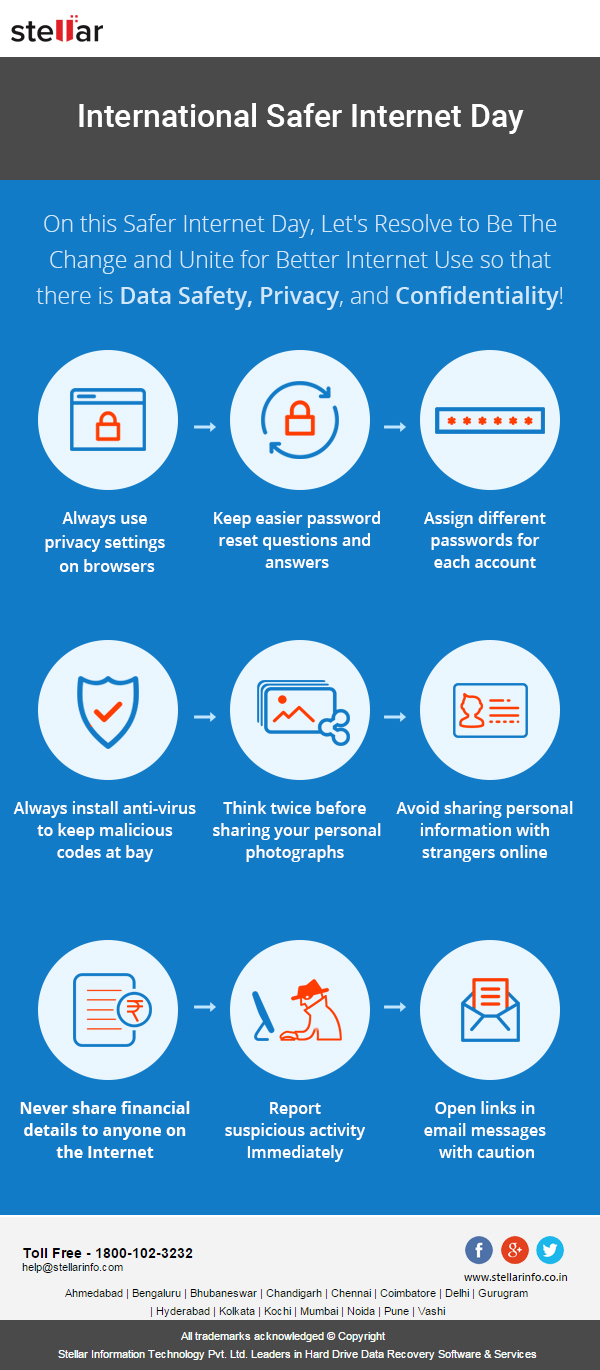 Let's create a better internet together
Always use privacy settings on browsers – Parents should always apply security settings on web browsers to prevent their children from visiting suspicious websites. The settings should be such that permits children to visit websites that are safe and only of their concern. Even after doing this, they should keep a check on the online activities of their children to ensure they are on the right track and have not fallen to improper activities.
Keep easy password recovery questions – It is quite a commonplace that we forget the password of our email or other accounts. To recover the lost password, the provider(s) help them with password reset questions and answers. Thus, parents should advise their children to keep easy questions and answers for password reset so that they do not forget them. This is to ensure a successful password recovery and hence access to accounts, else, they would lose access to the account(s) forever.
Assign different passwords for each account – Children should be advised to keep different passwords for each account they have online. This is to prevent unauthorized access that may occur due to losing passwords to wrong hands. Also, passwords should be strong and secure enough for preventing unauthorized users from decoding the passwords of your accounts.
Always install anti-virus to keep malicious codes at bay – Parents should always advise their children to have an anti-virus installed on their computer or mobile phones to avoid the entry of virus, ransomware, and other malicious codes that destroy or steal your data. With this, they can experience the secure Internet.
Think twice before sharing your personal photographs – Children and young people must be taught through their parents or guardians, social caregivers, and educators to think carefully before sharing their personal photograph online on social networking sites, etc. The reason, your photos may be misused.
Avoid sharing personal information with strangers online – For safe and better use of the Internet, you should use it in limits only to serve your purpose for betterment. You should avoid engaging in a conversation or sharing personal details with strangers as they may use it to their advantage.
Never share financial details to anyone on the Internet – Children, as well as young people, should be advised not to share any financial details online. The reason being, your account may be compromised with the blink of an eye.
Report suspicious activity immediately – Parents should teach their children to report suspicious activity such as data theft, unauthorized access of system or mobile, etc. if they find any while carrying out activities online. This would prevent them from getting victimized.
Open links in email messages with caution – Most email clients show the real target address of the link when you hover the mouse over it. Here, it is advised that you read the target address before you click the link in the email message. As for example, if a message appears to come from your bank, but the target address is simply a meaningless series of numbers, then you should not click it.
Safer Internet Day can be a success if people unite and combat the online Internet threats and their repercussions with an equally strong reaction. Its effect can be increased by emphasizing on creating awareness about the importance of data privacy as well as protecting and safeguarding personal information from going public. Information can go public in seconds with social networking through the Internet. The reason being, globally, social networking is quite prevalent these days, and almost all use it, thereby, making an easy way of losing data to the public.
Data privacy is always a concern for individuals, be it at home, work, in their relation to public authorities, when they visit hospitals, or any other place when they purchase goods or services when they travel, or surf the Internet, etc. and the valuable and confidential data of businesses. The reason being, if the data gets leaked, it can be misused against you or your organisation as the case may be as an individual and businesses to malign your reputation. Also, other individuals and businesses use data breaches for own benefits. In this way, both you and your organisation can be at risk of losing all data.
The Safer Internet Day to be organised on Feb 7, 2017, it is advised to be the change and unite for a better Internet use, thereby, maintaining data safety, privacy, and confidentiality!