World Photography Day Sale : Up to 40% off on Stellar Photo and Video Recovery/Repair Products
19th August 1839 marked history with the invention of Daguerreotype—a technique named after the inventor Louis Daguerre, used for the first time to capture the images of objects by using the light they reflect. This gave birth to a new form of art called Photography.
World Photography Day was first celebrated on 19th August 2010 as a gesture of respect to the great invention. The date saw the first global online photo gallery, where photographers shared their picture. People across the globe visited this online photo gallery. Since then, 19th August is observed as World Photography Day.
 Special Offer – Get 20% OFF on Stellar Photo Recovery Software
Now Get

20%

Off On Photo Recovery Software*. Use

BLOG20*

at the time of Checkout.

Offer available for 1& 2 year version of photo recovery software
Exclusive offer for our blog readers
Photography in modern days isn't just a passion but has also emerged as a profession. Be it your passion or profession, the photographs or videos that you store on digital devices are of great importance to you. If lost or corrupt, they might leave you in a state of panic.
World Photography Day Sale: Get Upto 40% off on Photo Recovery & Repair Software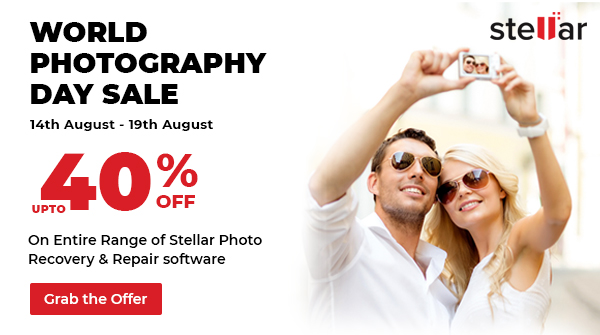 On this World Photography Day, Stellar data recovery is offering up to 40% discount on its complete range of Photo Recovery, Photo Repair, and Video Repair software products.
The mega discount will begin from 14th Aug to 19th August 2019, on Stellar's Official Website.
The Professional, Premium and Technician editions of Stellar Photo Recovery, Stellar Repair for Photo, and Stellar Repair for Video software will be available at a discount of flat 40%.
A flat 30% discount will be offered on the Standard editions of Photo Recovery, Photo Repair, and Video Repair software. You'll get the highest discount on the purchase of Stellar Repair for Video (Technician) edition.  The technician version can be installed on three different computers with a single license key.
Top Use cases where you can use our Photo Recovery and Video Repair software
Stellar Photo Recovery and Stellar Video Repair software works best in following data loss situations
Accidental Deletion of files
SD card/ Hard Drive corruption
Formatting of drives
So, if you are facing any issues related to Photo loss, Photo corruptions or Video corruption, you can try our photo recovery software and recover or repair your photos and videos.
Don't let this amazing offer go. For details about the offer, click here