Fix QuickTime Error 23132 with M4V Files
Summary: The QuickTime Error 23132 with M4V files may occur due to various reasons. In this post, we've mentioned some common reasons that may cause the error 23132 and the fixes to resolve the error. In addition, we've also discussed about an effective and trusted video error fixing tool to fix QuickTime error 23132 with M4V Files, if it's occurred due to M4V file corruption.

Issue reported on community forum:
I use QuickTime and iTunes on my Windows system. QuickTime has always played my M4V files without problem (typically TV shows and movies bought on iTunes). But after installing the latest iTunes update (12.1), I am unable to play M4V files by using QuickTime and getting the error "Error 23132 QuickTime Error 23132".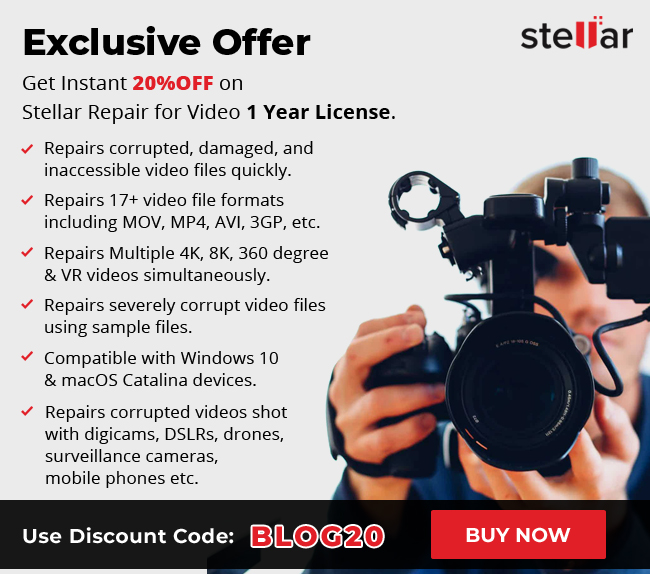 I noticed that my QuickTime 7 wasn't up-to-date. So I updated it to the latest version, but it made no difference. How can I fix this error and make my M4V files playable again?
What is QuickTime Error 23132?
The Error 23132 occurs when you try to play M4V files by using QuickTime on Windows system. Due to this error, you may also experience system crashes, while running the QuickTime application.
Causes behind QuickTime Error 23132
There are several reasons that may cause QuickTime Error 23132, such as:
Malware infection
Improper installation of iTunes and related software
Installation of faulty iTunes updates
Issues with QuickTime
Low disk space on your system
Windows system files corruption
M4V file corruption
How to Fix QuickTime Error 23132 with M4V Files?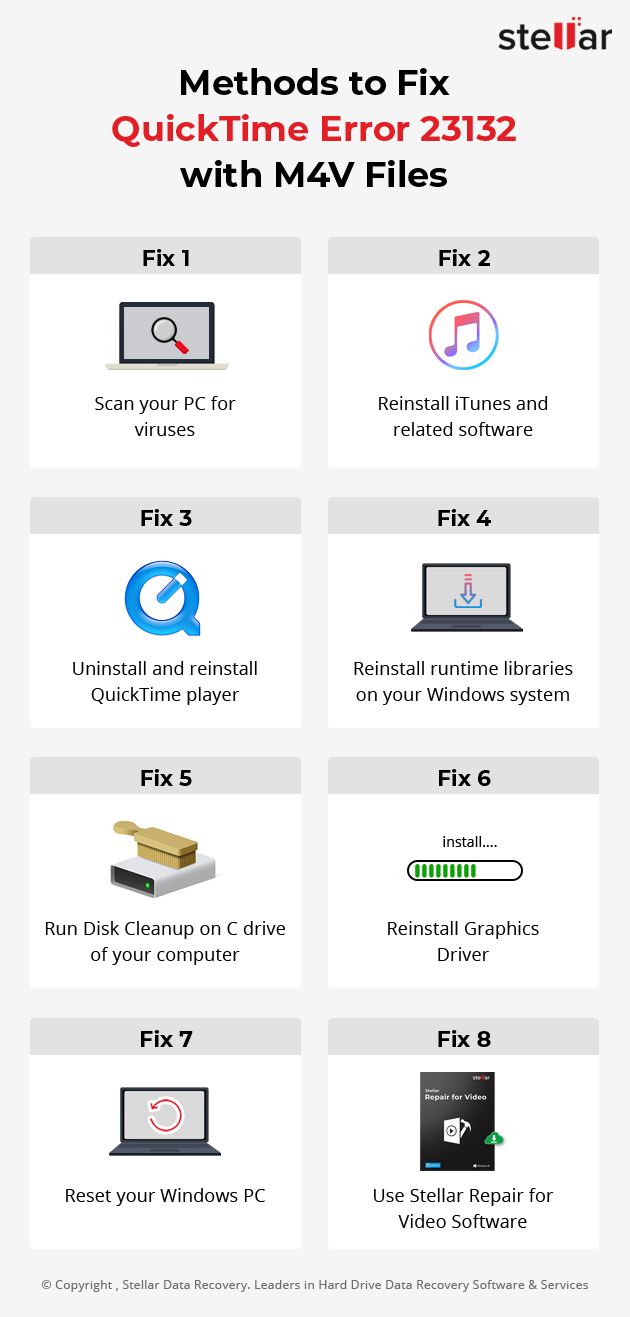 You can try the given fixes to resolve the 23132 error, if it is occurred due to problems with iTunes/QuickTime, Windows file system, etc. However, if the error occurs due to corruption in M4V video, you need to use a specialized video repair tool.
Here are some manual fixes:
FIX 1: Scan your PC for viruses by using an effective anti-virus software
FIX 2: Save or backup your iTunes library (if necessary). Next uninstall iTunes and related software components from Windows, and then reinstall iTunes and related software
FIX 3: Uninstall and reinstall QuickTime player, if you have a standalone installation
FIX 4: Reinstall runtime libraries (MS Visual C++ package) on your Windows system
FIX 5: Run Disk Cleanup on C drive of your computer (Drive C >> Properties >> Disk Cleanup)
FIX 6: Reinstall Graphics Driver
FIX 7: Reset your Windows PC
If these fixes don't help resolve the QuickTime 23132 error while trying to play M4V video, it indicates that the M4V file is corrupt.
[ULTIMATE SOLUTION]: Repair M4V File to Fix QuickTime Error 23132
A corrupt M4V file may fail to play or throw 23132 error, when you try to play it by using QuickTime. This may happen because one or more components of the file are broken. In such a case, you need to repair the M4V video by using a powerful video repair tool such as Stellar Repair for Video. This is one of the most trusted and best video repair tools that can even repair severely corrupt videos of almost all popular file formats including M4V.
To repair corrupted video files by using Stellar Repair for Video, you need to download, install, and launch the software on your Windows system and follow a simple three-step process:
Add corrupted M4V file(s), Repair added file(s), Save the repaired M4V videos at the desired destination.
Once repaired, the M4V video file will be played without any issues or errors.
Why Stellar Repair for Video?
Stellar Repair for Video software has several impressive features that make it a preferred choice. Some such features are:
Supports Windows 10 & older versions
Repairs multiple corrupted videos simultaneously – batch repair
Provides 'Advance Repair' option to fix severely corrupted videos
Fixes errors encountered while trying to play corrupt video files
Allows you to preview repaired files before saving them
Repairs corrupted header & other components of video files
How to Prevent QuickTime Error 23132 with M4V Files?
Here are a few precautionary measures which you can follow to prevent the occurrence of QuickTime error 23132:
Always use an anti-virus on your system
Keep your system up-to-date
Always safely remove the device while transferring M4V files to prevent file corruption
Use an authentic copy of M4V video
Wrapping Up
You may encounter the Error 23132 while trying to play M4V files on your Windows system by using QuickTime. This error prevents you from playing the file or results in system freeze/crash.
This error may trigger due to various reasons such as issues with iTunes or QuickTime player, problems with Windows system or corruption in M4V file. You can follow the fixes mentioned in this post, if the error is occurred due to iTunes/QuickTime, or Windows system-related problems.
However, if the error has occurred due M4V file corruption, use an effective video repair tool such as Stellar Repair for Video. The software is 100% safe and can fix broken, damaged or corrupt M4V and many other video formats such as MOV, FLV, F4V, DIVX, WEBM, etc