How to Recover Data from Bootable Pen Drive?
It can be described as a nightmare of epic proportions. Pen drives carry so much of our personal and business data. The amount of data carried by these drives can be huge. The thing about data is that it can never be erased into oblivion. Yet, there are many recovery solutions that you can use to recover data from bootable pen drive.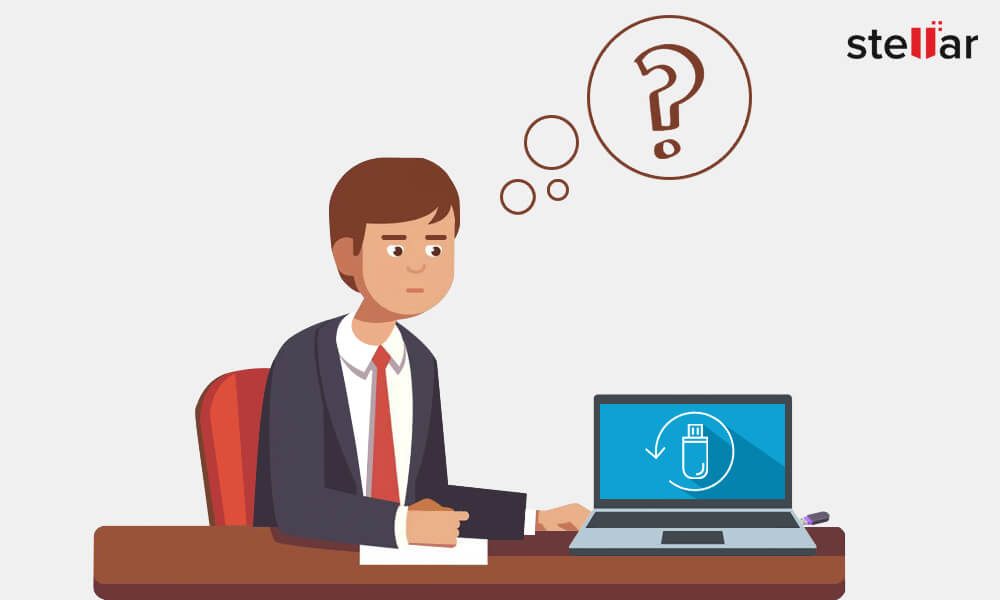 What is a Bootable Pendrive?
A bootable pen drive is a USB flash drive used to install an operating system like Windows in your computer. Any pen drive can be turned into a bootable pen drive and it is often advisable to do so.  Bootable pen drives have to be created on our own. Only copying and pasting a windows file will not result in its installation in your system.
Methods to Recover Data from Bootable Pen Drive
It is necessary to first understand the reasons how you lost your data before you can recover data from bootable pen drive. The below-mentioned reasons for data loss can be categorized into two sections. They are logical failure data loss and physical failure data loss.
Solutions for Logical Failure
Logical failure occurs when the device is in working condition but data is inaccessible. The issues can range from accidental data deletion, drive formatting to an invasive virus attack. In such a scenario, Stellar's Data recovery software can help you recover all your data. The scan engine used by such tools can help discover lost files and documents.

Solutions for Physical Failure
When the damage to the device itself causes data loss, then it comes under physical device failure category. Data recovery software cannot be helpful in this case. The best thing to do is, not to open the bootable pen drive yourself. Instead, take it to your nearest Data Recovery service center. Recovering data from physically damaged bootable pen drive is very complex and challenging hence it requires professional experts. And, this is where Stellar's professional pen drive data recovery services can help.
A Service You Can Trust
Stellar's data recovery services have been the reason for relief for many of our clients. Whether your pen drive is affected by a potentially harmful virus or simply broken, Stellar's data recovery services can help you recover data from bootable pen drive.
How To Make Pen Drive Bootable?
The process of creating a bootable pen drive is also quite simple. Anyone can create a perfect bootable pen drive by using command prompt on Windows. You can follow the easy step by step instructions to create a bootable pen drive. A bootable pen drive can reboot your computer with ease.
Connect Pen Drive with a computer.
Press Window + S key and type CMD in the search box. Right click on 'command prompt' and select Run as administrator.
Type 'diskpart' and then click ENTER.
To know the pen drive letter, type 'list disk', and then click ENTER.
Type 'select disk 1', where 1 is the drive number of the USB pen drive, and then click ENTER.
Type 'clean', and then click ENTER. This will remove all data from Pendrive.
To create a new primary partition on the USB Pen drive, type 'create partition primary' and hit ENTER.
To select the partition that created, type 'select partition 1' and then click ENTER.
For formatting, the partition, type 'format fs=ntfs quick' and then click ENTER.
To activate the partition, type 'active' and hit ENTER.
Type 'exit', and then click ENTER.
How Can a Bootable Pendrive Lose Data?
So far, we have talked about the benefits of having a bootable pen drive. It is also not relevant to state that a bootable pen drive is not formidable. It is also susceptible to a variety of misfortunes that can cause it to crash and lose data.
So, what are the reasons that result in data loss in bootable pen drives?
# Malware Invasion
If your pen drive has been used on multiple devices before its fateful crash, chances are that it has been infected. Viruses and malware are harmful. They infect files, causing glitches and sometimes completely erasing your data. Make sure to update anti-virus regularly to protect your computer system.
# Sudden Disconnection
Many of us don't use the "safely remove hardware" feature on our computer task-bars seriously. We yank our devices off the system as soon as our work is done. Ejecting the pen drive in unsafe mode can lead to its corruption. If your device is unplugged during an ongoing operation, it can cause your pen drive to lose data.
# Power outage
A sudden loss of power leads to data loss in the bootable pen drive connected to the computer. A sudden electrical power surge can also cause irrevocable harm to your data. The only solution to this problem is having a UPS installed with your system.
# High Temperature
A device that helps store your data also needs to be stored, at normal temperature. Intense heat from overexposure to sunlight can also harm the disk of a pen drive.
# Hardware Failure
Like any man-made device on this planet, pen drives are also not immune to wear and tear. Pen drives will also face performance issues due to hardware failure. A piece of advice would be to always keep your important data in a sturdy flash drive and also have regular backups.
Paying heed to all these causes can help you protect your data from being erased.