Celebrate World Photography Day with Stellar
Updated on August 18, 2022
"Which of the photographs is your favorite?"
"The photograph that makes me stop! That turns my head away from the fast pacing world! That soothes me!"
— is my favorite!
Which is yours?
With a simple click, the flash, and you will capture the moment forever. That's a photograph! And, among many, the favorite photo is the one that lets you love and cherish the clicked moments.
To pay homage to photography, photo lovers, and photography enthusiasts, let's celebrate World Photography Day this year with more enthusiasm than the preceding year.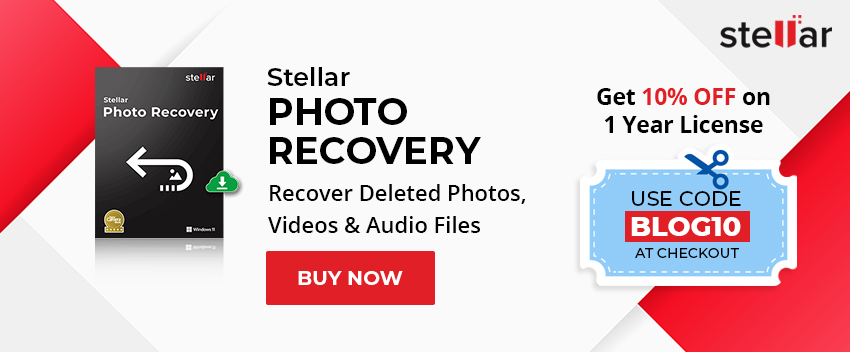 World Photography Day
World Photography Day is celebrated on the 19th of August every year. The day is celebrated to give special tribute to photographers all over the world.
The primary goal to celebrate this day is to unite and inspire people to share their photographs and stories or experiences. Also, the pioneers, who motivate others to take up photography, are especially remembered for their contribution to the world of photography.
History of World Photography Day
In 1837, Frenchmen Lois Daguerre and Joseph Nicephore Niepce developed a photographic process called Daguerreotype. Further, the French Academy of Sciences made an announcement regarding the Daguerreotype on January 9, 1839. Subsequently, the French government got the patent and declared this invention as a gift to the world, without any copyright. The event, to make the entire process available for free to the world, was announced on August 19, 1839. Hence, August 19 every year, is celebrated as World Photography Day.
A Gift from Stellar on the World Photography Day, 2021
Stellar Photo Recovery is advanced software that helps recover photos, videos, and audio files from any storage media in just a few clicks. The software can recover photos lost due to any logical reason, such as deletion, malware attack, formatting of the storage drive, etc. It supports all types of photo, video, and audio file formats.
To celebrate this wonderful day and to show respect to all photographers, Stellar brings an exciting offer for all the photos lovers and admirers. Stellar is offering a 20% discount on purchasing the 1-year or 2-year license of Stellar Photo Recovery Software. This great offer will be available for 3 days – from August 19 to 21, 2021. (*Not applicable for one month license).
The discount is available on all the editions (Standard, Professional, and Premium) of Stellar Photo Recovery Software. The Standard is the basic version with a photo recovery feature, while the Professional and Premium versions also include photo repair and video repair capabilities.
The Theme of World Photography Day 2021
On this day, various photos contests are organized, based on a single theme. The idea is to exchange multiple ideas and experiences around a single topic – to encourage others to participate wholeheartedly.
For example, the theme for 2017 was "Understanding Clouds"; for 2018, it was "Be Nice"; for 2019, it was "History"; and for 2020, the theme was "Pandemic lockdown through the lens".
Likewise, there is a theme for 2021 as well. Since the pandemic is still there, it is advised to celebrate World Photography Day indoors. The indoor photo shoots and the themed destination photographs take hold of this year's theme.
Let your camera flow with the breeze of the photography day vibes! Tap on our Instagram Page, participate in our World Photography Day Contest 2021, and win giveaways, which are pretty cool as well!
Our new theme is all about showing love towards "Nature". The world needs more of it. You are the creators of this mesmerizing nature ambiance. So let your admiration towards nature reflect in your photographs.
So, click the shutter, and upload as many photos resonating with the theme with the hashtags – #StellarGreenTeam and #StellarPhotoRecovery.
Tick-tock has already started! The contest is running from the 18th of August to the 21st of August 2021. And, the top 3 entries will get great prizes.
Join others sharing your passion for nature photography!
Celebrating the World Photography Day 2021
As the pandemic is still there, it is difficult to step out of your home. However, it doesn't put a restriction on exploring wonderful photography ideas and impressions.
Choose a corner in your home. Then, deck it up with some eye-candy backgrounds, such as growing weeds, animals enjoying in the wilds, cultural pictures of India, etc.
Maybe, you can click a snap of birds drinking water in your alley or the sky full of multiple stunning shades. If you have the spirit to make August 19, 2021, your day, you will find a mélange of ideas to click photos.
If you are a photography enthusiast and wish to learn more about photography, dive yourself into the ocean of photography history, science, ideas, and a lot more.
If you want to step into the photography world, then August 19, 2021, is the best day to commence it. In addition, if you know all the nitty-gritty of photography, why not be a volunteer and take a step ahead to teach your style and skills to budding photographers.
However, in any case, ensure that you enjoy photography and celebrate World Photography Day with passion and emotion.