[Step By Step Guide] How to Recover Lost Photos from Undetected XQD Memory Card?
Updated on October 18, 2023
Summary: XQD memory cards are among the most popular flash drives to store photos on HD digital camcorders and high-resolution cameras. At times, people have a lot of pictures inside these cards without having a backup of the same.
Although the cards were made to ensure protection from all kinds of data loss, there might be instances when it goes undetected in the device. And since the backups are missing, it causes panic among users that they might lose their precious pictures.
If the XQD memory card is not being detected, proceed with the given steps:  But before jumping to a conclusion that your XQD memory card is corrupt or damaged, just ensure that you have already performed some basic checks such as:
Inserting the card properly into the device.
Trying it on another device.
Rebooting the device.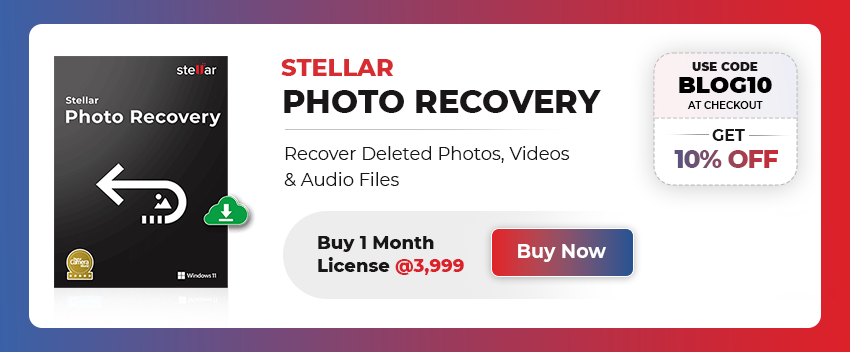 If the issue still persists, there might be two primary reasons why your XQD memory card might go undetected in your device. By troubleshooting for both cases, you can easily recover your lost photos. Below are detailed solutions for the XQD card recovery in either of the cases:
Software Issue
In most cases, the XQD memory cards have a software issue. This can occur due to a bunch of common reasons that make flash drives unusable. Furthermore, XQD cards don't have a built-in mechanism to deal with such issues. But with the right tool and guidance, you can get the photos back. An important thing to note is that the software will only be effective if the device is detected. If not, you can get it screened for hardware issues, the solution for which is mentioned in the next section.
Solutions for UnDetected XQD Memory Data Recovery
Stellar Photo Recovery is an all-in-one utility software that has the capability to recover all kinds of media files including pictures, audio, and videos from undetected XQD memory cards. It is easy to use and has support for probably all the popular brands and device models.
Like mentioned before, most issues are software-based and you can easily recover the photos by following the methods devised in the steps above. But if this isn't helpful in solving your problem, and your photos are still not recovered, it is not a software issue and requires further assistance.
Watch the video to know more about "how to recover lost photos from undetected XQD memory card".
Hardware Damage
If you've found out that the software is fine, it must be hardware-level damage that requires you to seek help from experts. Although XQD cards have the exceptional physical strength and are protected from electrostatic shock, there might be instances where they suffer from hardware damage. Some of the common reasons for this include repeated insertions into multiple card slots, flexing and bending caused during traveling, and gathering of dust.
Stellar provides an exceptional success rate owing to people who have years of experience in fixing issues with flash drives, including XQD cards. Our professionals deal with cards that are either physically damaged or through which images couldn't be recovered via XQD card recovery software.
Some of the top names in the industry like Microsoft, Google, Citibank, and Amazon among others have trusted the brand.
Data Loss Prevention Tips For XQD Memory Card
Although recovery of data can be handled in the above ways, prevention is the best way to ensure you never lose your data. Below are some handy tips to ensure that your XQD memory card stays protected from damage and data loss:
Follow the prescribed eject procedure while removing the card from your camera.
Avoid writing any new data while the camera battery is low.
Always avoid using the same card on multiple devices.
Avoid ejecting/re-inserting the card multiple times in succession.
No matter the extent of data loss from undetected XQD memory cards, you can easily recover data with expert help. The steps above will help you get the job done irrespective of the issues your card has.