How To Fix "SD Card is Damaged, Try Reformatting it" Error?
SD cards are very popular photo storage device used in Android phones and Digital cameras (DSLR's). If you are reading this article most likely, you have received the following message "SD card is damaged. Try reformatting it."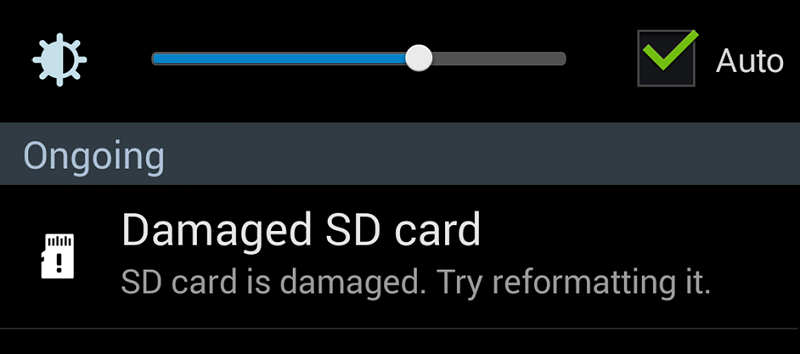 Figure 1.1 illustrates the  Damaged SD card error message
To fix this SD card error, you format it but end up losing all the content stored in it. Isn't it an unpleasant situation? You did exactly what the message suggested to fix the issue, but it got aggravated. This article will help you to respond to this situation – "How to fix damaged SD card error?"
इस पोस्ट को हिंदी में पढ़ने के लिए यहां क्लिक करें।
If you are receiving this error, the very first thing which you should do is, stop using this SD card immediately. Every time you uses your SD card after this error; the probability of recovering your data from this card decreases further.
A corrupted or damaged SD card doesn't allow you to access data stored on it. One of the common reason for this error is; the possibility of change in files format during data transfer or your SD card has developed some bad sectors. There might be a possibility that during data transfer, file format or the memory card is damaged.
What are the reasons that cause SD card damaged error?
There are several reasons for which an SD memory card can turn damaged or corrupted. Some of them are below:
Physical damage to the SD card
Corrupt SD card file system
Removing the micro SD card from a device during file transferring
Using the same memory card in multiple devices
Improper ejection of the SD memory card
Due to virus Installations
Whether it is your camera or smartphone, there are situations which may corrupt the SD card and result in data loss. To preventing it, ensure that you have taken backup all the data stored on the memory SD card so that you can quickly restore deleted SD card files from the backup.
To repair/format corrupted SD card follow the steps given below:
Turn off your device (camera or smartphone)
Remove the SD card
Insert SD card again into your device (camera or smartphone.)
If this works, then backup all the data stored on the micro SD card and then format it.
How to Fix Damaged SD Card and Recover Data from SD Card?
If the memory card is still unreadable, then know how to fix damaged SD card:
1: Connect the SD card to your computer
Connect the affected micro SD card to your computer and check whether the problem persists or not. Sometimes there are compatibility issues which may prevent the device to recognize the SD card. You can connect the SD card to your computer through a card reader. Also, you can join the corrupted SD card to another camera/ smartphone to check the issue.
2: Repair corrupt SD card using Command Prompt
Connect the corrupted SD card to your computer
go to "My Computer/This PC."
under "Devices and drives" section, locate the SD card and note its drive letter.
Now run Command Prompt and type "chkdsk h: /r", where "h" is the drive's letter.
Figure 1.2 illustrates the chkdsk command
The chkdsk command scan damaged SD card and checks for the issues and repairs the corrupt micro SD card. After the completion of scanning process, connect the memory card to see if the "SD card is damaged". Try reformatting it" issue has been resolved or not.
3: Assign a new drive letter
Open Disk Management
Look for the SD card
Right-click on the SD card
Select "Change Drive Letter and Paths"
After applying the changes, restart your system and connect the SD card again

Figure 1.3 illustrates the Disk Management Window
4: Disable the SD card
After connecting the corrupt memory card to your computer
Go to "Device Manager"
Right-click on the SD card and select "Disable."
Wait for a few minutes and then click "Enable."
For the changes to take effect, you may have to restart your computer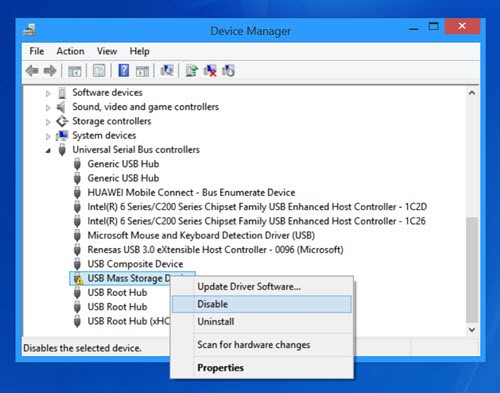 Figure 1.4 illustrates how to disable the memory card
5: Use a data recovery software for SD Card Recovery
To efficiently recover files from SD card that is not damaged, you can use a photo recovery software.


However, you can use software if the memory SD card is accessible. And, The software will not work in case of physical damage to the SD card.
6: Go for SD Card data recovery services
In case of physical damage to the SD Card, you must seek the assistance of data recovery services. Data recovery services have built-in tools and a dedicated team to fix damaged SD card and safely recover lost, deleted, formatted data from SD Card.

Irrespective of the reason or complexity of the issue, Stellar Data Recovery can recover up to 100% of your critical data from SD cards, SDHC cards, SDXC cards with different "Speed Class", Laptop hard drives, external hard drives, RAID server, etc.
To Conclude…
Also, Ensure that the memory card you're using is compatible with your camera/smartphone and that you follow the appropriate insertion and ejection process. Data loss is unavoidable and following proper methods will fix damaged SD Card issue. Sometimes these methods fail to repair the corrupted SD card; you can then leverage Stellar SD card recovery services to assist you in the best possible way.
At last, Most importantly, to strike a balance between your device and the memory card, make sure that you select the right memory card!