How to Recover Photos from SD Card BAD Sectors ?
Summary: In this blog, we will understand the causes of SD Card bad sectors and solution for how to repair SD card having bad sectors by using Stellar Photo recovery Software.
When your SD card displays bad sectors error, it means that the data on your SD card is inaccessible. This is because sectors on your SD card are damaged and can't be further used to store any more data.  The good news is – you can still retrieve data from SD cards having bad sectors by using photo recovery software. Also, you can try demo version of Stellar Photo Recovery which is free to download and you can scan all your lost and get a preview of that.


I have a 32 GB SD card, which I purchased online and was using this card for my camera for 14 months. I am a wedding photographer, and I have been using this card for so long. The thought of backing up the data never occurred to me. Two days back it stopped working and started showing an error.
Some photos on it are fine, and I can view some parts of pictures, but that is all. I need to retrieve these pictures immediately for editing. What can I do? How can I restore data from bad sectors on the SD card. A situation like this usually causes an environment of panic. And in this type of situation, we start doing our own R & D to retrieve data from the SD card.
 Special Offer – Get 20% OFF on Stellar Photo Recovery Software
Now Get 20% Off On Photo Recovery Software*. Use BLOG20* at the time of Checkout.

Offer available for 1& 2 year version of photo recovery software
Exclusive offer for our blog readers
Note: It is recommended to avoid meddling with your SD card once it stops working to prevent permanent loss of data.
Causes of SD Card Bad Sectors
Reasons behind when SD card is not accessible or is not recognized are given below:
Low quality or cheap SD card
Inappropriate handling and care of SD cards such as keeping it in the dust, dropping it in water, etc.
Removal of SD card from smartphone or camera without switching off the device
Removal of SD card from computer abruptly or without ejecting
Disconnection of SD card from the computer, while read/write operations, are being performed
Using the same SD card in different devices
Excessive use or aging can also lead to SD card bad sectors
The SD card already had bad sectors when you bought it, and it increased over time
Signs of Bad Sectors on SD Card
SD card bad sectors are the most common reason for inaccessible data on your SD card. However, it may not be the case always. Your SD card contains bad sectors if it shows the following signs:
Your device- camera or smartphone- doesn't recognize the SD card.
You can view the card data once you insert it on the computer. But files are inaccessible, or the card won't allow read/write operation.
As soon as you insert the card into your computer, it asks you to format the SD card.
When you try formatting the card, the process doesn't complete or stops
Avoid using one card for multiple devices
Don't remove the card abruptly from a camera, smartphone, and computer
Try to back up your files and pictures from time to time on another device
Keep your card in a clean, dust-free, and dry place
Avoid buying a low-cost card because these have low quality
When you encounter "Bad sector error," don't try to write any data on your SD card
Steps to recover photos from bad sectors on Sd Card
Whenever you encounter bad sectors error on your SD card, stop trying to recover data from hit and trial methods. Instead, download Stellar photo recovery software for a quick fix. This software is user-friendly, and you don't need any technical knowledge for bad sector recovery using this software. Check out the steps below.
1: Click here to download the photo recovery software


2: Hit Install and wait for the installation to complete (It might take a few minutes)
3: After the installation, stellar photo recovery software will automatically launch
4: Insert the SD card with the bad sector for data recovery with the help of an SD card reader and select that drive in the software.
5: Click Scan now and wait for a few minutes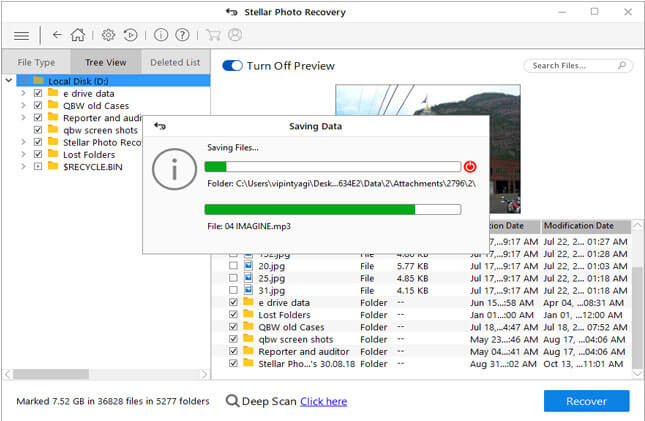 Step 6: Your pictures will be displayed, select the ones you want to recover, and hit Recover.
Conclusion
The most comfortable option to restore data from bad sectors on the SD card is to use Stellar Photo Recovery Software. If in case, due to any reason, you are not able to retrieve data through this software, there can be additional physical damage in the SD card. Prefer utilizing Stellar Data Recovery Services in such a scenario to avoid permanent loss of data.