How to Recover Deleted Photos from SD Card ?
Summary: In this blog post we will learn how to recover photos from SD card. Also, we will understand the reasons behind deletion of photos from SD card.
If have lost your photos from SD Card and you wish to recover them back then download the demo version of Stellar Photo recovery software. The free demo version of this efficient software helps to evaluate the functionality of the software and to preview all your recovered photos. Also, the software is available for both Windows and Mac users.
Photographs provide a great medium for preserving memories. The popularity of high-end smartphones and DSLR testimony the consumers' love for clicking photographs. 'Storage' is another aspect of photographs (besides the rise of photography and imaging devices), and SD cards obviously play a central.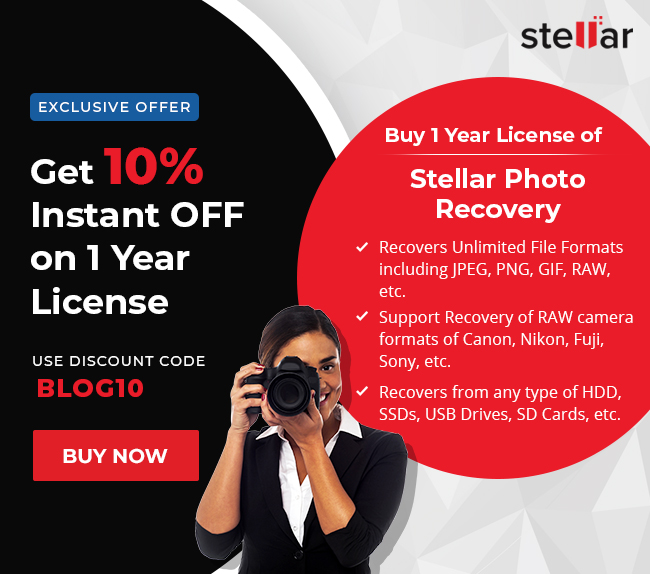 They are compact, portable, and can store numerous photos easily. However, like every other device, there can be faults with SD cards too. You may find yourself in a situation where you are no longer able to view or access your photographs. Does this situation sound familiar to you? If yes, don't panic. There is an easy fix to recover deleted photos from SD Card.
What are the photo loss situations with regard to SD cards?
A physically Damaged SD card
There are chances that your SD card could have been damaged physically, either due to breakage or chipping. Some reasons for this could be improper usage (for example, improper ejection) or physical impact such as by dropping the SD card from a height. Any of the above can make your data unreadable.
SD Card Not Recognized by Laptop/PC
After inserting the SD card into your mobile, laptop, or PC, you may find that it's not recognized. In some cases, you may be able to see the files but wouldn't be able to open them. In other cases, you will not be able to access the SD card folder.
There is a chance that the data stored on your SD card has turned corrupt. This may happen with incorrect insertion/ejection of the SD card into the host device, using a camera that's running low on battery, continued use of an almost full SD card, or virus attacks. In such cases, you can try a reliable photo repair software or reach out to a professional data recovery service provider immediately.
You may have deleted your photographs accidentally or even deliberately, thinking that you won't need them ever. Such deleted photos can be recovered. However, in case of formatted SD card recovery, if the SD card is used continuously after deletion of photos, then there're chances that the previous data has been overwritten.
In that case, the overwritten data cannot be recovered. However, SD card with bad sectors are also responsible for data loss problems.
Methods to Recover Deleted Photos from SD Card
There are two ways that you can recover photos from SD card, either by using software or by choosing photo recovery services. But before opting for services, you can try to solve the issue on your own by using a DIY photo recovery software.
Best Photo Recovery Software For SD Card
You need a photo recovery software that can restore deleted images in a quick, simple, and efficient manner. It's important to choose software that recovers deleted photos not just from SD cards but a variety of other storage media such as hard drives and USB flash drives.
You can take a free trial of Stellar Photo Recovery Software that can scan the media and offers a preview of recoverable files to help you ascertain the effectiveness. Once you're sure, you can go ahead with activating the software to save the recoverable files.
This software is available for both Windows and macOS and is one of the most advanced and comprehensive picture restoration software available in the market today. The Premium Edition of the software also repairs corrupt images and videos.
How Does Photo Recovery Software Work to recover deleted photos from SD Card?
You can follow below-given steps to recover photos with the help of SD card recovery software:
Download and Install the Stellar Photo Recovery software.
2. Connect your SD card to PC and then select a location, you want to recover.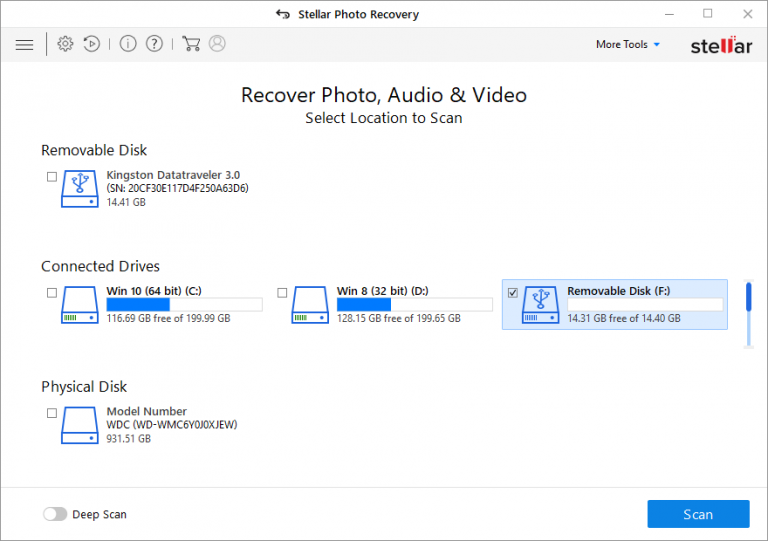 3. Click the Scan button; it will list out all the recoverable photos.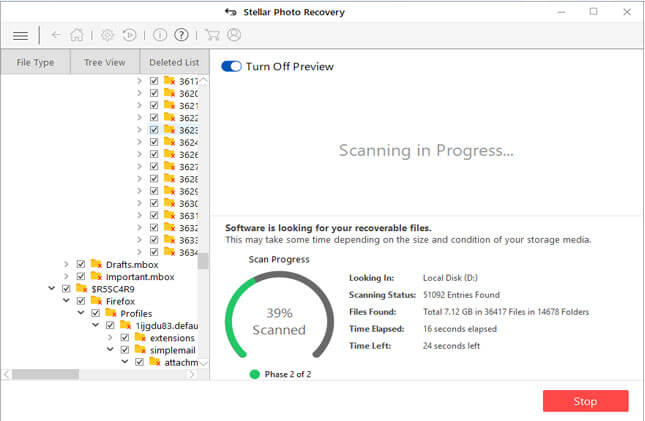 4. Once the scan complete; you will be able to recover your photos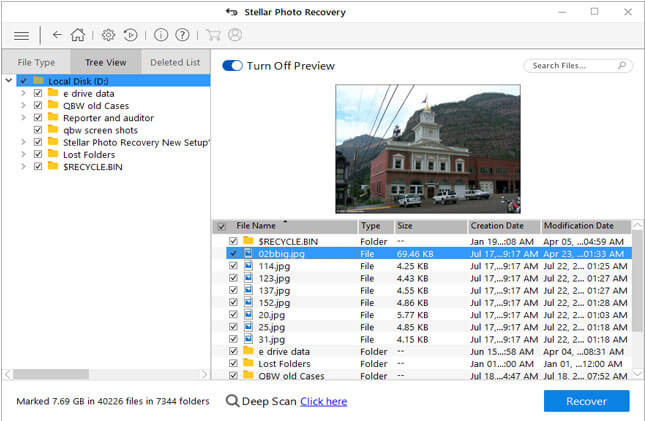 5. Choose the deleted files you want to recover and save, and then click "Recover". If you want to recover photos with the help of professionals then you can try the below solution. 
Photo Recovery Service
In case you're unable to recover deleted images from SD card on your own, approach a professional photo recovery service provider. It's important to ascertain the capabilities, practices, and track record of the service provider before handing over your media. Data privacy should also be an important consideration while deciding on your data recovery service provider.
Closing Thoughts
Photographs are precious and losing them can be painful. However, its occurrence is not as uncommon as you might think it to be. People may come across a photo loss situation due to any of the several reasons outlined above.
One of the best ways to avoid loss of photos is to maintain periodic backups. This will help minimize the loss in case of an eventuality. But in cases where you lose your images and don't have a backup, you can rest assured that Stellar SD Card recovery software will help recover your deleted photos!
Whichever method you opt for, Photo recovery software or service, Stellar can provide the most effective solution with guaranteed data confidentiality and security to recover pictures from SD card.
With a free software trial along with a 'no recovery, no charge' policy for services, Stellar is the best option for your picture restoration needs. All you need to do is take your SD card to the stellar data recovery center closest to you and let the data care experts handle the situation to recover images from SD card.