How to Recover Photos from Nikon DSLR?
Summary: This blog gives a detailed understanding of how to recover from a Nikon camera, with the help of Stellar Photo Recovery Software, and also we will learn the reasons behind the loss of pictures in Nikon DSLR.
We often face SD card corruption, or we delete or format the SD card, which leads to data loss.
 Don't worry about the lost photos, Our Nikon photo recovery software is a one-stop solution for you. Also, you can download the trial version for free, The trial version will allow you to preview the recoverable photos.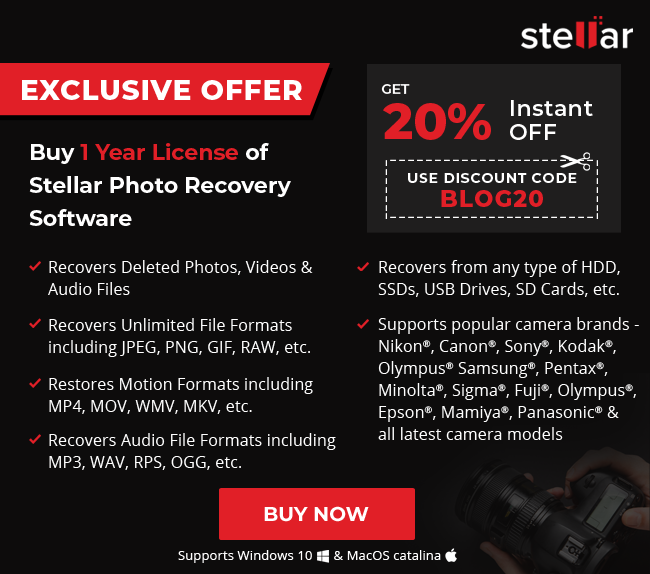 Note: However to unleash the full functionality of the software you need to buy the software. We take pride in sharing leading photo magazines & top photographers recommend Stellar Photo Recovery software. The following are the key attributes of our user-friendly photo recovery software.
Table of Content
Photographs create memories; narrate an entire story at times, every click has a thousand words to say.  We have an emotional attachment with the photos stored on our digital camera.
As we all know Nikon is one of the popular brands for digital cameras is widely used across the globe. But, when it aligns with the safety of your data, even Nikon is vulnerable to unexpected data loss. The reason being SD cards store data on digital cameras.

Causes of Deleted Photos in Nikon DSLR
Photos on the N
ikon digital camera might
be lost
due to the following reasons: 
Careless formatting of the memory card in Nikon digital camera

Accidentally

, you deleted some photos on your Nikon Camera's memory card

Data becomes inaccessible on Nikon digital camera
Nikon camera displays unformatted error on the memory card
We receive "SD card not inserted" Error
Memory card errors after plugging in or plugging off from the computer
The RAW memory card is not accessible on Nikon digital camera
Why Stellar Photo Recovery Software for Nikon Photo Recovery?
With more than 25 years of data recovery experience, we have carved a niche for us in the field of data recovery services and software. Our software has been recognized by various leading tech magazines as the top-rated photo recovery software.
The photo recovery software package can be availed in one year and two-year subscription as per your requirement. Our photo recovery software comes in three different versions namely: 
Software Name
Functionality
Stellar Photo Recovery Standard
Recovers Photos & Videos
Stellar Photo Recovery
Professional
Recovers Photos & Videos+ Repairs Corrupted Photos
Stellar Photo Recovery
Premium
Recovers Photos & Videos + Repairs Corrupted Photos + Repairs Corrupted Videos
We can understand the pain of losing the best-clicked pictures as it can happen with any of us. But, do not panic about the situation, at all. At this moment, you use powerful and reliable photo recovery software to recover deleted photos from Nikon camera.
An Effective Nikon camera recovery software that supports the specific Nikon image file format. You can recover all the lost photos from Camera's SD card with Nikon Photo Recovery Software. Using this software is super easy, and this wouldn't take much time to download.
Key Features of Stellar Photo Recovery Software:
1. Create Image of Selected Media
With time and continuous usage, SD cards develop bad sectors. This kind of destruction often makes data stored on the device, inaccessible. With Stellar photo recovery software, you can create a sector-by-sector image of the selected media. And an entire range of it so that the data stored on the remaining good sectors can be saved.
Check here: For SD card bad sectors Recovery
By using the software, this image can be used to recover data. Scan Results in the Preview, in various ways. The recovered multimedia files are previewed in three different ways — "Tree View, File Type, and Deleted List"
The scanned results are sorted and easy-to-view to help in identifying the relevant images for recovery.  Tree View permits you to navigate to the media file location while file type will group according to photos, videos, and audio. From the deleted list, you can quickly view and recover only the deleted files.
2. Enhanced User Interface and Customizable Options
This photo recovery software provided by Stellar is user-friendly. This is the reason why this software is regarded as the best photo recovery software. We keep on upgrading the version of our software to meet the requirements of our clients.
The latest version is well-equipped with a new and improved interface to make the operation of the tool smoother and more interesting. Moreover, the software provides more preview types, more views to display scan results. It also offers customizable options to check /uncheck folders and files for recovery and much more.

3. Deep Scan Option
Our photo recovery software searches for lost files on the basis of file signature. In case, after performing quick scan your desired photos are not included in the list of detected files, you can try the Deep Scan, functionality.
A comprehensive scan will be executed for the selected drive or location. Upgraded scanning engine ensure your folders and files are found out quickly. This enables the Nikon photo recovery software to recover deleted photos from Nikon camera accurately.
Note: As soon as you realize, data loss has occurred. Stop taking pictures from your Nikon DSLR. Adding files on the SD card can overwrite the data, reducing the chances of successful data recovery

4. Smoothly works with heavy media storage files

Most of the free photo recovery software available in the market is unable to work properly on devices that have large storage capacities. However, the photo recovery software from Stellar helps you to recover deleted pictures from media with size as huge as 6TB and more.

5. Stellar Photo Recovery Software Offers Unicode File Recovery
Stellar photo recovery is the most basic and efficient as compared to other free photo recovery program available in the market. Apart from recovery of different video and audio file formats, the software also supports the recovery of Unicode files.
Important Note:
1. Always take back up of your photos either on cloud storage or on a secondary media device like an external hard drive.
2. In case you have a digital camera with dual SD cards, you can save the photos files on both slots
Step-by-step to recover deleted photos/videos from Nikon camera
To recover deleted photos from Nikon camera follow step by step working:
Download and install Stellar Photo Recovery on your Mac or Windows computer
Connect the affected camera SD card to the system
Launch the software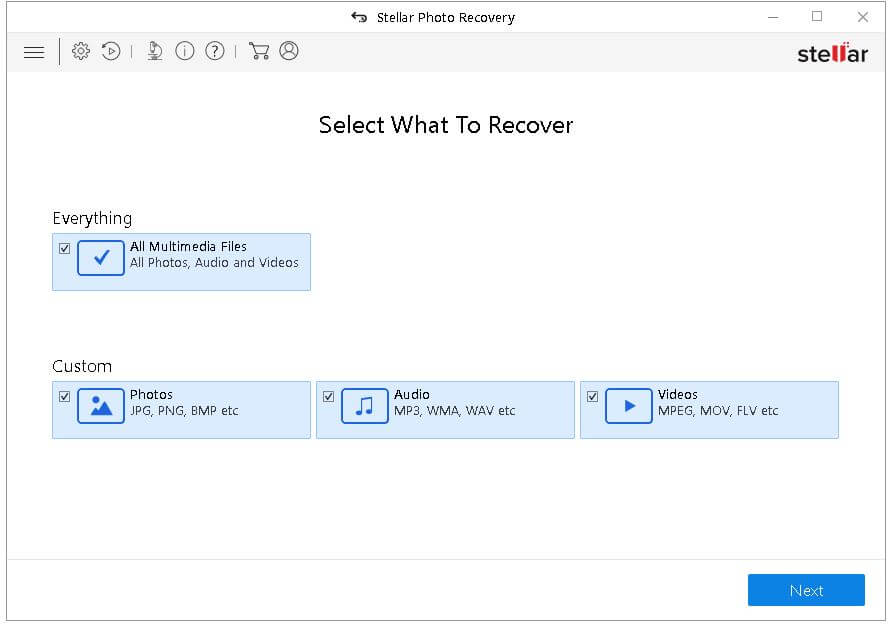 You can also select Settings from top left corner and Choose Nikon file type and click Next. This will help to reduce the scan time and ensures you restore only what you want.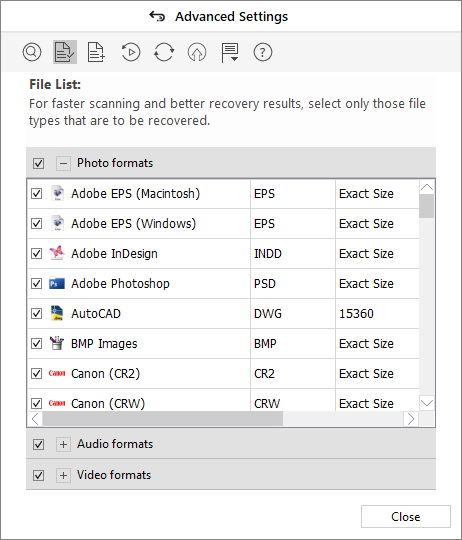 From main interface of Stellar Photo Recovery software select type of data which you want to recover i.e. pictures
Now select your affected device i.e. Nikon Camera SD card.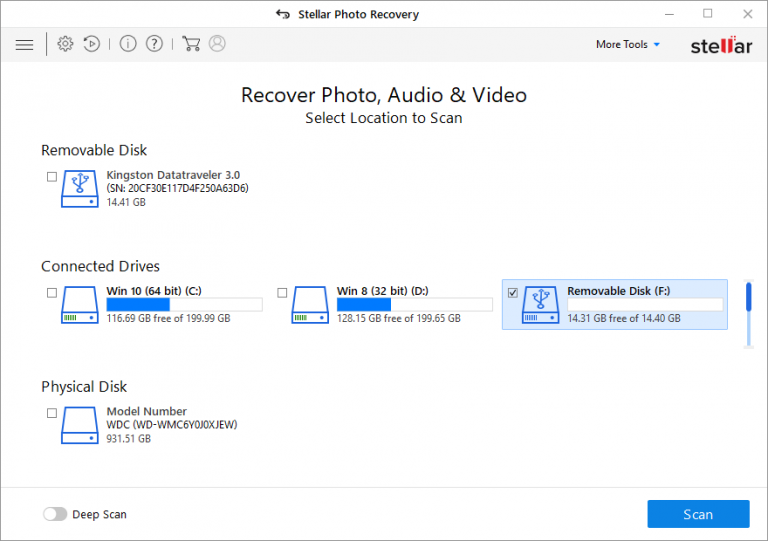 Now hit scan to scan your media device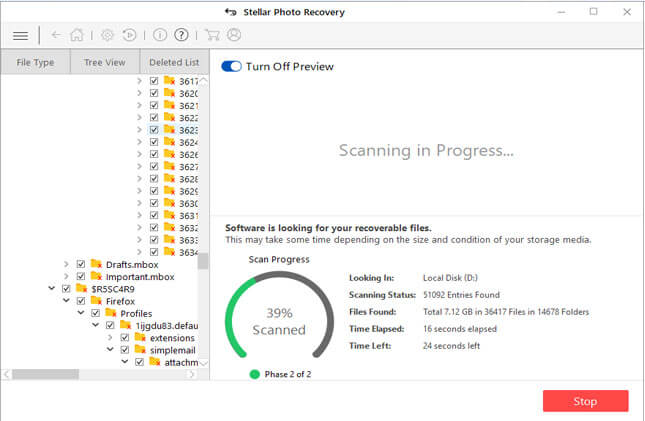 When scanning is completed, successfully preview and save recovered files on healthy device.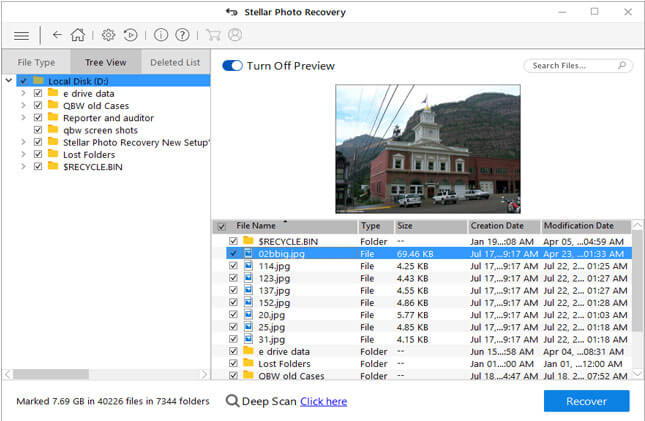 Note: Please make sure not to save recovered files on same affected device, choose a healthy device.
Tips to avoid loss of photos from Nikon Camera
Handle your SD card with care, do proper insertion and removal of SD card from camera.
Use a trustworthy and established SD card brand i.e. Samsung, Kingston, etc.
Always keep an updated backup of your photos on cloud or any other healthy device.
Never use single Nikon camera card on multiple devices.
Do not turn off camera before your data is completely saved.
Keep your battery level charged as soon as it falls low
If in case you've faced loss of photos then immediately stop using the device and look for data recovery software.
Conclusion
Stellar photo recovery software for Nikon is the best solution for both professional photographers and personal users
.  We provide free technical support and software upgrade for 1 year. In case of software does not recover or repairs your photos, we have a 30-day refund policy.
Keep clicking photos from Nikon DSLR, We also
advise
users to take regular back up of data.
Lost photos & videos are your worst nightmare, even with the expensive equipment you can neither replace nor replicated these lost photos
.
However
, photo recovery is possible with the help of reliable software. Stellar photo recovery software for Nikon can help recover lost, formatted & deleted photos.