Stellar Software Comes to the Rescue of a Professional Photographer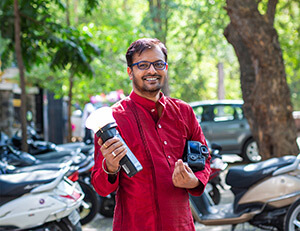 Kaiwalya Chaya is a professional photographer from India. His job requires him to manage and save thousands of pictures shot from his high-end DSLR cameras. He usually saves his client's pictures in SD cards, compact flash cards and hard drives.
Problem Addressed
Kaiwalya accidently formatted the 64GB SanDisk Extreme Compact Flash (CF) card, which contained about 450 photographs of a client. All the photos were shot in RAW file format with Canon 5D Mark III camera.
Unfortunately, there was no backup of the lost photos. Photos recovery from the formatted CF card was crucial as it was his only hope to save his professional reputation at stake.
The Challenge
Formatting of CF card leads to loss of complete data stored on the card. The challenge was to recover the lost photos which were in camera-specific RAW file format from the formatted SanDisk CF card. The aim of recovery process was also to maintain the original image quality and the RAW format of over 450 pictures shot from Canon 5D Mark III DSLR.
The Stellar Solution
The Support Team at Stellar Data Recovery advised Kaiwalya to use do-it-yourself Stellar Phoenix Photo Recovery - a photo and video recovery software. The software supports camera-specific RAW file recovery.
Kaiwalya downloaded the free trial version of the software and scanned his SanDisk CF card. The scanning results displayed recovered photos. He could also see the Preview of the recovered files. In order to save the pictures found, he bought the license of the software.
The Result
Kaiwalya was able to recover all his photos stored in SanDisk CF card. The complete recovery process took approximately 4 hours. Moreover, the photos were recovered with their original name, date, and time stamp intact. This also helped Kaiwalya to sort large number of recovered photos easily. As expected, the software maintained the original picture quality and format of all the photographs.
Client Speak
'I was in big shock when I came to know that I have accidentally formatted the camera CF card before a shoot and the data which was on the card was not copied anywhere. My Gosh it's like a nightmare!!!
I searched on Google this and came to know about 'Stellar Photo Recovery Software' after had talked with the support team and without wasting more time downloaded trial version, scanned the cards and the images preview was available and hush!!!
Purchased the software, recovered the photos...!!
I can't be this happy & relaxed. It saved me & my image as a photographer.
Thank you so much, Stellar.'