Even though many have been using MS Outlook since its inclusion in Windows 97, they don't exactly know why it matters. Most think of it as an email software that also has a calendar and contact manager. MS Outlook lets you save emails on the desktop or laptop you are using, effectively converting them into a server.
When MS Outlook was conceived, there was no HTTPS or advanced spam detection (as we find in Gmail). Business emails needed more security than a Hotmail, or Yahoo web email account, could deliver. Thus was born MS Outlook, which became an essential email hosting software.
What is an Outlook PST File?
The Outlook PST file is a type of data storage file used by MS Outlook to store contacts, calendar events, and emails. It is a proprietary format. You can think of it as archival software that lets you transfer emails from the office server to a local host (usually a desktop/laptop).
Until a few years ago, most employees enjoyed at most 2 GB of space allocated on office servers. Sending PowerPoint attachments and large Excel files took up a lot of space (there was an era, just a few years back, when an entire office with 200 employees used to run on a 1 TB storage server!), and often you would need to delete older emails.
If a user did not want to delete emails (who would want to delete official information and the task would involve sorting thousands of them according to importance) the best alternative was to convert them to Outlook PST files.
Stellar Repair for Outlook
Exclusive Offer- Enjoy Unlimited Data Recovery for 1 Year @ Rs 5,999
Get Instant Key
Repairs all Corrupt & Encrypted PST files
Email Recovery in Multiple File Formats
Get 10% Off, Use this Coupoun SWON10
Free Technical support

Buy Now
Location of Outlook PST File
By default, Outlook is installed in the C drive (the system drive). You don't have much choice about it since it is installed with the rest of the Office Suite.
The Outlook PST files are also a part of the C drive.
In Windows 10, 8, and 7 you can find it at:
C:\Users\<username>\AppData\Local\Microsoft\Outlook
Depending on your version of Outlook and Windows, it might also be at:
C:\Users\<username>\Roaming\Local\Microsoft\Outlook
In Windows XP it is located at:
C:\Documents and Settings\<username>\Local Settings\Application Data\Microsoft\Outlook
If in doubt, open Account Settings in your Outlook and it will show the path.
Note that the files and folders may be hidden. Therefore enable the viewing of hidden files and folders beforehand.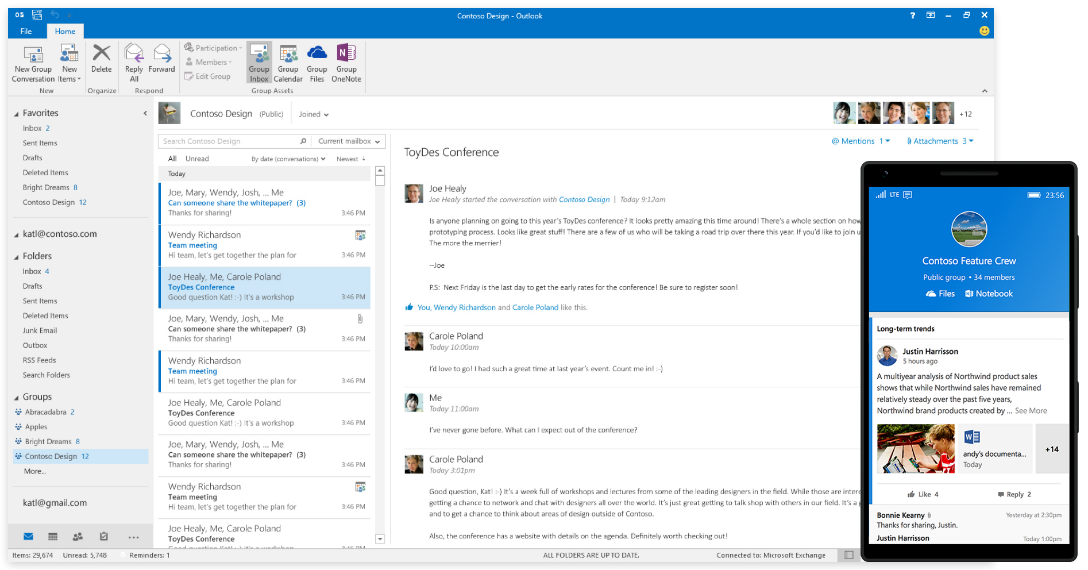 Why MS Outlook uses PST Files?
1. Offline Access 24x7
There was a time when there was no Wi-Fi on public transport, airports, or restaurants. What if you needed to read a white paper you had received a week ago? Download it on your laptop and read it when you want without worrying about connectivity.
2. Portability & Easy Backup
It is easy to move your emails and contact list from one computer to another. Just copy the folder. Store a copy on a USB drive and you always have a backup to fall back on.
3. Better Security
You can lock Outlook files with a password, the same as a Word document or Excel spreadsheet.
4. Reduce Mailbox Size
Removing old emails would ensure that emails never bounce due to lack of space. Create a PST file and drag and drop your mail inside it. Then delete the older emails by date.
Reasons for PST file corruption
1. Sync Failures
MS Outlook has had multiple releases. In fact, the entire Windows OS has been through several major overhauls—Windows XP, Windows 7, and Windows 10.Outlook 2002 had a 2 GB limit on PST file size. These were coded using ANSI. 2003 saw a migration to Unicode and the removal of such limits. But errors still happen when a file gets too large.
2. Hardware Failure
If a hard disk drive crashes, it takes everything down with it from media files to documents and PST files. If the PST file was corrupted in some way due to residing in a bad sector, it will not open.
3. Improper Shutdown
Shutting down Outlook improperly instead of first checking if it has executed all functions is a significant cause of the corruption of PST files. Otherwise, it could be that Outlook was syncing PST files when Windows shut down abruptly due to another application.
4. Malware Attacks
This is the root cause of most problems after hardware failure. Malware targets PST files since it is where data is stored. Even if there is no data breach, malware can cause serious disruption to the file integrity.
Use the SCANPST tool inside MS to repair Outlook PST File
When PST files are corrupt, Windows will display an error message "Something is wrong with one of your data files and Outlook needs to close. Outlook might be able to fix your file. Click OK to run the Inbox Repair Tool."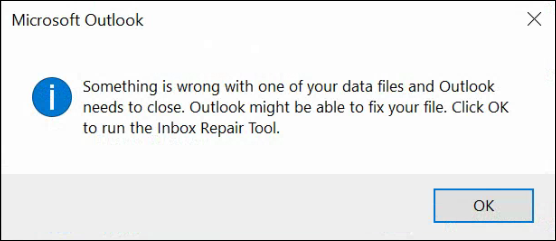 You need to use the SCANPST tool. It is an EXE file that is a part of the Windows toolbox.
Click on C drive
Click on Program Files
Click on Microsoft Office
Click on a file with the name Office <year> (e.g. Office 2016)
Now locate SCANPST by scrolling down (the files and folders are arranged alphabetically). Otherwise, type "SCANPST" in the Windows Explorer Search bar. When you click on the application, it will ask you for the path to the Outlook PST files. Type in the path or use the Browse button to point it to the PST file.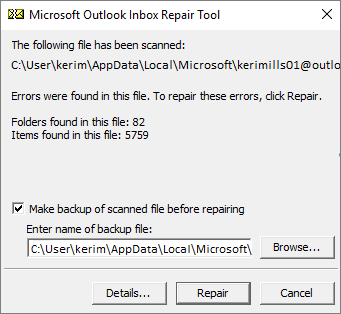 Press the Start button. The utility will first analyze the problem. If you want to proceed click Repair. The utility will ask you to make a copy of the PST file before attempting to repair it. If it works, you have your data back.

Watch the video on "A complete solution to repair Corrupt PST Repair File Stellar Repair for Outlook"
Windows recovery tools are hardly perfect. Be it CHKDSK or SCANPST, they almost never suffice.
SCANPST can freeze. There is no response and the task progress bar does not move.
SCANPST might refuse to recognize the PST file.
SCANPST can repair the Outlook PST file partially.
Advantages of Stellar Repair for Outlook for PST File recovery
Stellar Repair for Outlook is a robust tool that can repair PST files perfectly. Not only will you be able to get back lost emails but also calendar, contact manager and all other data you stored with help of Outlook.

Free Download 100% Secure
What are the main features of Stellar Repair for Outlook?
Supports all versions of Outlook from 2000 to 2021. Unicode or legacy ANSI files, both types can be repaired.
Compatible with both 32 bit and 64 bit Windows software.
Repairs damaged PST files and transfers contents to a new file.
Stellar Repair for Outlook can repair password protected PST files.
It can export the recovered emails to Office 365.
Tech Version can store emails with MBOX and DBX extensions.
You can select the emails you want to repair. This cuts down the time needed.
Stellar Repair for Outlook allows the compacting of the Outlook PST file and saves space
Stellar Repair for Outlook lets you split a large PST file making them easier to manage
The recovered PST file can be saved as RTF, MSG, HTML, PDF, EML and several other formats besides PST.
The software offers you an easy 3-step process,
Select the Outlook PST file.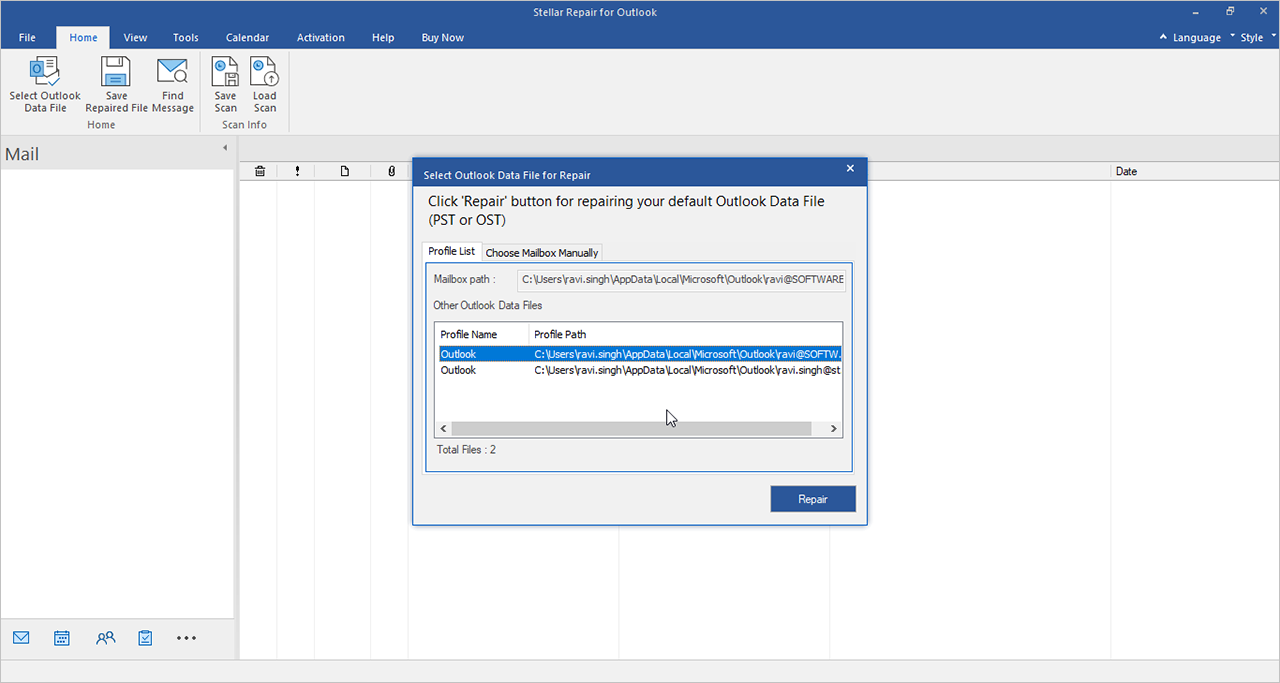 Click to start Corrupted PST Repair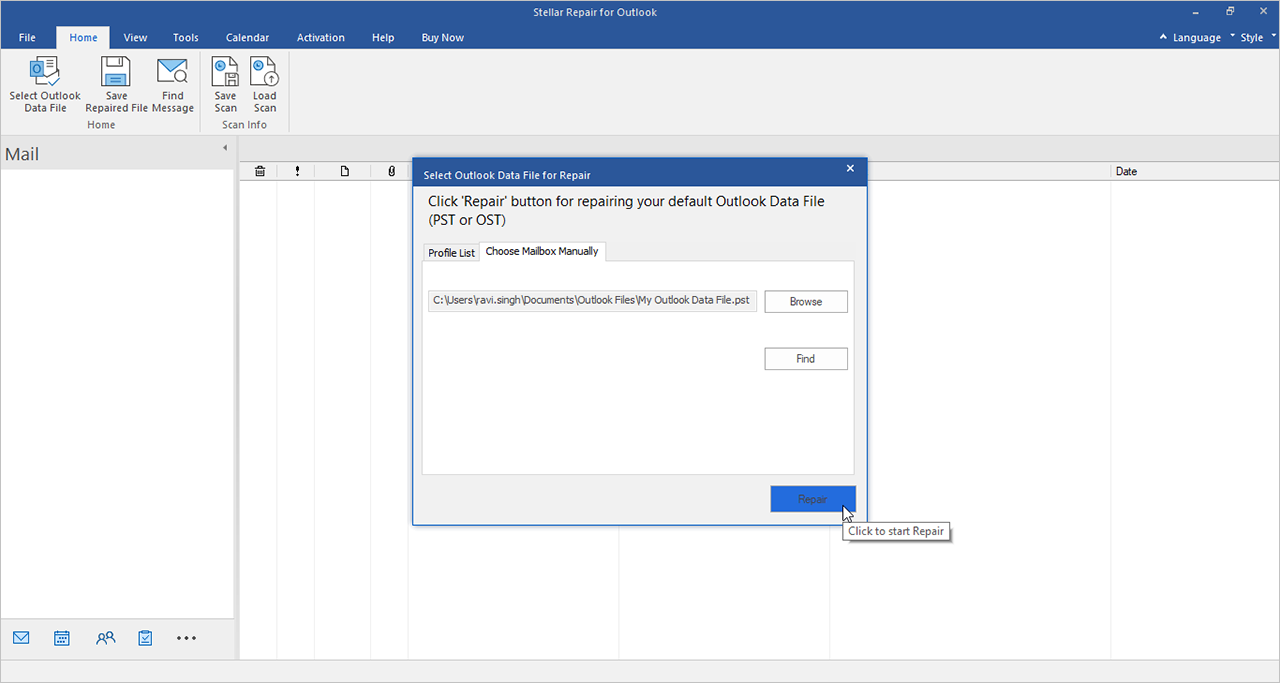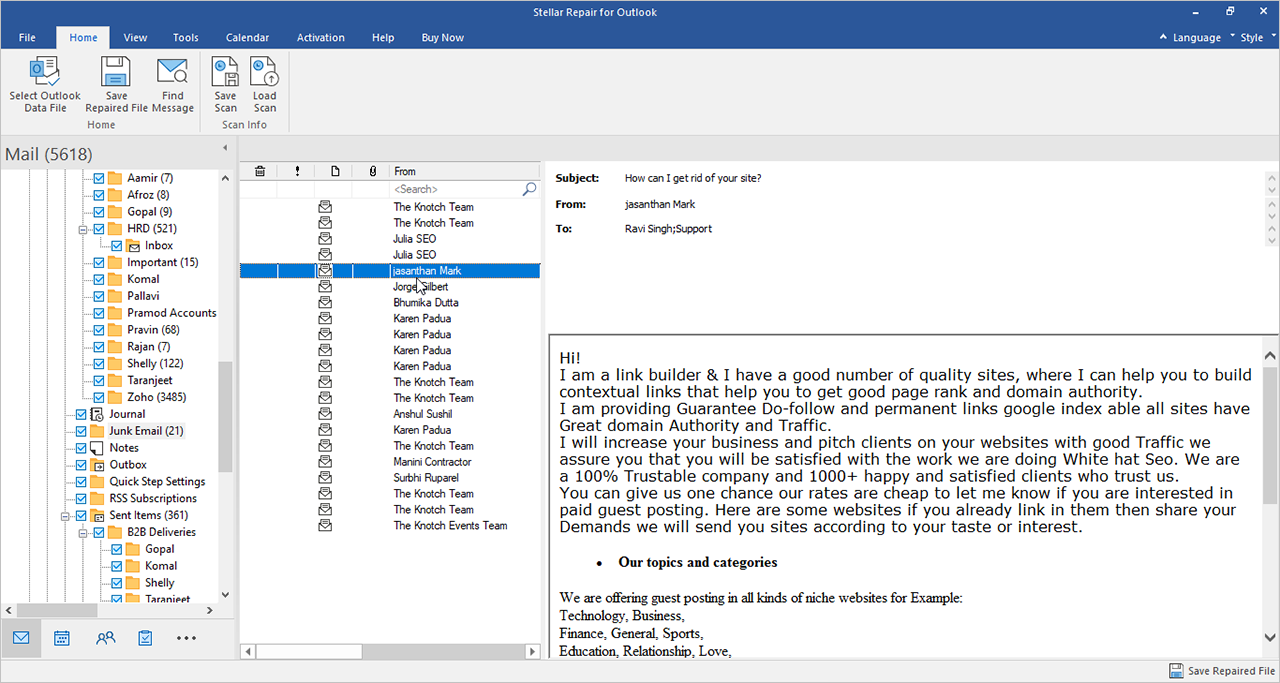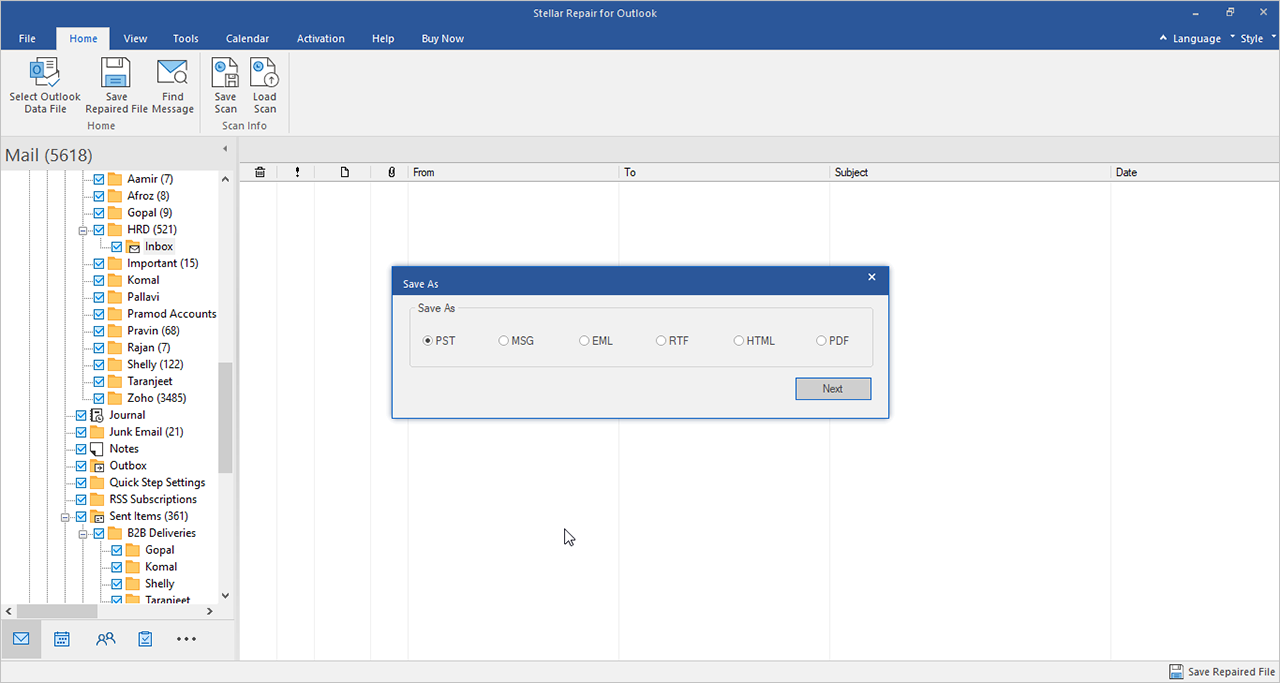 You can also export the recovered emails to Microsoft 365.
You can use SCANPST but you will never be sure of the outcome. A business email account contains important documents, contracts, and agreements. Why not use the best PST recovery software that is affordable and offers exceptional after-sales support? Buy Stellar Repair for Outlook today and enjoy peace of mind.