Stellar Recovers 1.5-TB Data from Physically Crashed Hard Drive. Wins Customer Delight with Delivering Exceptional Experience
Parnashree Devi is an avid travel blogger, photographer and passionate filmmaker based in India. Having traveled to more than 300 destinations in 10 countries, including 22 states in India over the past 14 years, Parnashree is a well-known contributor in the travel & photography space.
Storing the captured photographs is a key aspect of preserving and curating her travel memoirs, which requires diligent planning & efforts. These photographs make key constituents of her blog posts and travel storytelling. Parnashree had been using a 2-TB hard drive to store the photographs, and thus preserving her digital memories for years on that single drive.
Situation Overview
For creating an article on Ladakh, she needed to access a certain photographs stored on the hard drive. However, after connecting the hard drive to laptop she found that it had stopped functioning and turned inaccessible. The laptop couldn't detect the hard drive even after making several attempts.
This was a panicky situation for Parnashree, as her life's entire work (1.5-TB photo collection) was stored on the 'dead drive' and there didn't seem a solution to revive it! Unfortunately, there was no backup of this huge travel photography collection.
Based on immediate advice from acquaintances, she reached out to some local data recovery service vendors for help. However, being unable to get assurance of successful recovery and satisfactory answers from local vendors, she decided to explore more affirmative and defined solutions. That's when one of her trusted photographer friends recommended seeking the help of Stellar Data Recovery, and hence the case came in the care of Stellar®.
Client Need
The client wanted assurance for recovery of the photographs and other important documents stored on the drive. She wanted to retrieve her photography collection in its original 'unaltered' state.
She also expected clear, prompt and transparent updates on her service request, with assurance of maintaining privacy of her data at all times.
Stellar's Approach to Client Service
Considering significance of the lost photo collection for client and her expectations, Stellar allocated a dedicated service manager to handle the case. The data care expert's team at Stellar started with investigating the hard drive and found that it had physically crashed and thus turned inaccessible. The team determined the need for head assembly replacement.
The service manager adopted a personalized customer engagement approach; starting with conveying clear message on the state of drive along with required procedure to retrieve the data. The service manager also comforted the client with assured recovery & data privacy.
Next, he showed the client around the service facility — Class 100 clean room lab where photos would be recovered from the hard drive, data care engineers who would take care of the job, rigorous data privacy & security measures, etc.
This one-on-one, transparent approach played a key role in winning the client's trust and made her comfortable regarding Stellar's technical skills, work ethics, & practices.
Next, Stellar data care experts started recovery operations after receiving the client's confirmation, and successfully recovered all photos from the physically crashed hard drive. Throughout performing the recovery task, the team at Stellar also sent prompt updates to inform the client on the service progress.
"My daily job update was communicated over mail and phone, which is incredible."
- Parnashree Devi
Photo Recovery Approach & Final Delivery
Stellar data care experts opened the crashed hard drive in Class 100 clean room lab to replace the head assembly and restore it to functional state. After transplanting new head assembly, they created a clone of the restored hard drive.
Next, the team used a photo recovery tool to scan the drive and recover all photos which were then saved on the drive for client-side verification.
The client visited Stellar's data recovery facility to verify her photos and after 100% satisfaction was handed over the photos on a safe drive.
Customer Delight
The client expressed great delight for the service quality and overall customer experience delivered by Stellar®. She mentioned the company's professional expertise in data recovery, which helped her regain all the lost photographs including photo bank in original condition.
Stellar's strong commitment to data privacy and proactive updates on job progress were other highlights of delivering a great experience for the client in this case.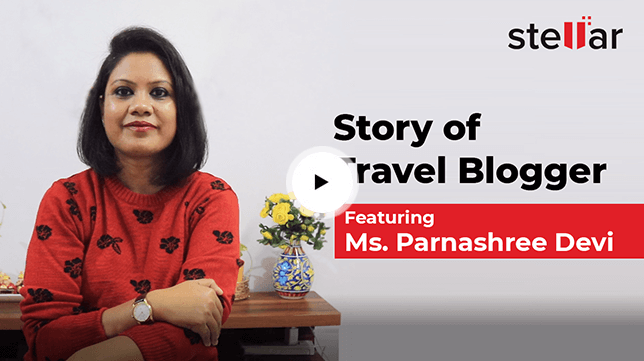 "Anybody who is looking for a data recovery service should come to Stellar Data Recovery because they are the best in the industry."