Data Recovery: Physical Damage Case
Data loss caused due to physical damages need physical recovery which is carried out in a controlled environment. Some of the data loss situations that need physical recovery are:
PC doesn't detect the hard drive
Issues with head assembly
Physically damaged drive/storage media
Damaged PCB
Scratches on platters
Malfunctioning drive motor
Faulty drive spindle
Weird noises from hard drive is a potential indicator of physical damage. Check out these noise samples here:
Clicking Heads Noise
Dead Heads Noise
Torn Heads Noise
Scratch Noise
Stuck Motor Noise
Data Recovery from Physical Damage Device at Stellar
Physically damaged storage media, such as hard drive is dismantled in Class 100 Clean Room lab, where several tasks are conducted to bring it in working condition and recover the lost data.
Spare Transplantation
Spare transplantation is an exceptionally complex task as it involves replacement of damaged part(s) with new one. The first step before we do a spare transplantation is to identify right spare for your hard drive from a huge inventory that has over 50,000 spare parts of different Hard Drive makes and models. With the required spare(s), the data recovery specialists fix the damaged hard drive and proceed to the next data recovery step, i.e. "Cloning".
Cloning
Cloning is a task which creates an exact, uncompressed replica of affected drive on a new drive. Cloning can take minimum 1 day to several days for completion, depending upon various factors like scratches on platters, bad sectors, ageing etc. Technicians conduct all the data recovery tasks on this cloned drive.
Data Verification
Post successful recovery of data, we share "file lists" with the customers. We offer two options to the clients for verification of the recovered data:
Either the client could visit the desired data recovery center to verify the recovered data.
Or we arrange a remote access—for the client, so that he/she could comfortably verify the recovered data without visiting the Data Recovery Center.
If the customer doesn't approve the recovered data, we redo the data recovery tasks. We have a strict No Recovery - No Charge policy*.
Data Delivery
Once the customer approves the recovered data, he/she is required to sign the verification and acceptance documents. Thereafter, the recovered data is handed over to the customer on a new storage media provided by the customer. If the customer wants, he/she could also buy a new storage media from us, which comes with a data care pack at a discounted price.
Note:
Data delivery is subject to agreed terms of payment.
We remove the spare(s) transplanted on the affected hard drive, and give the hard drive back to the customer.
Data Wiping
We keep your data with us until 7 working days from the delivery date. This is done as a temporary data backup plan for you. After this period, we wipe the data beyond the scope of recovery by any means.
Note: Any device, media, and data that remains unclaimed or is left with Stellar® with or without full payment until 60 days from the date of signing the Media Assessment Form will be disposed of at the discretion of Stellar®. Customer will lose all the rights on the device, media, and data. And Stellar® will not be held responsible for confidentiality of the data stored on the unclaimed device or media.
ISO certified Class 100 room environment, where various tasks are conducted on hard drives/storage media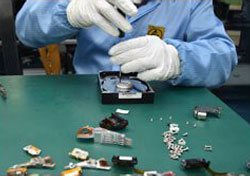 Data Recovery Expert doing parts transplantation on a hard drive in a controlled environment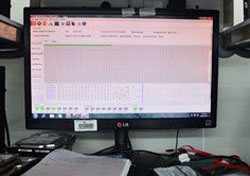 Data Recovery Expert manually checks the quality of recovered to ensure that the files recovered files are in best state