Causes of Dell Hard Drive diagnostics error 2000:0142?
The Dell system's PSA diagnostics returns the code 2000:0142 if:
The SATA cable has malfunctioned or isn't intact
The hard drive has failed or failure is imminent because of:

corrupt MBR (Master Boot Record)
corrupt system files
bad Sectors
physical damages
[CAUTION]: If the reason for the error 0142 is physical damages to drive—burnt, water damaged, broken/damaged components, etc.—you should consider contacting a Professional Data Recovery Service Provider.
As the drives are delicate, playing around with a damaged hard drive might worsen the situation and lead to permanent data loss.
This signifies that unless the cause of this error is SATA connectivity issue, the error indicates that your drive might have failed or its failure is imminent. Hence, merely fixing the error shouldn't be the target, as it might be a temporary fix and might result in a complete failure of the drive.
It's the data which is important than the probably dead or dying drive. Therefore, we must try to recover the data in the first place by getting rid of the error.
So the first step should be towards identifying if:
The issue lies with the SATA cable
Or with the drive
To do this, we should check the SATA cable connectivity.
Make sure that the SATA cable that connects the hard drive to motherboard is intact. If yes, replace it with another working SATA cable, and see if it fixes the error.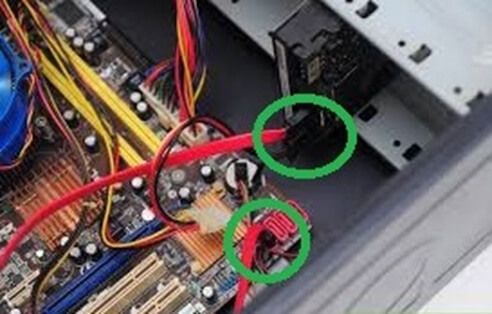 If doing so doesn't fix the error 0142, your drive might have crashed or it's about to crash.
In such a case, the next course of action must be aimed at recovering the data from the affected drive.
Typically, this error doesn't allow to boot Windows. When this happens, Windows tries to do a system startup repair but fails to do so, throwing your PC into an endless loop. But because you can't access your data, how will you take the backup?
Let's see how you can try to fix the Dell hard drive error 2000:0142, or at least workaround to get rid of the error to recover the data.
Special Offer from Stellar
Get exclusive offer on stellar data recovery service, drop email to help@stellarinfo.com