Summary: WD Elements Vs My Passport. Which is better? This guide compares the two amazing products on parameters such as capacity, performance, speed, security, and price. Plus, we answer the 5 most frequently asked questions.
Our appetite for storage has grown exponentially. Two decades ago, desktops and laptops came fitted with floppy disks that held a measly 1.44 MB (single PPT now is upwards of 4 MB)!
We migrated to CD writers offering access to 700 MB and soon, by 2010, discarded those in favour of DVD writers that let us have 4.7 GB.
But when a 5.1 surround sound Blu-ray movie occupies 10 GB, what use is a DVD? Add to it the data from gaming and music stores and 1 TB is the standard these days.The manufacturers have not disappointed and between them, Western Digital, Seagate, Toshiba, and fancy brands such as LaCie offer you something at every price point.
This article will compare two brands of external hard drives made by the same company, Western Digital—My Passport and Elements.
Here's the WD My Passport.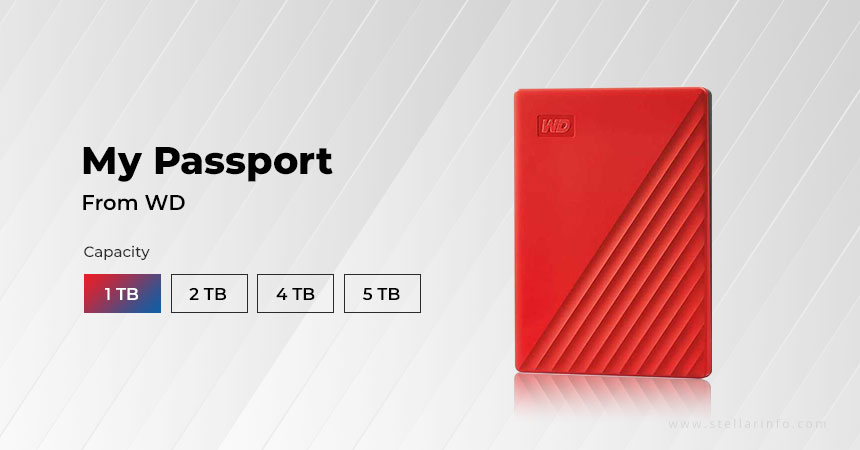 And this is the WD Elements.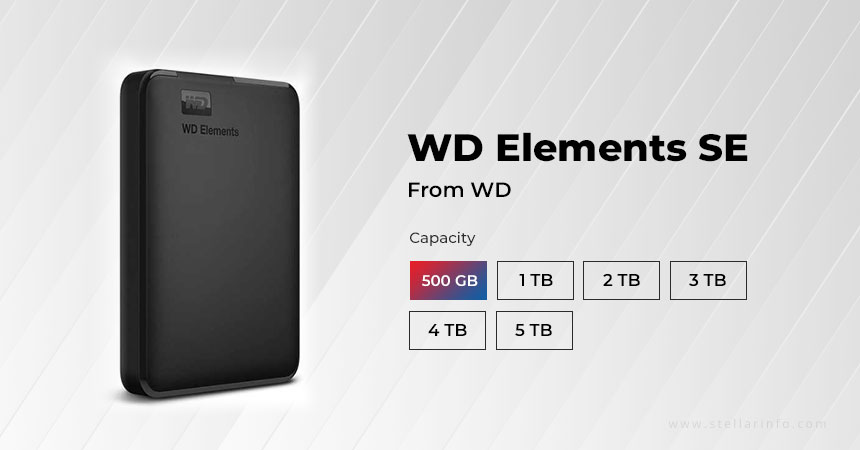 A WD Elements vs My Passport comparison is ideal to guide those who need to make a quick decision about features.
Why Does Western Digital Have Two Brands?
Large businesses have the strategy of using two brands all the time. Think of Toyota and Lexus.
This allows product differentiation and the company can provide different premium features using the same product platform. Seagate, the principal competitor of Western Digital sells Basic, Barracuda, and Ultra Touch brands in portable drives.
There's a lot to like about WD Elements external hard disk.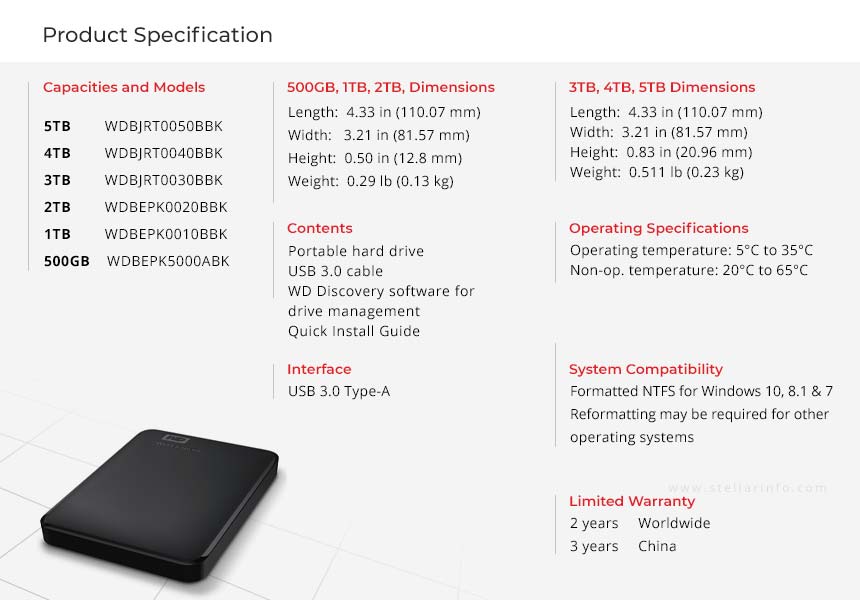 Affordable
Numerous size choices
Made by a reputed manufacturer
Lack of backup software
Looks lackluster
WD Elements is simple and rugged. It is not meant to be a fancy-looking piece of hardware that looks good beside your latest razor-thin laptop. The external hard drive looks similar to My Passport.
The plastic is ordinary and prone to scratches. The enclosure measures 11.1 x 8.2 x 2.1 cm and weighs little over 230 grams. The internal disk is a 5200 RPM WD laptop drive that has been modified for use as a USB drive. This means slower performance. But it is small enough to fit into your pocket.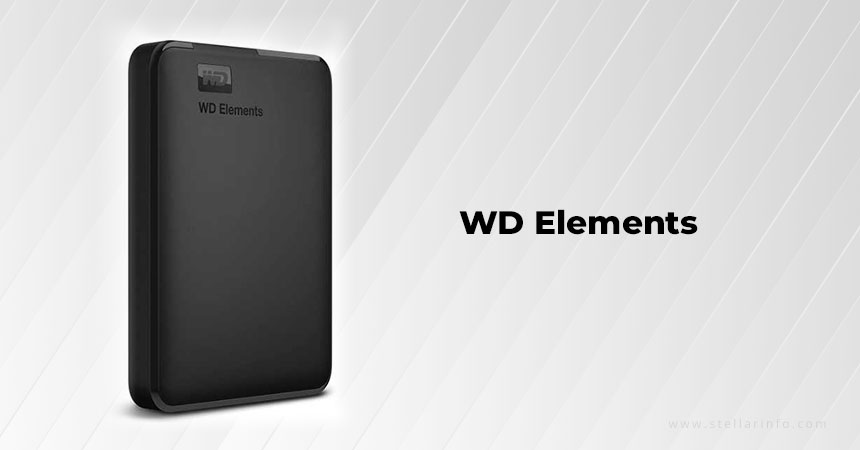 Out of the box, you get a USB 3.0 cable and nothing else. The drive is factory formatted for use with Windows. If you are looking to use it with macOS, just reformat it as HFS. If you are going to use both (say a Windows laptop and iPhone) then make it exFAT that is acceptable for both operating systems.
The eternal drive is compatible with Windows XP and above. But you won't get USB 3.0 speeds with Windows XP because that version of Windows never had native support for that standard.
From Windows 7, you can use USB 3.0 with no problem. That does not mean it won't work with Windows XP, but only at USB 2.0 speeds.
It lacks automatic backup software and bells and whistles. One drawback of Elements is it is available in one color—boring black.
But it fulfills its purpose—a budget-friendly external hard drive that offers plenty of options in capacity.
Also Read: Fix WD My Passport Hard Drive Not Detected, But LED is Blinking
This one's quite a brilliant product.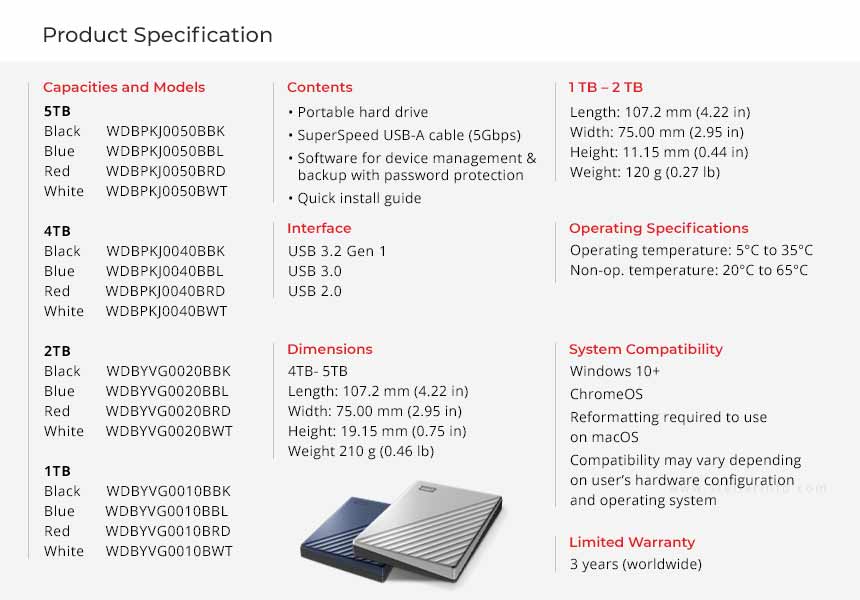 Good aesthetics
Free backup software
256-bit encryption
Little more pricey
Lack of 750 GB option
WD My Passport is slim and good-looking—sort of the George Clooney of external hard drives (Elements could be thought of as very practical Tom Hanks).
In the past few years, it has garnered a solid reputation as a long-lasting external hard drive that works well and looks great while doing so.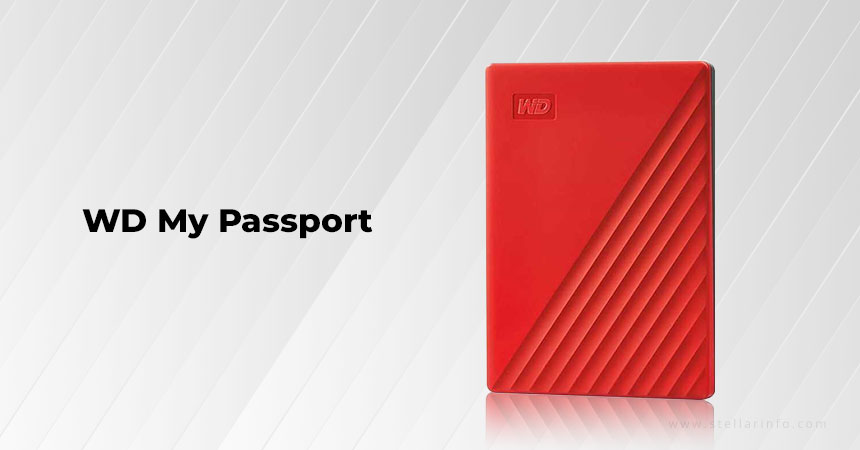 Just like Elements, our review unit came pre-formatted with NTFS. You have to format it as exFAT or HFS if you want to use it with macOS.
You can buy My Passport only in 5 storage sizes. That is a little bit of a downside. The cost rises as one wants a bigger and bigger portable hard drive.
Elements has convenient 750 GB and 1.5 TB sizes that let the buyer have a lot more flexibility.
Of course, a buyer with professional needs (a video editor or a game developer) will always need one with higher capacity and this does not affect them, but students and light users are affected nevertheless.
My Passport is available in Obsidian Black, Bright Red, Turquoise Blue, and White.
Though any colour other than black might be unwelcome at a law firm, most of us do like a little colour in our lives.
A big plus for My Passport right there.
Out of the box, you get a USB 3.0 cable. At 130 grams, it is far lighter than Elements. The size of 11.1 x 8.2 x 1.5 cm means it easily fits into a laptop bag. Note that the 4 and 5-TB versions are 1.9 cm thick.
You get WD's Backup software for free. Schedule your backups to run automatically. All you need to do is configure the time and frequency of backup and the rest it will do on its own.
The 4 and 5-TB versions also come with Shingled Magnetic Recording.
This does not matter to the end user but increases the hard disk capacity without a proportional increase in size.
Although the differences in performance with Constant Magnetic Recording or CMR we find elsewhere are unknown, SMR is better for long sequential writes (such as copying a movie).
My Passport has AES 256-bit hardware encryption. The data is encrypted using a password. The data is encrypted as it is written and decrypted as it is read by the hardware. Read/write with encryption is a little slow but you know for sure that no one will be able to hack into your drive should it be lost.
Also Read: WD My Passport not showing up Mac
WD Elements vs My Passport Comparison
Let's do a complete comparison between all aspects of WD Elements vs My Passport.
At the outset, let's look at the capacities.
| | |
| --- | --- |
| Name | Capacity |
| WD Elements | 500 GB, 750 GB, 1 TB, 1.5 TB, 2 TB, 3 TB, 4 TB, 5 TB |
| WD My Passport | 1 TB, 2 TB, 3 TB, 4 TB, 5 TB |
My Passport is more colorful.
| | |
| --- | --- |
| Name | Color |
| WD Elements | Matte Black |
| WD My Passport | Obsidian Black, Bright Red, Turquoise Blue, White |
My Passport has a longer warranty.
| | |
| --- | --- |
| Name | Years |
| WD Elements | 2 years worldwide |
| WD My Passport | 3 years worldwide |
When we ran benchmark tests, WD Elements vs My Passport performance were on the whole close.
WD My Passport edges out WD Elements in speed. This is due to the 7200 RPM drive.
| | | |
| --- | --- | --- |
| Name | Reading Speed | Writing Speed |
| WD Elements | 35.4 MB/s | 63.1 MB/s |
| WD My Passport | 102.7 MB/s | 93.6 MB/s |
WD Elements vs My Passport – Price
The price of hard drives varies a lot because of changes in currency and trade policy.
These are some current prices from Amazon. Different outlets might offer different prices.
| | |
| --- | --- |
| Name | Price in ₹ |
| WD Elements 2 TB | 5799 |
| WD Elements 5 TB | 9799 |
| WD My Passport 2 TB | 5999 |
| WD MY Passport 5 TB | 9999 |
As you can see at this moment, they are almost similarly priced. But WD My Passport Ultra which has a partial metal case, USB C and a premium finish costs ₹ 10899 for a 5 TB variant.
WD Elements vs My Passport—Which to Buy?
That is entirely up to the reader. To an expert eye there is no vast technological difference. In fact, the changes seem more cosmetic than real. Perhaps that is why the difference is so little, to absorb the cost of backup software.
If we were doing a WD Elements vs My Passport Ultra comparison would we approve of the ₹ 899 price jump due a partial metal enclosure and a USB C cable?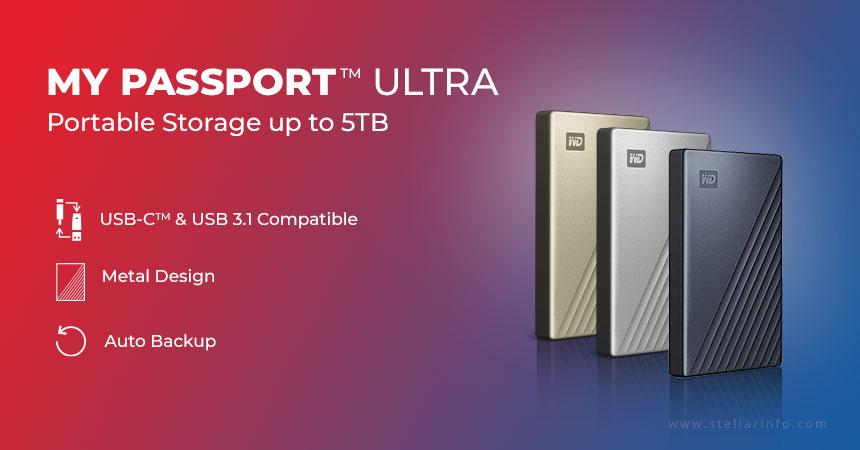 As experts we look at performance and not price. Many would like to pay more for that aesthetic look. After all, many do commonly shell out ₹ 100000 for an iPhone without considering Google Pixel at all.
The WD My Passport seems a better deal at the moment due to the difference of less than ₹ 200.
Neither offers the crucial feature that LaCie does of being shockproof and waterproof.
FAQ
How long do WD external drives last?
The life of an internal and external hard drive is the same. You can expect a WD external hard drive to last 3-5 years depending on use. Of course if you never use it, and sometimes connect it to preserve the memory, it can last at least a decade.
Do I need to download software to use WD external drives?
These drives are USB devices. They are capable of plug and play out of the box. For more functionalities you can download software (e.g password protection). The core function will work without support software.
What are the advantages of hardware encryption?
Hardware protection is contained inside the hard drive. No hardware or software has to be installed on the host OS. Even if the host machine is compromised by a hacker, he can't gain access to the WD external hard drive.
Should I use NTFS or FAT32 file system?
Are you going to use the drive only on Windows machines? Then use NTFS. It allows very large files. But it is not compatible with MacOS.
FAT32 does not allow files larger than 4 GB but can be used across platforms.
How long can a WD external hard drive maintain the data?
Good question. External hard drives are supposed to maintain data for 10-20 years. But why take chances? You should plug it for a minute or two every year to be safe.