What is class 100 clean room?
A Class 100 CLEAN ROOM is a laboratory that has a controlled level of airborne particles and controlled parameters such as humidity, temperature and pressure etc.. This artificially created environment is used for specific purposes like scientific research, product manufacturing, etc.
Stellar® Data Recovery offers a complete range of data recovery option to recover deleted data according to different data loss scenarios. Choose the most preferable data recovery option as per your need.
Highlights:
Controlled environment - Controlled level of air particles, humidity, temperature, pressure, electric field, electromagnetic interference etc.
As per the old Federation Standard (FS) 209 class 100 clean room standards, the permissible density of particles sizing 0.5 or larger is as low as 100 particles per cubic foot of air as against a typical air-conditioned office building containing 5,00,000 to 10,00,000 particles per cubic foot of air
Importance of CLASS 100 CLEAN ROOM in Data Recovery
CLASS 100 CLEAN ROOM is a must for efficient data recovery. A hard disk might get damaged if opened in normal surroundings as which contains enough particles, both in density and in size to damage it, leading to permanent data loss and minimizing the chances of data recovery. The specially designed Class 100 lab provisions a safe environment to operate on hard drives for data recovery.
The air entering the lab passes through a special filter called High-Efficiency Particulate Air (HEPA) filter which traps particles over 0.3 microns in size. This is in place to control the density of particles entering the room. Anyone who is required to enter the lab goes through multiple stages of air showers and needs to wear specially designed clothes and footwear before entering the lab. This is another measure taken to control the contamination of clean room.
The control methodology used against Electromagnetic Interference, Electric Field, Airborne Particles, Humidity, Temperature, so on and so forth; the use of Precision Tools, Processes and Techniques; the specially designed Apparels make it a perfect environment for opening a hard drive and perform data recovery task.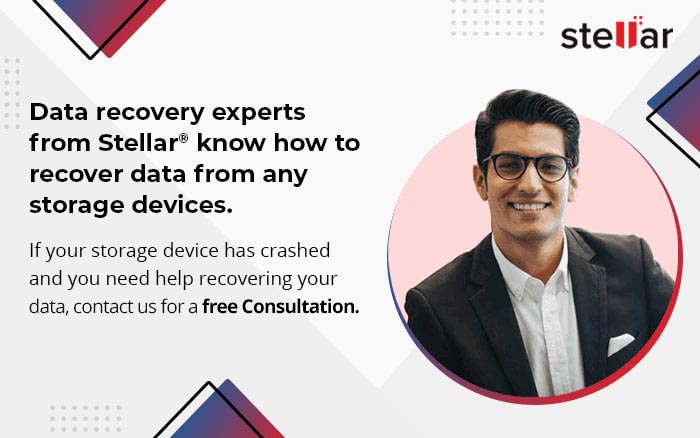 How does Stellar® leverage it's CLASS 100 CLEAN ROOM environment?
One of the inherent features that differentiates Stellar® from other existing data recovery companies is its certified class 100 clean room lab, where Stellar® efficiently performs physical recovery, even in the most complicated data loss situations.
Stellar® utilizes its CLASS 100 CLEAN ROOM for opening and treating damaged desktop or laptop hard disks, Solid State Disks, Pen Drives to name a few. Doing so in such an environment ensures the prevention of further damage to the storage devices and hence to the data stored in them.

Stellar's CLASS 100 CLEAN ROOM environment
Stellar® ensures that its technicians stationed in its CLEAN ROOM are extensively trained upon "contamination control" and follow the norms to keep up to the expected standard.
Stellar's data care experts abide by the following on a daily basis:
Enter and exit the CLEAN ROOM through airlocks and air showers.
Wear CLEAN ROOM clothing to prevent air contamination caused by the release of particles such as skin flakes, hair, and clothing debris etc.. The clothing includes shoes/boots, apron, bouffant caps, lab coats/gowns/suits, gloves, hairnets, to name a few.
Wear eye protection or lab safety glasses.
A First-Hand Experience of Stellar's CLEAN ROOM
NDTV Prime Tech visited Stellar® and wanted to know about the complete data recovery process carried out at Stellar's CLASS 100 CLEAN ROOM. To have the first-hand experience, they had brought a physically damaged hard drive for data recovery. This drive, after the initial diagnosis, was sent to the CLASS 100 CLEAN ROOM where the NDTV's Prime Tech representatives saw the tools, the environment, the inventories consisting of oldest through the newest models of storage devices, the experienced technicians and all the other arrangements required for the prevention of further data loss from the storage device and efficient data recovery process.
The visitor's got their data recovered from the physically damaged hard drive. Their experience as they said was amazing and much more than satisfactory.
The Way Forward
Stellar® has ISO-certified CLASS 100 CLEANROOM which is an ideal environment for carrying out the data recovery process which involves opening or dismantling the components of a hard drive. Such an environment is created to make sure that no further or permanent data loss happens during the data recovery process.
Note:
Never open the hard drive or try to recover hard disk data on your own. This might lead to further or permanent data loss.
Data Recovery is a systematic scientific process and any mishandling can lead to permanent loss of data beyond recovery.
For more information on Stellar's CLASS 100 CLEAN ROOM, Contact us for a Free Consultation.