Summary:The device that holds your data is an important piece of technology. If you choose to skimp on the quality, you may find that one day, all your data is gone. When it comes to internal and external hard drives, Seagate and Western Digital are considered to be the industry leaders.

Both of these companies make and sell varieties of internal and external HDDs and Solid State Drives. But which one is better? In this article, we will make a WD® vs Seagate® hard drive comparison. Will there be a conclusive winner? Read to know.

WD® Vs Seagate® : Internal Hard Drive Comparison
1. Read/Write Speed
When deciding on an internal hard drive, the read/write speed can be considered an important criterion as it decides the booting speed. Additionally, hard drives with fast read/write speed mean your system performs swiftly.

When making a WD vs Seagate hard drive comparison for speed, the magnetic platter is the most important criterion to consider. Both Seagate® and WD's® magnetic platter-based HDDs provide similar read/write speeds, of up to 7200 RPM.

Let's compare two of the latest SSD models from both manufacturers.
| | | |
| --- | --- | --- |
| Speed | WD_BLACK SN850 NVMe SSD | FireCuda Beskar Ingot PCIe 4 SSD |
| Sequential read speed | 7000 MB/s | 7300 MB/s |
| Sequential write speed | 5300 MB/s | 6000 MB/s |
Now, this is the rated read/write speed, which is very different from the practically achievable read/write speed.

For that, we've relied on a test carried out by PC Magazine, in which it found that the WD_BLACK SN850 NVMe SSD outperformed the Seagate FireCuda Beskar Ingot PCIe 4 SSD.


(Source: www.pcmag.com)

2. Storage Capacity
WD's HDD has a maximum storage capacity of 26 TB. Seagate's® HDDs capacity goes up to 20 TB.

If you're buying an HDD for personal use, then either brand's HDD will work for you.

However, if you want high-capacity HDDs for NAS and other enterprise-level setups, you can go for WD Gold Enterprise Class SATA HDD. In India, you can get up to 22 TB storage capacity in this version, rated at 7200 RPM.

In comparison, Seagate's BarraCuda 3.5" Hard Drive is available in only up to 8 TB storage configuration that too rated at 5400 RPM.

3. Cost
The capacity of the hard drive decides its cost. So higher the capacity, the higher the cost.

The price for a 1 TB HDD from both Western Digital and Seagate is in the ₹3,000 to ₹3,500 range.

In most cases, a price comparison is realistic only when you're comparing like to like. So, while comparing prices, make sure both products have the same storage and RPM.

4. Reliability
The reliability or lifespan of hard drives depends on various factors, such as how you handle them, environmental conditions, age of the hard drive, etc.

One comparable indicator of reliability is Annualized Failure Rate (AFR). Lower the AFR, the better it is.

Again, for a like-to-like comparison, we're comparing: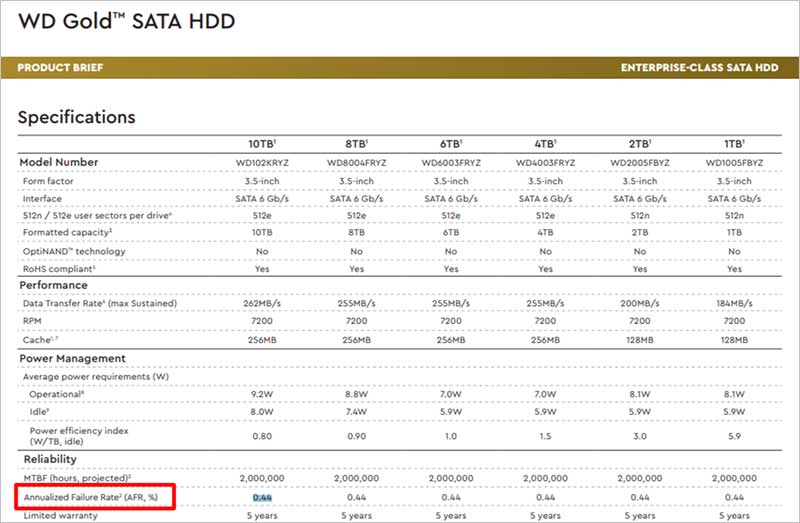 The AFR value of WD Gold is 0.44%.

However, it's almost 2.5 times for Seagate® BarraCuda 3.5, going up to 1%.
Seagate vs. WD Internal Hard Drive Comparison: The Consensus
| | | |
| --- | --- | --- |
| | Seagate | WD |
| Read/Write Speed | Up to 7200 MBPS. | Up to 7200 MBPS |
| Storage Capacity | Up to 20 TB | Up to 26 TB |
| Cost | Similar | Similar |
| Reliability | AFR <1% | 0.35% (better) |
On almost all accounts, WD's internal hard drive has an edge over Seagate's.

WD® Vs Seagate® : External Hard Drive Comparison

Western Digital® and Seagate® offer a variety of pocket external hard drives, with differences in capacity and connectivity. When making a WD vs Seagate hard drive comparison, both offer a similar range of capacities but the cost differs. WD external hard drives are a bit cheaper than Seagate® external hard drives of similar capacities.

The major factors to consider when comparing external hard drives are their speed and security.

The WD Passport SSD is considered to be one of the most secure SDDs in that range. It has a maximum capacity of 2 TB. It can be encrypted with WD's security software with 256-bit AES.

A comparable Seagate external hard drive is the Ultra Touch, available in upto 2 GB configuration. You can also find Seagate external hard drives with capacity up to 5 GB, though they're more expensive than equivalent products from WD.

The following table compares external hard drives so you can easily visualize the parameters.
| | | |
| --- | --- | --- |
| | Seagate | WD |
| Security | Seagate's SSDs cannot be encrypted. | 2 TB SSDs can be encrypted with 256-bit AES by using WD's security software. |
| Speed | Up to 120 MB/s (96 MB/s in test conditions) | Up to 120 MB/s (117 MB/s in test conditions) |
| Price | More expensive when compared to WD drives of the same size | Relatively cheaper |
| Storage Capacity | Up to 5 TB | Up to 5 TB |

The Pros and Cons of External Hard Drive
Seagate
| | |
| --- | --- |
| Pros: | Cons: |
| The hard drives are easy to set up | The drive does not have backup software |
| The device is very light and compact. So you can carry it around easily | Shorter warranty period |
| Windows automatically recognize the drive | Higher failure rates as compared to WD |
Western Digital
| | |
| --- | --- |
| Pros: | Cons: |
| Fast performance | Sourcing repair parts might become a challenge in some cases |
| Has plug-and-play technology. So it's very easy to use. | No other major cons, in comparison to Seagate |
| Compact and lightweight | |

More about Reliability of Seagate® and Western Digital® Hard Drives

Hard drive manufacturers, including Seagate® and Western Digital®, stamp the Mean Time to Failure (MTTF) and TBW values on their SSDs. However, these cannot be considered as true measures to decide when the drive would fail.

The failure rate of HDDs is not really dependent on how much data you write on them. Whether it's a Seagate® or WD® hard drive, it may fail if it is dropped, exposed to adverse environmental conditions, infected by a virus, or by many other factors.

If your Seagate® or WD® hard drive fails, you can ask the manufacturer to replace the crashed hard drive (if it's in the warranty period). But make sure to recover the data in the first place by seeking help of professional data recovery services.

Conclusion
The brand name is an important consideration when buying any product. And in the storage drive industry, Seagate and Western Digital are the two big names.

We've done a thorough WD vs Seagate hard drive comparison. Now it's up to you to decide which is the better one for your needs. Make sure you take the reliability of the device into consideration. Or else, you might find yourself with deleted data and needing data recovery software.
WD vs SEAGATE: FAQ Answers
What is the most important factor to consider when it comes to a WD vs Seagate hard drive comparison?
The reliability and lifespan are one of the most important factors when comparing Seagate vs Western Digital hard drives. Yes, factors like speed are important. But the more reliable the hard drive is, the lesser the chances of drive failure.
Which brand of HDD is most reliable?
On a comparative study of various parameters, WD's WD Gold Enterprise Class SATA HDD is found to be the most reliable HDD.
Which hard disk is more reliable?
The rated AFR is a good indicator. Lower the FR, the better it is. WD's hard drives' AFR was found to be lower than that of comparable Seagate HDDs.
How long do hard drives last?
The typical lifespan of hard drives is 3-5 years. This is especially so in the case of external hard drives. So in case you're storing sensitive information in your hard drive, it's best to make a backup of it.
Do hard drives fail if not used?
Hard drives are made of magnetic fields. These wear down over time when it's not used. So yes, hard drives can fail if they're not used regularly.