In this guide, you will learn everything about boot fail errors such as 'Default Boot Device Missing.' This general help guide will answer every problem related to boot errors and help you learn how to get back your important files from a PC that fails to boot.
Stellar® Data Recovery offers a complete range of data recovery option to recover deleted data according to different data loss scenarios. Choose the most
preferable data recovery option as per your need.
What is Boot Missing or Failed Error?
Usually, when you boot a Windows system, it displays Windows loading and startup screen. A Boot Missing or Boot Failed error is a Windows startup error that appears when a PC or laptop fails to find or load the Windows boot files. This occurs when something goes wrong with the system software or hardware. But often, it's the corrupt and damaged boot sector or failed system drive.
Consequently, as Windows can't boot, a user loses access to all their data.
What Are the Reasons for Boot Failed or Missing Error?
Incorrect boot sequence
Misconfigured, damaged, or corrupt BIOS
Damaged or defective SATA cable/connector
Insufficient power supply
Unsupported or RAW format drive
Missing boot files
How to Fix Boot Device Missing or Boot Failed Error?
Usually, the fix is easy. But in some cases, it can't be fixed. Depending on the reason for the boot error, you may try following fixes and repair a non-bootable Windows PC.
1. Check Boot Order Sequence
Restart your PC
As it starts and manufacturers' logo appears, immediately start pressing the F2 key to enter the BIOS setup
Check your laptop or system motherboard manufacturers' site to confirm the key to enter BIOS setup as it varies for different PC and laptops, but usually its F2
In the BIOS setup, go to the Boot tab
Check and arrange the boot order. Make sure your PC's hard drive is at the top. If it's not, change the boot order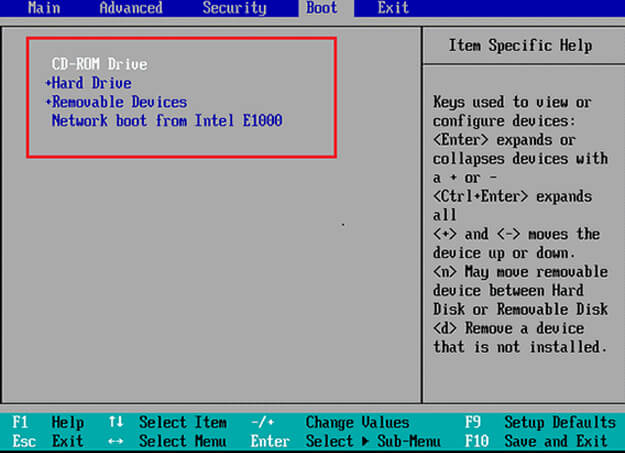 You may also change the boot mode from UEFI to Legacy and save the changes. Restart your system and check if the error is gone. If not, continue to follow the subsequent fixes.
2. Repair Windows Boot Sector
A system may fail due to damaged boot sector, which may occur due to system crash, force shutdown, virus or malware infection, etc.
But a damaged boot sector can be fixed by using a Windows installation or recovery media. You can create one by using any Windows PC.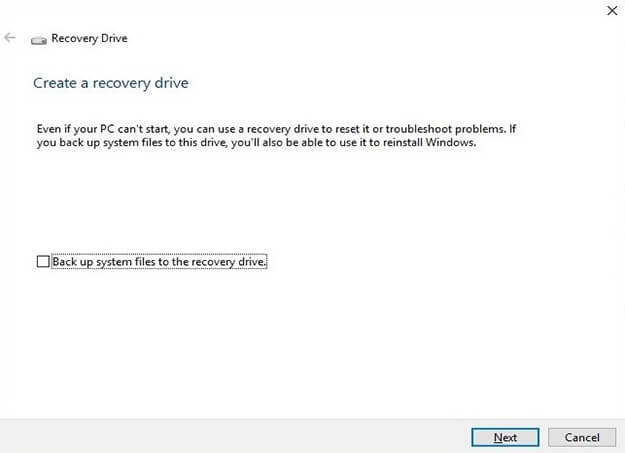 Connect the Installer or recovery media to the system and restart the system
As the system boots, start pressing the boot option key, usually F12, and then move the selection by using arrow keys to the USB Installer/Recovery media
Press 'Enter' to boot and then follow these steps to fix the damaged boot sector that prevents Windows from loading,

Select language and click 'Next.'
Click Repair your computer
Select the operating system that you want to repair, and then click 'Next.'
In the 'System Recovery' Options dialog box, click Command Prompt
Type these command, one at a time, followed by an 'Enter' keypress
bootrec.exe /fixboot
bootrec.exe /fixmbr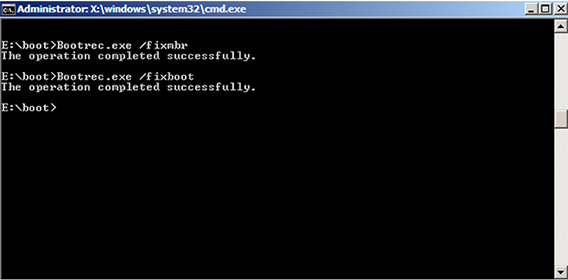 This command should ideally fix issues related to 'Bootmgr Is Missing,' or 'Boot Failed' errors. If not, head to the next fix.
3. Inspect Hard Drive
Check your hard drive for firm connection and ensure its not overheating.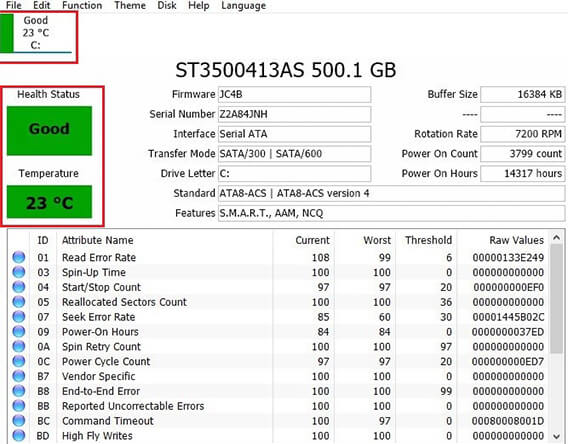 Disconnect the cable and then connect it again. If the SATA cable or power cable is damaged, replace it with the new
If that doesn't resolve the issue, turn off the PC and disconnect the hard drive from the PC. Use SATA or SATA to USB converter cable to connect the affected storage media to a working Windows PC
TIP: Use a SMART Disk monitoring tool such as CrystalDiskInfo or Drive Monitor to get deeper insights about the disk health, temperature, and SMART data.
Check if the drive is accessible and backup data.
In case the drive is inaccessible, open Disk Management, tool and find if the drive is recognized. If the drive displays as RAW, it indicates corruption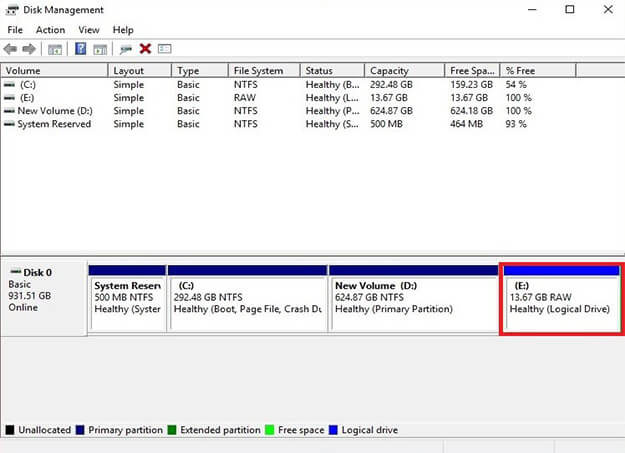 In such a case, you can use a DIY data recovery software such as Stellar® Data Recovery. Follow the steps discussed in the next fix.
But if the data on the affected hard drive is critical or drive is physically damaged, you must immediately get in touch with a data recovery professional to get back data.
4. Restore and Backup Files
Connect the affected drive to a working Windows PC and then follow these steps,
Download, install and launch Stellar® Data Recovery software
Choose 'All Data' and then click 'Next.'
Choose the RAW drive volume under 'Connected Drives' and turn on 'Deep Scan' toggle switch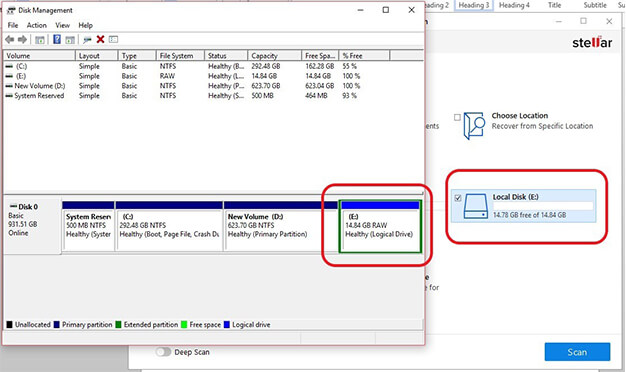 Click 'Scan'
Post scan, explore, sort, and filter scan results and choose all the files you want to recover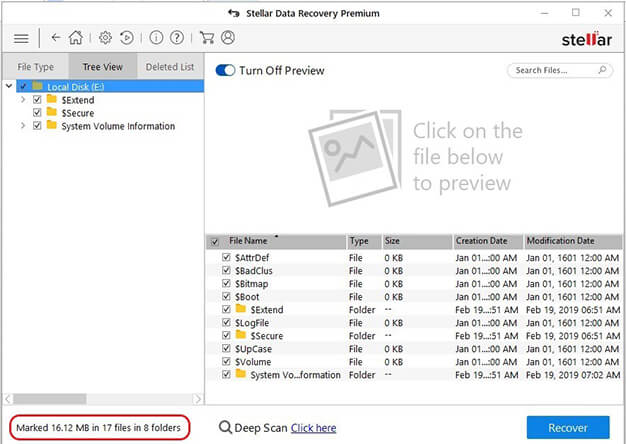 TIP: You can click on a file to see its preview before saving
Click 'Recover' and then click 'Browse.'
Choose a save location other than the affected drive and click 'Start Saving.'
That's it. The software will save all the selected files at your desired location.
5. Format or Replace Disk
Now that you have access to your data, you can go ahead format the drive and reinstall Windows from scratch. After the installation, transfer your recovered files to your fixed PC.
In case hard drive, health is poor, or drive is affected by SMART errors and bad sectors, replace it with a brand new or healthy hard disk drive.
And to avoid such data loss situations, ensure a regular backup. Maintain at least two backup copies of all your important files
6. Professional Hard Drive Data Recovery Service by Stellar® Data Recovery
Data recovery software works when drive suffers from logical damage such as file system errors, corruption, accidental deletion, and formatting. But if the data is critical or when the software fails to get back desired files from the storage media, you must immediately reach out to a data recovery service expert.
A data recovery service expert at Stellar® can help get back data from all kinds of storage media devices such as hard drive, SSD, thumb drives, memory cards, etc. that is physically damaged or failed due to mechanical and electrical errors.
Well-trained and experienced data recovery experts carry out data recovery from physically damaged storage media in Stellar's® ISO certified state-of-the-art Class 100 Clean Room facility.
All you need to do is submit the storage media, post which Stellar® experts diagnose the storage device and then consult with you about the probability of data recovery and data recovery cost. Once approval of quotation and time estimate is confirmed from your end, Stellar® experts proceed with data recovery by using proprietary tools, innovative techniques, and a huge inventory of resources.
And don't worry about data theft or leakage. Stellar® is an ISO 9001 & ISO 27001 certified organization. From spare transplantation to cloning followed by data verification and delivery, everything is done with utmost care for your data privacy.
Also Read: How to Fix The Error "Disk Boot Failure Insert System Disk And Press Enter
Special Offer from Stellar
Get exclusive offer on stellar data recovery service, drop email to help@stellarinfo.com
Quick Tips to Prevent Boot Missing and Boot failed Errors
Regularly check and optimize your system hard drive
Ensure adequate ventilation and gap between the hard disk and other components in your PC to avoid overheating
Run CHKDSK scan once in a while to keep track of bad sectors and fix minor disk errors before they lead to drive corruption or failure
Keep BIOS, Windows, and antivirus protection updated
Be careful while using Disk Management or any third-party partition manager tool. Never touch the boot partition while using such tools
Actively monitor critical disk health parameters, such as temperature and SMART data. You can automate this task by using add-on utilities such as Drive Monitor that comes with Stellar® Data Recovery software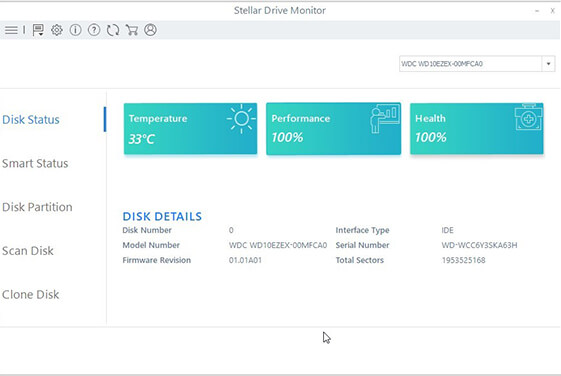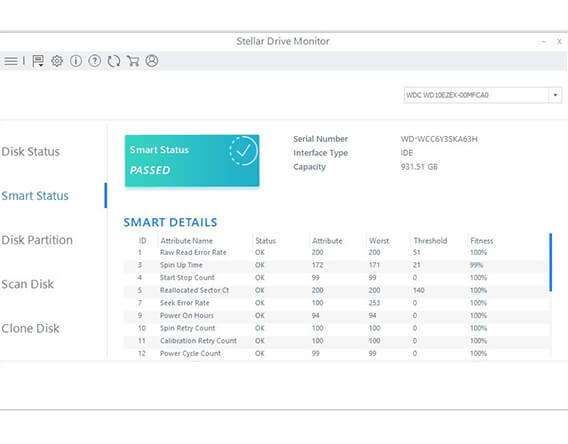 Final Thoughts
When Windows fails to boot, the system displays boot error messages such as 'Default Boot Device Missing' or 'Bootmgr Is Missing.' In most cases, the error can be easily resolved. But in some, it can't, and thus, you need to be more careful while trying and applying various fixes on the system as they may lead to further damage to the disk or the data contained on the disk.
If the error can't be resolved with the troubleshooting's steps and drive is inaccessible, leverage a powerful DIY data recovery solution such as Stellar® Data Recovery.
But if data is critical, it's better to get the help of a professional data recovery expert. Moreover, the software can help when drive suffers logical errors. For a physically damaged drive, you need the help of a data recovery expert such as Stellar®. You can call them any time 25*6 on their toll-free number and avail their world-class data recovery services with 100% privacy.