How to identify a mechanical failure and grinding noise in hard drives?
As you know, hard drives are one of the most fundamental peripherals of a computing system. They are one of the devices that function the most from the time you buy a system. However, they are devices that are prone to their limitations such as malfunctioning and breakdowns as well. To understand why hard drives witness mechanical failures, let's step back and begin from the fundamentals.
A mechanical device is a device which involves a physical movement of its parts or components. Once the device is powered on, you can observe the movement inside a mechanical device.
Hard drives are also mechanical devices. You can sense a motion inside a hard drive when you power them up. Most standard 3.5" desktop hard drives out there today have a spindle speed of 7200 RPM. This results in a fixed average rotational latency time of 4.2 msec. These drives typically have an average seek times of around 8.5 msec, giving average access to data time of approximately 12.7 msec. For SCSI hard drives (Seagate Cheetah) that are 15,000 RPM, with even smaller platters. The rotational latency time is 2 msec, and average seeks time 3.8 msec and average access to data is 5.8 msec.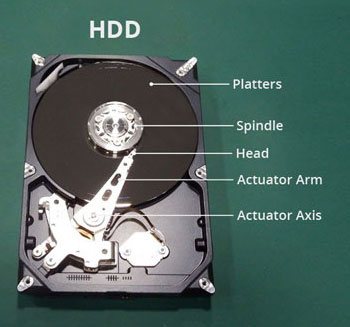 Mechanical devices are more prone to damages since there is a lot of physical movement of parts inside the machine. Similarly, physical movement of elements in hard drives can lead to mechanical failure.
In most of the cases, whenever there is any mechanical failure on your hard drive, you may hear some random noises coming out of the hard drive. Such sounds are an indication that the system does not detect the hard drive. If you are noticing any such noises coming out from your hard drive, realise that your hard drive is having some mechanical issues and it should immediately be switched off. You may have some difficulties trying to access data from your hard drive. To read your data from a mechanically failed hard drive, it should be sent to a professional data recovery service provider having a Class 100 clean room facility.