STELLAR® SERVER DATA RECOVERY SERVICES – AN OVERVIEW
Data Recovery from All Types of Servers with Highest Success Rate
We offer professional services to recover data from all types of servers, such as Exchange Server, Virtual Server, File Server, Email Server, Database Server, etc. Being in the business for about 3 decades, we have the updated data recovery technology and capability to recover data from all instances of physical or logical damage to the server.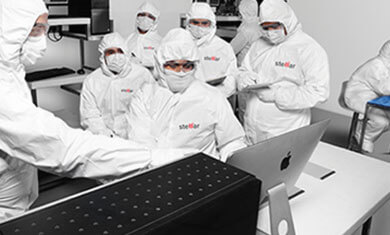 RAID Server Recovery
Failed RAID configuration of physically-damaged drives in RAID server? We restore your data from all makes, models, and configurations of RAID servers. Our experts are skilled to handle all types of data loss situations. We perform recovery in our state-of-the-art infrastructure. Our data recovery experts recovers data securely from failed or crashed servers and can reconstruct data from failed RAID with 100% accuracy.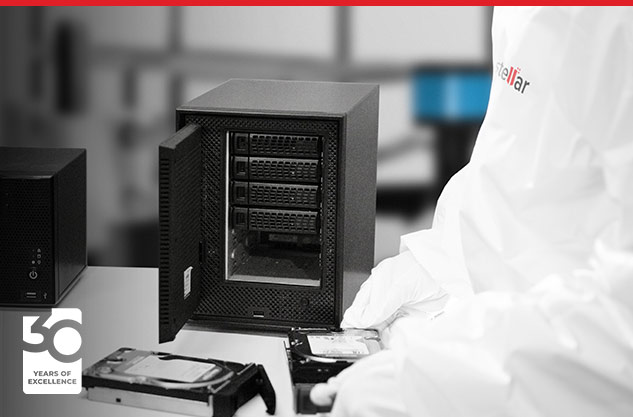 NAS Server Recovery
With best-in-class technology and professional expertise, Stellar® ensures up to 100% data recovery from advanced Enterprise Network Attached Storage (NAS) systems. We can recover data from NAS systems of a wide range of manufacturers, configurations, and all the operating systems. With years of experience, skills, and knowledge, our experts can recover data from unified storage and SDS-based NAS systems.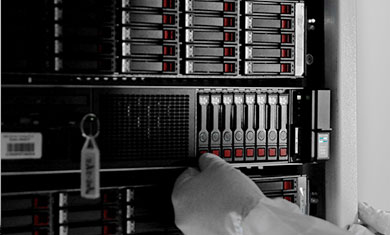 SAN Server Recovery
SAN (Storage Area Network) is a special network that connects different types of data storage devices, such as RAID and servers. However, due to hardware or software corruption, it may fail. In such an instance, one needs to look for a professional data recovery service provider. We, at Stellar®, help businesses recover data from all types of SAN storage devices.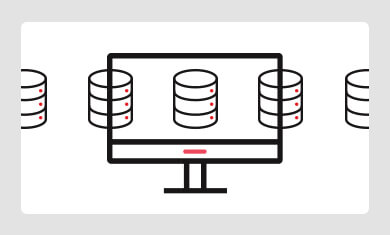 Cloud Server Recovery
Stellar® provides cutting-edge services to recover data from Microsoft Azure, Google Cloud, Amazon Web Services (AWS), IBM Cloud, and other leading cloud platforms. Our data recovery experts use advanced technology to recover data from cloud servers running email, database, or any other application. We recover data by keeping it confidential and comply with the ISO 9001 and ISO 27001 information security standard.
TOP USE CASES FOR SERVER DATA RECOVERY
Recover Data from Server in All Data Loss Scenarios
Stellar® has been helping individuals and businesses in recovering their precious data since 1993. We recover data from Windows server, LINUX server, and UNIX server with ease, in all data loss situations. Stellar® is an ISO 9001 and ISO 27001 certified organization and follows stringent practices for data recovery. Our server data recovery service is 100% safe, secure, and confidential.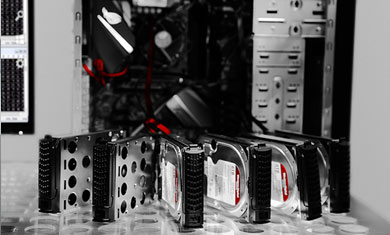 Disk Corruption in Servers
Disk corruption in server is one of the most common data loss situations. The corruption in disk could be due to firmware issues, malware issues, or ransomware attacks. In case of corruption in your server disks, reach out to our experts.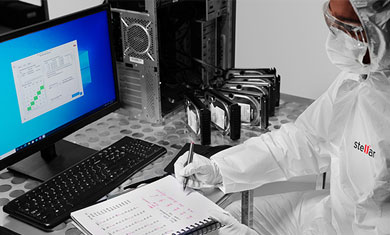 File Corruption in Servers
Your file server may face corruption issues due to file size problems. There may be file synchronization issues with server that can lead to corruption. Our experts can help you in restoring your data from any type of file corruption issues in servers.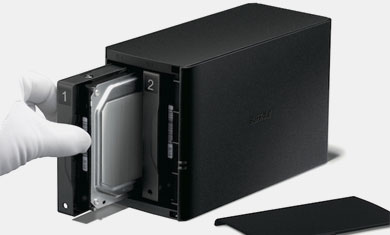 Physical Damage to Servers
In some unforeseen circumstances, there may be physical damage to your server, thus making the data inaccessible. In such cases, you need to fix the drive issues first to restore your data back. We help businesses in restoring data from physically-damaged servers.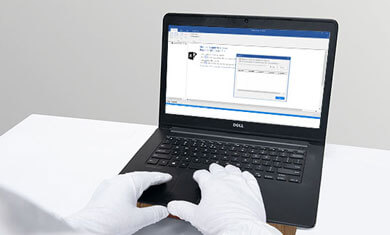 Accidental Deletion of Data from Servers
Accidental deletion is one of the most common cases of data loss in servers. In case of accidental deletion, you can reach out to our professionals for assistance. We can help you in recovering your important deleted files and documents from servers.
CASE STUDY
Data Recovery from Dell EMC Server
Stellar® successfully recovered data from DELL EMC server configured with RAID 5 and 2 physically damaged HDDs.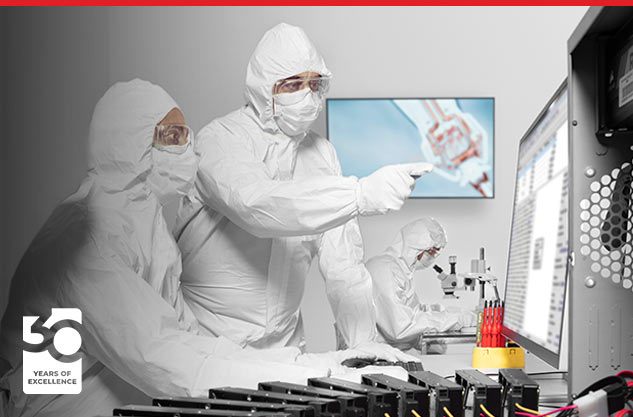 Data Recovery from Crashed Dell® EMC Server
An India-based business involved in designing, manufacturing, and executing energy metering projects was using Dell EMC Server (Clarion CX4120), encompassing 15 FC Channel HDDs. All the HDDs were configured to RAID 5 for storing documents and databases.
The organization failed to see their data and found out that the server was crashed due to physical failure of the two HDDs. This impacted the business continuity and productivity as the organization lost access to their important research data.
SERVER TYPES, MAKES, AND MODELS
We Recover Data from All Makes and Models of Servers
Stellar® offers world-class expertise, native infrastructure, and rich experience to ensure data recovery from all makes and models of SERVERS.
Don't see your SERVER listed? Don't worry; Stellar® can recover data from any type or model of server storage.
Our Service Advantage
Safe and Secure Server Data Recovery
With Stellar®, you can rest assured that your data is in safe hands. We have hands-on experience, lab infrastructure, and time-tested technology to offer you a reliable and guaranteed data recovery solution for your server. Moreover, we are trusted by Fortune 500 companies and tend to deliver reliable and best data recovery results.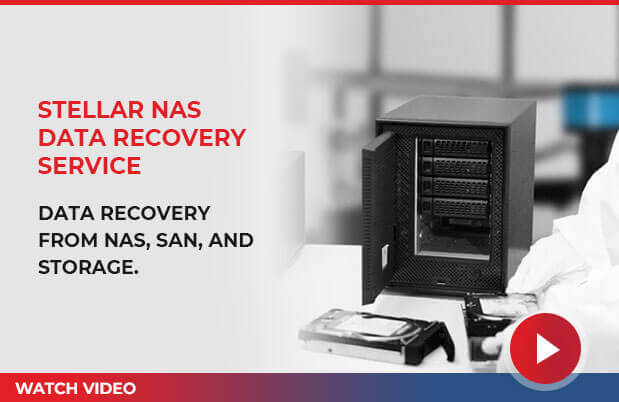 Professional Server Data Recovery Services
Data recovery for all kinds of servers.
Fast turn-around time and priority service option.
Each client has a dedicated customer service specialist assigned.
Have been in the data recovery domain for more than 25 years.
ISO 9001 and ISO 27001 certified organization.
Data recovery with utmost safety and privacy.
SERVER RECOVERY SERVICES PLANS
How Much Time Does It Take To Recover Server Data
We deliver seamless server recovery services in 4 simple steps: free phone consultation, server analysis, server data recovery, and server data verification. With Stellar®, you get world-class quality, upfront assurance, and a delightful experience with 100% confidentiality of data.
FAQ
How long does the server data recovery process take?
Data recovery from servers could be a complex job. It's difficult to confirm the time duration for server recovery. Depending on the issue, the time may vary. However, for a precise time period to recover your data, let our technician diagnose and understand the problem.
What is the estimated cost of server data recovery?
The cost of server data recovery service varies depending on the problem type and complexity of the job. Actual server data recovery cost can be estimated once the complete analysis of the disk(s) associated with the server has been done. Moreover, the following parameters are also considered while estimating the cost:
• Data storage capacity of server disk(s)
• Complexity and root cause of data loss situation
• Make and model of server and disk
What are the chances of successful recovery of data from server?
Stellar has unmatched success rate of over 80% for data recovery from servers. In most of the cases related to servers, RAID configurations, NAS, and SAN, we perform successful data recovery. We offer 100% safe, secure, and confidential data recovery to our customers.